Teacher Training
This site has been designed for use as a cross-curricular ICT tool for Key Stages 1, 2 and 3. Through a series of fun, interactive games and activities, children will learn about different food-related issues: food safety, diet and nutrition, farm to fork and food technology. Activities can be used on individual PCs or interactive whiteboard in a variety of lessons, including science, geography, PSHE and citizenship and design technology. There are also a number of tried-and-tested lesson plans, as well as activity sheets, ideal for homework or extension work. The site content is based around the Food Standards Agency recommended key stage competencies and all content is checked for accuracy by both the FSA and an independent educational consultant. This commitment to relevance and accuracy was commended in the Children's Food Campaign's 2008 report 'Through the Back Door'.
School Matters - Information for Teachers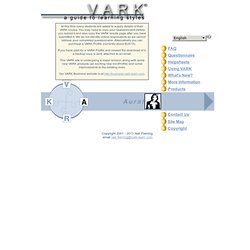 At this time many students are asked to supply details of their VARK scores. You may need to copy your Questionnaire before you submit it and also copy the VARK results page after you have submitted it. We do not identify online respondents so we cannot retrieve your completed questionnaire. Alternatively you can purchase a VARK Profile (currently about $US15). If you have paid for a VARK Profile and missed the download of it, a backup copy is sent, attached to an email. This VARK site is undergoing a major revision along with some new VARK products (an exciting new miniProfile) and some improvements to the existing ones.
VARK -- A Guide to Learning Styles
Education news, comment and analysis | Education
Home - The Department for Education
On 31 March 2012 the Qualifications and Curriculum Development Agency closed as part of the Government's wider education reforms. The exams administration function is now performed by the Teaching Agency. Please contact them on 0300 100 0100. The National Curriculum assessments function is now performed by the Standards and Testing Agency (STA). Please contact them on 0300 303 3013.
Home - QCDA
Lifelong Learning - www.lifelonglearning.co.uk
UK Department for Business, Innovation and Skills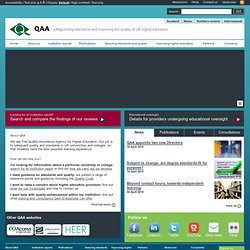 The Quality Assurance Agency for Higher Education (QAA)
Skip to main navigation Skip to content Accessibility | Text size: A A A | Display: Default / High contrast | Text only Newsroom FAQs Contact us Vacancies Scotland Wales Northern Ireland International
Legislation.gov.uk
IfL - The Institute for Learning - Home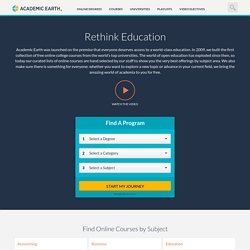 Academic Earth believes everyone deserves access to a world-class education, which is why we continue to offer a comprehensive collection of free online college courses from the world's top universities. And now, we take learning outside the classroom with our original series of thought-provoking videos, designed to spark your intellectual curiosity and start a conversation. Watch, learn, share, debate. After all, only through questioning the world around us, can we come to better understand it.
Academic Earth | Online Courses | Academic Video Lectures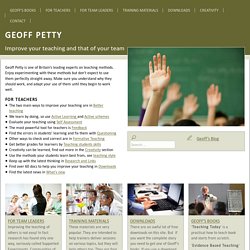 Geoff Petty - Teaching Today - Home page
Geoff Petty is one of Britain's leading experts on teaching methods. Enjoy experimenting with these methods but don't expect to use them perfectly straight away. Make sure you understand why they should work, and adapt your use of them until they begin to work well. The two main ways to improve your teaching are in Better teachingWe learn by doing, so use Active Learning and Active schemesEvaluate your teaching using Self AssessmentThe most powerful tool for teachers is FeedbackFind the errors in students' learning and fix them with QuestioningOther ways to check and correct are in Formative TeachingGet better grades for learners by Teaching students skillsCreativity can be learned, find out more in the Creativity sectionUse the methods your students learn best from, see teaching styleKeep up with the latest thinking in Research and LinksFind over 60 docs to help you improve your teaching in DownloadsFind the latest news in What's new
Ann Gravells
little-guide-to-digital-media
A Vision of Students Today
Gabby Giffords and Mark Kelly Be passionate. Be courageous. Be your best. On January 8, 2011, Congresswoman Gabby Giffords was shot in the head while meeting constituents in her home town of Tucson, Arizona.
TED: Ideas worth spreading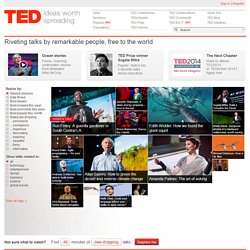 The best online e-learning and e-teaching tools & resources - WizIQ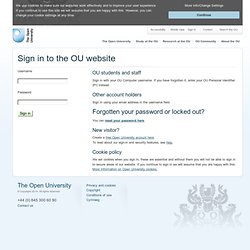 OU students and staff Sign in with your OU Computer username. If you have forgotten it, enter your OU Personal Identifier (PI) instead. Other account holders Sign in using your email address in the username field.
Making your teaching inclusive
IO-cdflyer
Change text size: A A A Find a course: Advanced search Browse full range of courses Click to view
Part-time adult education, evening classes: London: City Lit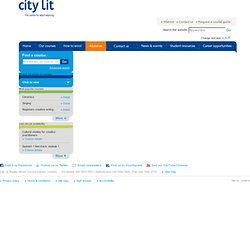 This site uses cookies to store information on your computer. Some of these cookies are essential to make our site work and others help us to improve by giving us some insight into how the site is being used. These cookies are set when you submit a form, login or interact with the site by doing something that goes beyond clicking some simple links. We also use some non-essential cookies to anonymously track visitors or enhance your experience of this site. Read more about our privacy policy. I'm fine with this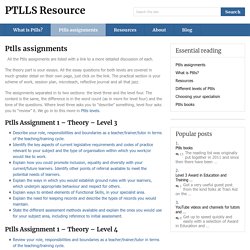 Ptlls assignments | PTLLS Resource
Welcome to this City and Guilds 7303, Preparing to Teach in the Lifelong Learning Sector (PTLLS) course (distance/blended learning option). PTLLS is the first Unit of both the Certificate to Teach in the Lifelong Learning Sector (CTLLS) and the Diploma to Teach in the Lifelong Learning Sector (DTLLS). The qualification is a mandatory requirement during the first year of service for all new teachers/trainers joining the Learning and Skills sector after September 2007.
City and Guilds 7303 - PTLLS
The University of Glasgow's Equality Statement: The University of Glasgow is committed to promoting equality in all its activities and aims to provide a work, learning, research and teaching environment free from discrimination and unfair treatment. This section provides links to a number of resources relating to the different diversity strands - disability, race equality, sexual orientation - and how these relate to learning, teaching and assessment.
Learning & Teaching :: Equality and Diversity
Main Page - Wakeypedia
Sharing Good Practice in Teaching and Learning This wiki is intended to provide a valuable resource for practising teachers in all areas of formal education. It includes articles on a wide range of topics across the whole range of teaching activities, considerations and techniques. Individual practitioners can look to this Guide for inspiration in overcoming specific difficulties, guidance on methods of approaching particular aspects of the teacher's role and recommendations of practices that others have found useful. Whether you'd like to brush up your existing knowledge, break new ground or overcome a specific problem, Wakeypedia should be a good place to start.
Teachers All these resources and examples represent the use of simple tools and techniques to create effective resources and succesful teaching and learning activities. Each project contains an introduction to the teachers involved and the skills and application developed. Although contextualised for teachers clearly these resources and demonstrations of effective practice and techniques provide examples to learn and apply whatever your role. Scott has created a step by step guide to using Moviemaker and has provided some sample video clips of how it can be used in practice.
LSN ITQ ICT Skills - Teachers
PowerPoint Presentations Free for teachers and students
Jefferson County Schools, TN
Itslife - Learning for Teaching - Resources - Teachers TV 2
Teachit.co.uk - Media Studies resources
TEACHING TIPS
Geoff Petty - Teaching Today
Training and Development Agency for Schools (TDA) - Home
Teaching Ideas - Free lesson ideas, plans, activities and resources for use in the primary classroom.
Teacher Training Videos created by Russell Stannard
Promethean Planet - Interactive Teacher Community, Interactive Whiteboard Lessons and Resources, Online Lesson Plans, Teaching Resources
Specialist Schools and Academies Trust | Resources
Nelson Thornes - home
Infocow
BigBlueButton -- Open Source Web Conferencing | www.bigbluebutton.org
Homepage
Careersbox careers film and video on the web. Real people doing real jobs in the world of work
TES Connect - Teaching Jobs, Teaching Resources & Community
Pavlov's Dog
The Split Brain Experiments
Stand Against Violence
LTTO Episodes | COFA Online Gateway
Supported Inclusion | ConnectABILITY
Sim-dis