Libaries
Typescript: Easy content management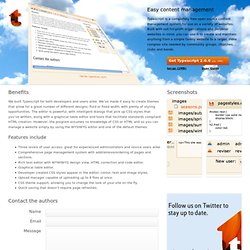 Benefits We built Typescript for both developers and users alike. We've made it easy to create themes that allow for a great number of different designs; fluid or fixed width, with plenty of styling opportunities. The editor is powerful, with intelligent dialogs that pick up CSS styles that you've written, along with a graphical table editor and tools that facilitate standards compliant HTML creation.
CoffeeScript is a little language that compiles into JavaScript. Underneath that awkward Java-esque patina, JavaScript has always had a gorgeous heart. CoffeeScript is an attempt to expose the good parts of JavaScript in a simple way. The golden rule of CoffeeScript is: "It's just JavaScript". The code compiles one-to-one into the equivalent JS, and there is no interpretation at runtime. You can use any existing JavaScript library seamlessly from CoffeeScript (and vice-versa).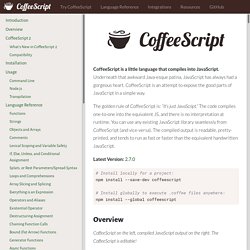 Creating a new syntax highlighter for Ace is extremly simple. You'll need to define two pieces of code: a new mode, and a new set of highlighting rules. Where to Start We recommend using the the Ace Mode Creator when defining your highlighter. This allows you to inspect your code's tokens, as well as providing a live preview of the syntax highlighter in action. Defining a Mode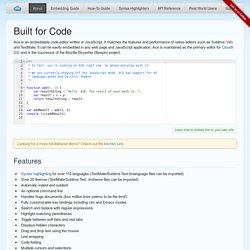 Processing.js 1.4.1 released! Processing.js 1.4.0! And then Processing 1.4.1! Because there was a really silly but ruinous regression introduced by 1.4.0! All joking aside, 1.4.1 is a hotfix for 1.4.0, fixing a bug that prevents sketches from focussing on mouse clicks. That's pretty severe, because without the globalKeyEvents instruction, Processing.js sketches only receive key events when they have focus.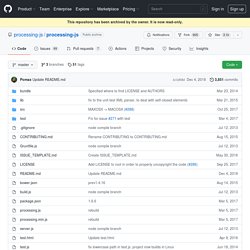 Jan 10 2013 09:29 Not too often we get feedback from developers about great products and games created with LimeJS. Still sometimes they let us know about their great accomplishments. SmartGamesLive is one of them. The creators of SmartGames have informed us about launching a new online digital platform. For their 20th anniversary they have created 12 online versions of their most popular in real life boardgames.
Modernizr is a JavaScript library that detects HTML5 and CSS3 features in the user's browser. Why use Modernizr? Taking advantage of cool new web technologies is great fun, until you have to support browsers that lag behind.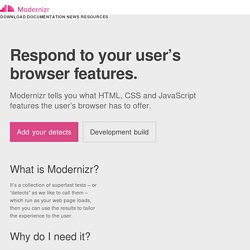 iCheck checkbox, radio, input, field, form, desktop, mobile, custom, replacement, accessibility, skins, ui, checked, disabled, indeterminate, css3, html5, tiny, lightweight, jquery, zepto //cdnjs.cloudflare.com/ajax/libs/iCheck/1.0.1/icheck.min.js list.pagination.js pagination, list, table, dom, html, ui //cdnjs.cloudflare.com/ajax/libs/list.pagination.js/0.1.0/list.pagination.min.js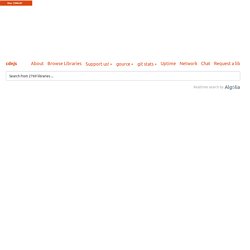 While there are many programming languages that can help you create interactive pages, JavaScript was the true pioneer, which was developed back in the days, when every single web page was static. JavaScript is a powerful scripting language, which is relatively easy to use and implement, offers many possibilities to the web developers, and it is speedy and versatile. Being a client-side script, it does not add additional load to the server and it is extremely fast; if you are interested in learning JavaScript, here are the top ten websites, which will get you started. While there are many programming languages that can help you create interactive pages, JavaScript was the true pioneer, which was developed back in the days, when every single web page was static.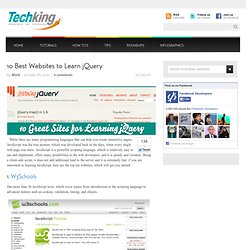 10 Best Websites to Learn jQuery
An Open-Source JavaScript Library for Mobile-Friendly Interactive Maps November 18, 2013 — Leaflet 0.7 Release, MapBox & Plans for Future (Blog Post) Leaflet is a modern open-source JavaScript library for mobile-friendly interactive maps. It is developed by Vladimir Agafonkin with a team of dedicated contributors. Weighing just about 33 KB of JS, it has all the features most developers ever need for online maps.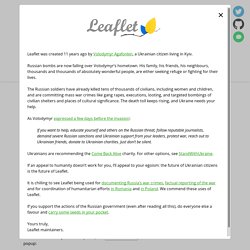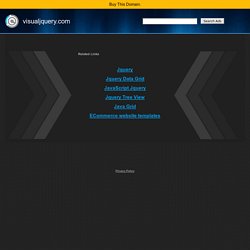 This is a alternative interface to browse the Official jQuery Documentation that can be found on GitHub . The aim of this project is to get out of the way of your development work. Quickly switch to this docs and find what you are looking for. Furthermore you can download this documentation and browse it offline. In the future you don't even need to download it to have it available offline. This Open-Source project is still under development.
What is it? Raphaël is a small JavaScript library that should simplify your work with vector graphics on the web. If you want to create your own specific chart or image crop and rotate widget, for example, you can achieve it simply and easily with this library.