Net Neutrality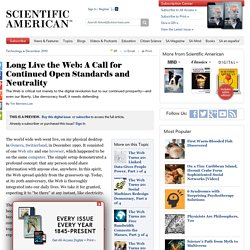 The world wide web went live, on my physical desktop in Geneva, Switzerland, in December 1990. It consisted of one Web site and one browser, which happened to be on the same computer. The simple setup demonstrated a profound concept: that any person could share information with anyone else, anywhere. In this spirit, the Web spread quickly from the grassroots up. Today, at its 20th anniversary, the Web is thoroughly integrated into our daily lives.
Samples of SOPA blackout sites
Today, many popular websites are going "dark" in protest of Stop Online Piracy Act (SOPA). The consensus among many experts, Internet users, web companies and even the White House, is that SOPA is too restrictive, too dangerous, too complicated and too big of a threat to our privacy. In a way, today's blackout shows what the Internet might look if some of the principles in SOPA start being enforced as law. Do you like seeing big "CLOSED" signs on your favorite websites? Neither do we.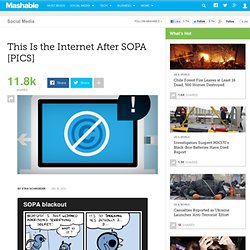 This Is the Internet After SOPA [PICS]
I'm sure you've heard by now that SOPA is bad and would ruin the Internet, but have you actually read the bill? If not, it's worth reading, for two reasons. First, if you are going to oppose a bill, you should know exactly what you're opposing, not just the vague principle behind it. Second, it'll provide you with a valuable insight: that these bills are written in an attempt to obscure the truth. First off, I'm going to qualify that I'm not a lawyer. However, I am a programmer, and that's made me pretty good at unraveling spaghetti code.
Why SOPA Is Dangerous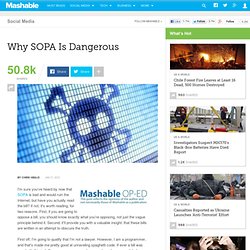 Scrub Off Ur Freedom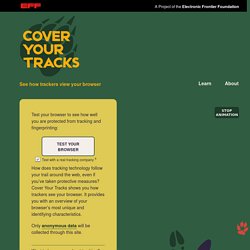 Is your browser configuration rare or unique? If so, web sites may be able to track you, even if you limit or disable cookies. Panopticlick tests your browser to see how unique it is based on the information it will share with sites it visits. Click below and you will be given a uniqueness score, letting you see how easily identifiable you might be as you surf the web.
Family & Friends People like you and your family use Tor to protect themselves, their children, and their dignity while using the Internet. Businesses Businesses use Tor to research competition, keep business strategies confidential, and facilitate internal accountability. Activists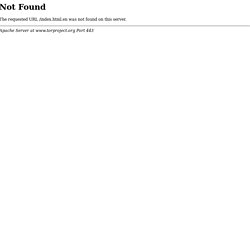 E+Brief+Censorship+law+-+questions+and+answers.pdf (application/pdf-Objekt)
Die Zensur im Netz: Interview mit "Wikileaks"
Posted by Eric Schmidt, Chairman and CEO of Google, and Lowell McAdam, President and CEO of Verizon Wireless (Cross-posted on the Verizon PolicyBlog.) Verizon and Google might seem unlikely bedfellows in the current debate around network neutrality, or an open Internet. And while it's true we do disagree quite strongly about certain aspects of government policy in this area -- such as whether mobile networks should even be part of the discussion -- there are many issues on which we agree. For starters we both think it's essential that the Internet remains an unrestricted and open platform -- where people can access any content (so long as it's legal), as well as the services and applications of their choice. There are two key factors driving innovation on the web today.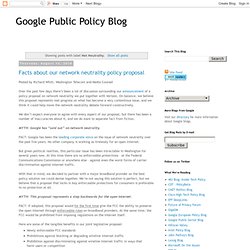 Net Neutrality
== Free Culture / Free Content ==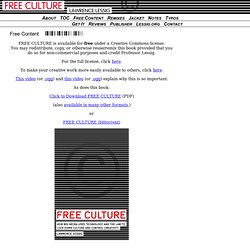 Free Content FREE CULTURE is available for free under a Creative Commons license. You may redistribute, copy, or otherwise reuse/remix this book provided that you do so for non-commercial purposes and credit Professor Lessig.
Anfang des Jahres 2007 ist der Band " Freie Netze. Freies Wissen." erschienen und seither ist eine Menge passiert. Wie in diesem Blog dokumentiert sind eine Reihe der für Linz vorgeschlagenen Projekte inzwischen umgesetzt oder haben weitere Initiativen angestoßen, die weit über die damaligen Vorschläge hinausgehen (vgl. z.B. die Zwischenbilanz " Zwei Jahre Freie Netze. Freies Wissen." sowie die jüngste Studie zur " Open Commons Region Linz").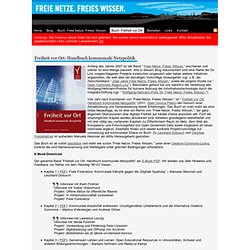 Freie Netze. Freies Wissen. - Freiheit vor Ort - Handbuch kommunale Netzpolitik
Add New Case Please report cases of operators restricting or throttling access to content, services or applications. For a more precise description of what to report, check our guidelines. On the Internet, you decide what you do, right? Not anymore! Large telecommunication providers want to control what you do online.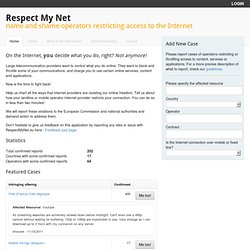 Net Neutrality 101
When we log onto the Internet, we take lots of things for granted. We assume that we'll be able to access whatever Web site we want, whenever we want to go there. We assume that we can use any feature we like -- watching online video, listening to podcasts, searching, e-mailing and instant messaging -- anytime we choose. We assume that we can attach devices like wireless routers, game controllers or extra hard drives to make our online experience better. What makes all these assumptions possible is "Network Neutrality," the guiding principle that preserves the free and open Internet. Net Neutrality means that Internet service providers may not discriminate between different kinds of content and applications online.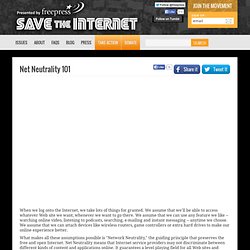 How neutral is the net?
View Country Profiles View Regional Overviews Main Filtering Map
An appeals court just dealt the latest blow to the open Internet. The court struck down the Federal Communications Commission's Open Internet Order because of the questionable legal framework the agency used when it adopted its Net Neutrality rules in 2010. This ruling means there is no one who can protect us from ISPs that block or discriminate against websites, applications or services. But there's hope: FCC Chairman Tom Wheeler can correct the agency's past mistakes and truly protect our nation's communications infrastructure. The agency must take the necessary steps to make broadband networks open, accessible, reliable and affordable for everyone.
This extraordinary book explains the engine that has catapulted the Internet from backwater to ubiquity—and reveals that it is sputtering precisely because of its runaway success. With the unwitting help of its users, the generative Internet is on a path to a lockdown, ending its cycle of innovation—and facilitating unsettling new kinds of control. IPods, iPhones, Xboxes, and TiVos represent the first wave of Internet-centered products that can't be easily modified by anyone except their vendors or selected partners. These "tethered appliances" have already been used in remarkable but little-known ways: car GPS systems have been reconfigured at the demand of law enforcement to eavesdrop on the occupants at all times, and digital video recorders have been ordered to self-destruct thanks to a lawsuit against the manufacturer thousands of miles away.
Action Center
The open access movement is a long-standing campaign in the world of research to make scholarly works freely available and reusable. Today, students and citizens face barriers accessing information they need; professors have a harder time reviewing and teaching the state of the art; and cutting-edge research remains hidden behind paywalls, depriving it of the visibility it deserves. The good news is that the open access movement is changing all this, and you can help.
Lost Hacking Documentary Surfaces on Pirate Bay | Threat Level |