Net Neutrality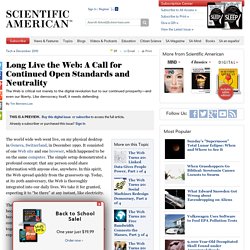 Technology :: Feature Articles :: November 22, 2010 :: :: Email :: Print See Inside The Web is critical not merely to the digital revolution but to our continued prosperity—and even our liberty. Like democracy itself, it needs defending By Tim Berners-Lee Image: Illustration by John Hendrix
Samples of SOPA blackout sites
Today, many popular websites are going "dark" in protest of Stop Online Piracy Act ( SOPA ). The consensus among many experts , Internet users, web companies and even the White House , is that SOPA is too restrictive, too dangerous , too complicated and too big of a threat to our privacy. In a way, today's blackout shows what the Internet might look if some of the principles in SOPA start being enforced as law. Do you like seeing big "CLOSED" signs on your favorite websites? Neither do we.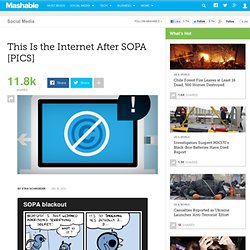 This Is the Internet After SOPA [PICS]
I'm sure you've heard by now that SOPA is bad and would ruin the Internet, but have you actually read the bill? If not, it's worth reading, for two reasons. First, if you are going to oppose a bill, you should know exactly what you're opposing, not just the vague principle behind it. Second, it'll provide you with a valuable insight: that these bills are written in an attempt to obscure the truth. First off, I'm going to qualify that I'm not a lawyer. However, I am a programmer, and that's made me pretty good at unraveling spaghetti code.
Why SOPA Is Dangerous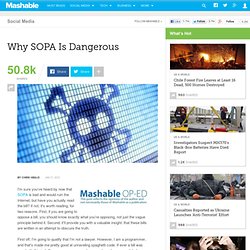 Scrub Off Ur Freedom
E+Brief+Censorship+law+-+questions+and+answers.pdf (application/pdf-Objekt)
Die Zensur im Netz: Interview mit "Wikileaks"
Posted by Alan Davidson, Google director of public policy and Tom Tauke, Verizon executive vice president of public affairs, policy, and communications The original architects of the Internet got the big things right. By making the network open, they enabled the greatest exchange of ideas in history. By making the Internet scalable, they enabled explosive innovation in the infrastructure. It is imperative that we find ways to protect the future openness of the Internet and encourage the rapid deployment of broadband. Verizon and Google are pleased to discuss the principled compromise our companies have developed over the last year concerning the thorny issue of "network neutrality."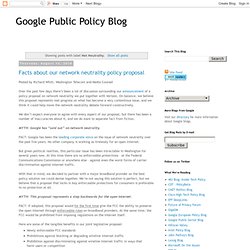 Net Neutrality
== Free Culture / Free Content ==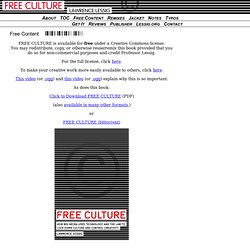 Free Content FREE CULTURE is available for free under a Creative Commons license. You may redistribute, copy, or otherwise reuse/remix this book provided that you do so for non-commercial purposes and credit Professor Lessig.
Anfang des Jahres 2007 ist der Band " Freie Netze. Freies Wissen. " erschienen und seither ist eine Menge passiert. Wie in diesem Blog dokumentiert sind eine Reihe der für Linz vorgeschlagenen Projekte inzwischen umgesetzt oder haben weitere Initiativen angestoßen, die weit über die damaligen Vorschläge hinausgehen (vgl. z.B. die Zwischenbilanz " Zwei Jahre Freie Netze. Freies Wissen. " sowie die jüngste Studie zur " Open Commons Region Linz ").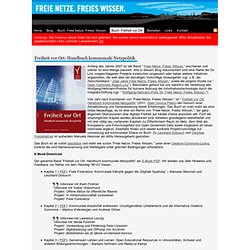 Freie Netze. Freies Wissen. - Freiheit vor Ort - Handbuch kommunale Netzpolitik
Net Neutrality 101
When we log onto the Internet, we take lots of things for granted. We assume that we'll be able to access whatever Web site we want, whenever we want to go there. We assume that we can use any feature we like -- watching online video, listening to podcasts, searching, e-mailing and instant messaging -- anytime we choose. We assume that we can attach devices like wireless routers, game controllers or extra hard drives to make our online experience better. What makes all these assumptions possible is "Network Neutrality," the guiding principle that preserves the free and open Internet. Net Neutrality means that Internet service providers may not discriminate between different kinds of content and applications online.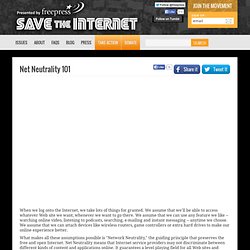 How neutral is the net?
Zittrains Brainchild Herdict – a website that collects and tracks self-reported inaccessible sites from around the world- was launched in February, 2009. by avayaoli Feb 4
Action Center
The open access movement is a long-standing campaign in the world of research to make scholarly works freely available and reusable. Today, students and citizens face barriers accessing information they need; professors have a harder time reviewing and teaching the state of the art; and cutting-edge research remains hidden behind paywalls, depriving it of the visibility it deserves. The good news is that the open access movement is changing all this, and you can help.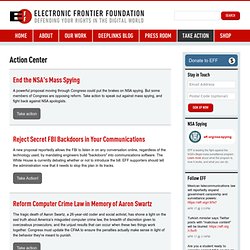 After collecting cobwebs in a studio vault for the better part of a decade, an unreleased documentary on the 2003 hacking scene leaked onto the Pirate Bay Thursday. Narrated by actor Kevin Spacey, the 90-minute Hackers Wanted follows the exploits of Adrian Lamo, who pleaded guilty in 2004 to cracking the internal network of The New York Times . The film was produced by Spacey's Trigger Street production company, and includes interviews with Kevin Rose and Steve Wozniak.
Lost Hacking Documentary Surfaces on Pirate Bay | Threat Level |