Apps
Gyoza - 5 second rule. I love my children.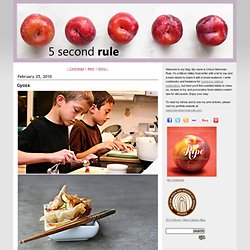 I really, really do, but every time we order gyoza when we go out and they eat five apiece and I get maybe one, I wonder who died and made them King Lord of Gyoza Dispensation. Everyone who tells you, oh, kids are so sweeeeet, and they make your life so whooooole, they canoodle you, they admire you, yada yada yada forgets to tell you the most important and yet under-acknowledged fact of parenthood: you pretty much have to sacrifice the last cookie, the cake with the tallest crown of frosting, and the best bite of anything even remotely tasty to your kids all the goddamn time until you've turned 90 and croaked in your rocker.
And if no one admits that very fact to you, they're lying. Case closed. Salsa roja (roasted red salsa) « One Particular Kitchen. I eat a lot of salsa.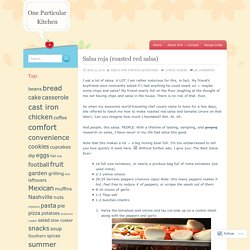 A LOT. I am rather notorious for this, in fact. My friend's boyfriend once innocently asked if I had anything he could snack on — maybe some chips and salsa? Hot Spinach and Artichoke Dip. It seems that I may be a little addicted to hot cheesy dips.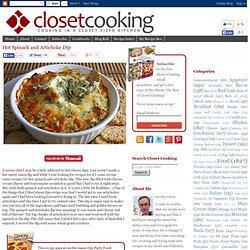 Last week I made a hot sweet onion dip and while I was looking for recipes for it I came across some recipes for hot spinach and artichoke dip. This new dip filled with cheese, cream cheese and mayonnaise sounded so good that I had to try it right away. Mozzarella Sticks. When I told my friends I was planning on making homemade mozzarella sticks for a guy's weekend out of town the idea was met with a profound lack of enthusiasm.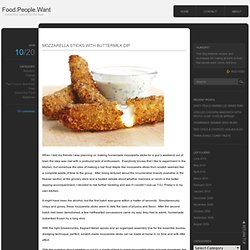 Everybody knows that I like to experiment in the kitchen, but somehow the idea of making a bar food staple like mozzarella sticks from scratch seemed like a complete waste of time to the group. After being lectured about the innumerable brands available in the freezer section at the grocery store and a heated debate about whether marinara or ranch is the better dipping accompaniment, I decided to risk further heckling and see if I couldn't one-up T.G.I. Grilled Guacamole Recipe - StumbleUpon. Grilled Guacmole?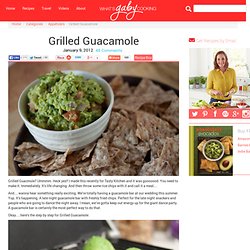 Ummmm. Heck yes!! I made this recently for Tasty Kitchen and it was gooooood. You need to make it. Immediately.
---