Religion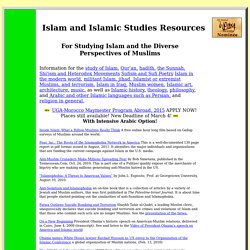 For Studying Islam and the Diverse Perspectives of Muslims Information for the study of Islam, Qur'an, hadith, the Sunnah, Shi'ism and Heterodox Movements Sufism and Sufi Poetry Islam in the modern world, militant Islam, jihad, Islamist or extremist Muslims, and terrorism, Islam in Iraq,Muslim women, Islamic art, architecture, music, as well as Islamic history, theology, philosophy, and Arabic and other Islamic languages such as Persian, and religion in general. UGA-Morocco Maymester Program Abroad, 2013 APPLY NOW! Places still available!
Islam and Islamic Studies Resources
Calendar Holy Days World Religions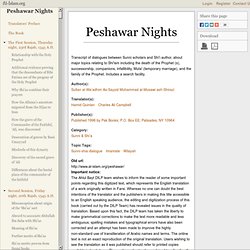 Peshawar Nights
Old url: http://www.al-islam.org/peshawar/ Important notice:
Main Page
Al-Masad [111:1] - Tanzil Quran Navigator
I Love GOD - Sacred texts (holy books) of various world religions
Ancient Religions And Myths
There is a glaring inconsistency in light of all that has been presented and that is how the realization that God is all-loving can be reconciled with the existence of suffering, which is the so-called Problem of Evil. This must be taken into account, however. If this were a world without misery, the prevailing mood on it undoubtedly would have been one of complacency. There would have been no real need to ponder the meaning of life if everything seemed just right; if the earth were a Utopia, life itself would have provided its own meaning. But compared to what divine union will be like, such an existence would have been a relative form of hell, and there never could have been any escape from it, for no one would have been able to "suffer" death first. Also, it is completely plausible that after millions of years of life, even the most pleasurable activities would have become excruciatingly boring.
Intuitionistic Theism: Religion without Faith | Is it necessary to take the word of others about answers to the most important of questions? The author contends no.