Religion
Islam and Islamic Studies Resources
Calendar Holy Days World Religions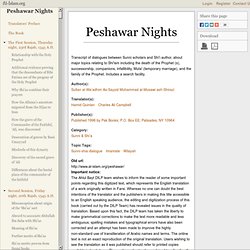 Peshawar Nights
Important notice: The Ahlul Bayt DILP team wishes to inform the reader of some important points regarding this digitized text, which represents the English translation of a work originally written in Farsi. Whereas no one can doubt the best intentions of the translator and the publishers in making this title accessible to an English speaking audience, the editing and digitization process of this book (carried out by the DILP Team) has revealed issues in the quality of translation.
Main Page
Al-Masad [111:1] - Tanzil Quran Navigator
I Love GOD - Sacred texts (holy books) of various world religions
Intuitionistic Theism: Religion without Faith | Is it necessary to take the word of others about answers to the most important of questions? The author contends no.