Sweet
The best new recipes from The Kitchn | punchfork.com. Five of the Best Sweet Treats to Try in Paris. Sweet Treats in Paris by Canon s3 When strolling along famous Paris streets like the Champs-Elysées and Rue Royale, your nose will be assaulted by delicious odors wafting from some of the greatest bakers, confectioners and chocolatiers in France.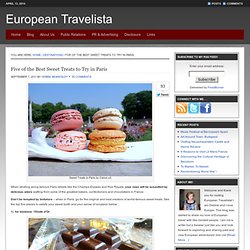 Don't be tempted by imitators – when in Paris, go for the original and best creators of world-famous sweet treats. See the top five places to satisfy your sweet tooth and your sense of occasion below… 1) for bonbons: l'Etoile d'Or. Brown Butter Double Fudge Chocolate Chip Cookie Dough Cookies. Little bit of a mouthful there.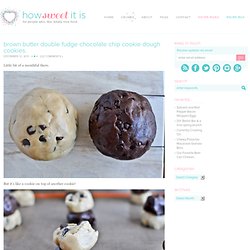 But it's like a cookie on top of another cookie! Yeah. Like total dirty cookie on cookie action. Except these ones down below wanted to try a few different positions. Sunday Comfort Food | Baked Banana Monkey Bread. Sunday's are rough around this house.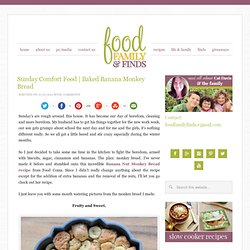 It has become our day of boredom, cleaning and more boredom. My husband has to get his things together for the new work week, our son gets grumpy about school the next day and for me and the girls, it's nothing different really. Grasshopper Brownie Bars. For the brownie base: 3/4 cups flour 1/2 teaspoon salt 1 tablespoon dark unsweetened cocoa powder (like Valrhona) 5 ounces good quality dark chocolate (60 to 72%), coarsely chopped 1/2 cup (1 stick) butter, cut into 1 inch cubes 3/4 cups sugar 1/4 cup firmly packed light brown sugar 3 large eggs, at room temperature 1 teaspoons vanilla extract For the buttercream: 3/4 cups sugar 2 tablespoons flour 3/4 cup milk 2 tablespoons heavy cream 1 1/2 sticks (3/4 cup) butter, softened but still cool, cut into small cubes 3 tablespoons creme de menthe 1 teaspoon peppermint extract For the chocolate glaze: 6 ounces good-quality dark chocolate (60 to 72%), coarsely chopped 1 teaspoon light corn syrup 1/2 cup (1 stick) unsalted butter, softened, cut into cubes To make the brownie base: Preheat the oven to 325 degrees F.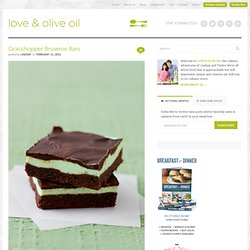 Butter the sides and bottom of a glass or light-colored metal 9-by-13-inch pan. Planting A Pineapple. Did y'all know that you can take this and turn it into… This?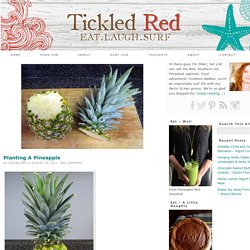 And that this will eventually produce… This? Yes, I'm talking about turning your average, ordinary grocery store pineapple into a tropical showpiece within your home. A plant that is not only impressive but will WOW! Lunch Lady Bars | Do you attend cookie exchanges this time of year?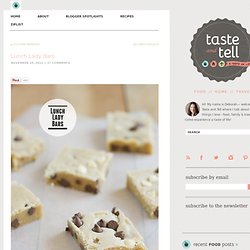 I've only ever attended a couple of them in my life, but every year, I tell myself that I'm either going to attend one or host one. Of course, this usually doesn't happen. But I'm so excited because this year, I actually am attending one, and I couldn't be more excited. 50 Smoothies : Recipes and Cooking. 1.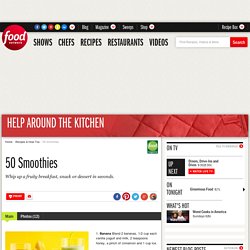 Banana Blend 2 bananas, 1/2 cup each vanilla yogurt and milk, 2 teaspoons honey, a pinch of cinnamon and 1 cup ice. 2. Snowball Cookies | Favorite Holiday Cookies. Crazy Domestic: Melted Snowman Cookies. I saw a picture of these the other day on Allrecipes.com and thought it was such a cute idea, I had to try it.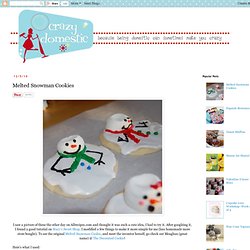 After googleing it, I found a good tutorial on Stacy's Sweet Shop. I modified a few things to make it more simple for me (less homemade more store bought). To see the original Melted Snowman Cookie, and meet the inventor herself, go check out Meaghan (great name) @ The Decorated Cookie! Here's what I used: •1 package Betty Crocker Sugar Cookie Mix•10 large marshmallows•Betty Crocker Cookie Icing (white and orange)•Wilton Decorating Icing Tubes in Black, Red, Green, Blue and Pink***it would have been a lot cheaper if I had just made the icing myself, see Stacy's tutorial for a good recipe)*** Better-Than-Crack-Brownies. I'm sorry for doing this to you.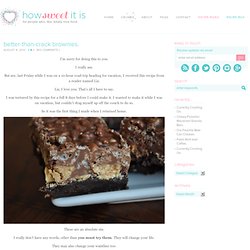 I really am. But see, last Friday while I was on a 10-hour road trip heading for vacation, I received this recipe from a reader named Liz. Liz, I love you. Icings Recipes at Bake Decorate Celebrate! - StumbleUpon. Snickerdoodle, Peanut Butter Chocolate, and Double Chocolate Fudge Cookie Dough Dips. I have this little flaw, and it's called impatience.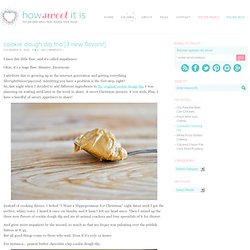 Okay, it's a huge flaw. Massive. Cinnamon Sugar Pull-Apart Bread — Joy the Baker - StumbleUpon. I'm sorry. I know it's Monday morning and you probably came here for some pretty pictures of food that you could glance at, and then move on with your day… and here I go thrusting warm, soft cinnamon sugar bread in your face. It's not fair. I know it's not fair. I know that now you're craving cinnamon rolls, and cream cheese frosting and chili fries and hot dogs.
Mingmakescupcakes.yolasite.com from yolasite.com - StumbleUpon. Nutella Mug Cake. I have been experimenting with different mug cakes every since I heard about them about a year ago. None of them have been winners. They were either too chewy, too dry, or not sweet enough. Well, I continued experimenting, and thought why not add some decadent Nutella into the mix. I modified the classic mug cake recipe, added Nutella, and a little more milk and oil than I had been using before. Cheesecake Stuffed Strawberries | - StumbleUpon. Cheesecake Stuffed Strawberries These cheesecake stuffed strawberries are the perfect dessert treat! Can I just say that I have died and gone to heaven.
---