Read
Hey Steve You Wanna Try Out My New Box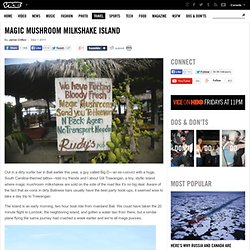 Magic Mushroom Milkshake Island
Out in a dirty surfer bar in Bali earlier this year, a guy called Big D—an ex-convict with a huge, South Carolina-themed tattoo—told my friends and I about Gili Trawangan, a tiny, idyllic island where magic mushroom milkshakes are sold on the side of the road like it's no big deal. Aware of the fact that ex-cons in dirty Balinese bars usually have the best party hook-ups, it seemed wise to take a day trip to Trawangan. The island is an early morning, two hour boat ride from mainland Bali.
The 25 Funniest Autocorrects Of DYAC's First Year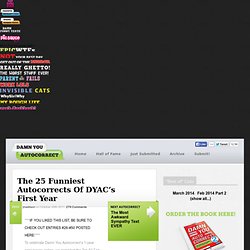 To celebrate Damn You Autocorrect's 1-year anniversary online, we compiled the Top 50 Fan Favorite DYAC entries (as determined by Facebook shares, tweets, comments, and pageviews). And now… here are the top 25 entries! Enjoy – and keep all the great submissions coming! 25. Special Delivery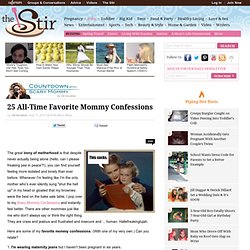 25 All-Time Favorite Mommy Confessions
The great irony of motherhood is that despite never actually being alone (hello, can I please freaking pee in peace?!), you can find yourself feeling more isolated and lonely than ever before. Whenever I'm feeling like I'm the only mother who's ever silently sung "shut the hell up" in my head or gloated that my brownies were the best on the bake sale table, I pop over to my Scary Mommy Confessions and instantly feel better. There are other mommies just like me who don't always say or think the right thing. They are crass and jealous and frustrated and insecure and ... human.
Wenn man nicht aufpasst, kann es passieren, dass man ohne es zu merken gleich mehrere Stunden auf der " Dear blank, please blank " Homepage verbringt. Wenn ich nicht so vorsichtig wär, würde ich wahrscheinlich jetzt noch dasitzen und eine lustige Kurznachricht nach der anderen lesen. Wer von euch ausreichend Zeit hat, sollte sich die Seite nicht entgehen lassen. Es ist jedoch besser die Finger davon zu lassen, wenn man noch bei der Arbeit ist.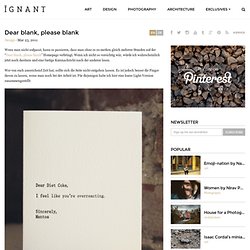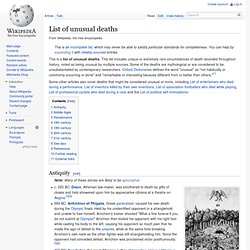 This is a list of unusual deaths . This list includes unique or extremely rare circumstances of death recorded throughout history, noted as being unusual by multiple sources. Some of the deaths are mythological or are considered to be unsubstantiated by contemporary researchers. Some other articles also cover deaths that might be considered unusual or ironic, including List of entertainers who died during a performance , List of inventors killed by their own inventions , List of association footballers who died while playing , List of professional cyclists who died during a race and the List of political self-immolations . [ edit ] Antiquity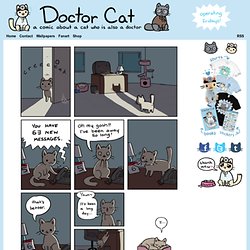 Hi everyone! Doctor Cat will begin updating again, starting today. Come back next Friday for another new comic! I also added a new Halloween wallpaper here . Maybe it's kind of late for Halloween stuff, but better late than never, right? I'm really behind on emails, so I'll be trying to get caught up with those this week!
Goodnight, Doctor Cat
50 Things Guys Wish Girls Knew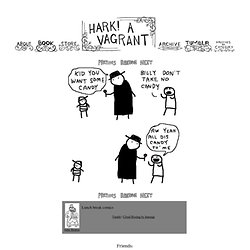 97
Friends: Lynn Allingham John Allison Amy Ash Dawn and Margie Beaton Marc Bell Sally Bloodbath John Campbell Scott Campbell Ryan Carley Anthony Clark Rebecca Clements Melanie Colosimo Domitille Collardey Jillian Comeau, Kim Carson and Michelle Skelding Aaron Diaz The Doug Wright Awards Jess Fink Eric Feurstein Brian Fukushima Sarah Glidden Meredith Gran Lisa Hanawalt Dustin Harbin Christopher Hastings Emily Horne and Joey Comeau Jimmie Kilpatrick Jon Klassen Steve Lambke Hope Larson Joe List David Malki Phil McAndrew Carolyn Merriman Carly Monardo Vicki Nerino Andre Richard Ryan North Ryan Pequin Neil Rough Jeffrey Rowland Gabby Schulz Smart and Bird Deana Sobel Nathan Stapley Henry Svec Matthew Trafford Julia Wertz Britt Wilson Stephanie Weirathmueller Steve Wolfhard You've Changed Records Chip Zdarsky Good comic shops that have taught me a thing or two: