Read
Awesome Japanese Troll FTW! Hey Steve You Wanna Try Out My New Box. Magic Mushroom Milkshake Island. Out in a dirty surfer bar in Bali earlier this year, a guy called Big D—an ex-convict with a huge, South Carolina-themed tattoo—told my friends and I about Gili Trawangan, a tiny, idyllic island where magic mushroom milkshakes are sold on the side of the road like it's no big deal.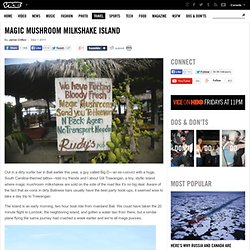 Aware of the fact that ex-cons in dirty Balinese bars usually have the best party hook-ups, it seemed wise to take a day trip to Trawangan. The island is an early morning, two hour boat ride from mainland Bali. 8 rules for dating my daughter. This page is brought to you by UC Berkeley Parents Network Back to the Jokes & Quotes Collection 8 rules for dating my daughter Copyright 1999 W.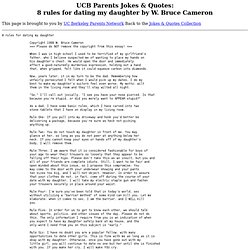 Bruce Cameron ==> Please do NOT remove the copyright from this essay! Mooloolababoy - Profound sayings from a wise man. The 25 Funniest Autocorrects Of DYAC's First Year. To celebrate Damn You Autocorrect's 1-year anniversary online, we compiled the Top 50 Fan Favorite DYAC entries (as determined by Facebook shares, tweets, comments, and pageviews).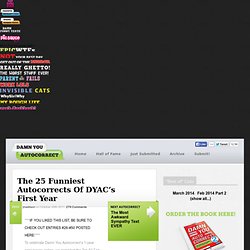 And now… here are the top 25 entries! Enjoy – and keep all the great submissions coming! 25. Special Delivery. 25 All-Time Favorite Mommy Confessions. The great irony of motherhood is that despite never actually being alone (hello, can I please freaking pee in peace?!)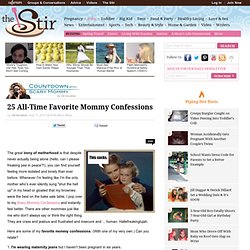 , you can find yourself feeling more isolated and lonely than ever before. Whenever I'm feeling like I'm the only mother who's ever silently sung "shut the hell up" in my head or gloated that my brownies were the best on the bake sale table, I pop over to my Scary Mommy Confessions and instantly feel better. There are other mommies just like me who don't always say or think the right thing. They are crass and jealous and frustrated and insecure and ... human. The Phobia List. If historical events had Facebook updates...
Dear blank, please blank. Wenn man nicht aufpasst, kann es passieren, dass man ohne es zu merken gleich mehrere Stunden auf der "Dear blank, please blank" Homepage verbringt.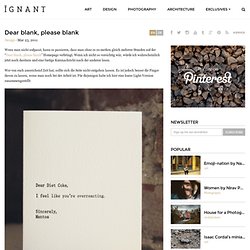 Wenn ich nicht so vorsichtig wär, würde ich wahrscheinlich jetzt noch dasitzen und eine lustige Kurznachricht nach der anderen lesen. Wer von euch ausreichend Zeit hat, sollte sich die Seite nicht entgehen lassen. Es ist jedoch besser die Finger davon zu lassen, wenn man noch bei der Arbeit ist. List of unusual deaths. This is a list of unusual deaths.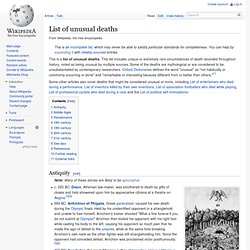 This list includes unique or extremely rare circumstances of death recorded throughout history, noted as being unusual by multiple sources. Some of the deaths are mythological or are considered to be unsubstantiated by contemporary researchers. Oxford Dictionaries defines the word "unusual" as "not habitually or commonly occurring or done" and "remarkable or interesting because different from or better than others. Tastefully Offensive | Premium Funny: Shakespeare Insult Kit. Goodnight, Doctor Cat. Hi everyone!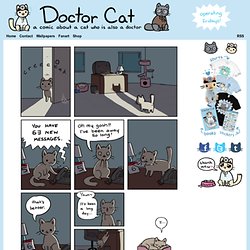 Doctor Cat will begin updating again, starting today. Come back next Friday for another new comic! I also added a new Halloween wallpaper here. 9 Hilariously Distressing Letters From Kids from Youre Doing It Right - StumbleUpon. 50 Things Guys Wish Girls Knew. 50 Things That Girls Should Know About Guys Guys aren't psychic, mind telling them what you mean?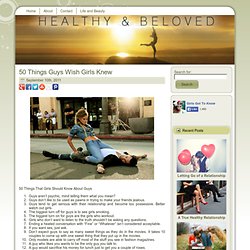 Guys don't like to be used as pawns in trying to make your friends jealous.Guys tend to get serious with their relationship and become too possessive. Better watch out girls.The biggest turn off for guys is to see girls smoking.The biggest turn on for guys are the girls who workout.Girls who don't want to listen to the truth shouldn't be asking any questions.Ending a heated conversation with "Fine" or "Whatever" isn't considered acceptable.If you want sex, just ask.Don't expect guys to say as many sweet things as they do in the movies. 97. Friends: Lynn AllinghamJohn AllisonAmy AshDawn and Margie BeatonMarc BellSally BloodbathJohn CampbellScott CampbellRyan CarleyAnthony ClarkRebecca ClementsMelanie ColosimoDomitille CollardeyJillian Comeau, Kim Carson and Michelle SkeldingAaron DiazThe Doug Wright AwardsJess FinkEric FeursteinBrian FukushimaSarah GliddenMeredith GranLisa HanawaltDustin HarbinChristopher HastingsEmily Horne and Joey ComeauJimmie KilpatrickJon KlassenSteve LambkeHope LarsonJoe ListDavid MalkiPhil McAndrewCarolyn MerrimanCarly MonardoVicki NerinoAndre RichardRyan NorthRyan PequinNeil RoughJeffrey RowlandGabby SchulzSmart and BirdDeana SobelNathan StapleyHenry SvecMatthew TraffordJulia WertzBritt WilsonStephanie WeirathmuellerSteve WolfhardYou've Changed RecordsChip Zdarsky Good comic shops that have taught me a thing or two: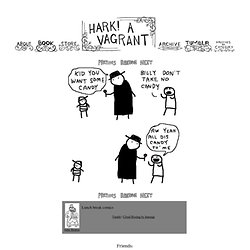 ---