Pop Culture
sAol0.gif 880×680 pixels. HgVNk.jpg 495×486 pixels. ZoRP3.jpg 600×430 pixels. 0OaqW.jpg 560×545 pixels. Interesting Letterhead Designs | Letterheady. Peter Thiel: We're in a Bubble and It's Not the Internet. It's Higher Education. Fair warning: This article will piss off a lot of you.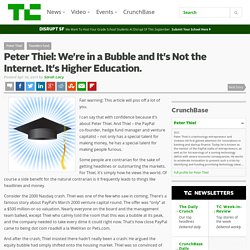 I can say that with confidence because it's about Peter Thiel. And Thiel – the PayPal co-founder, hedge fund manager and venture capitalist – not only has a special talent for making money, he has a special talent for making people furious. Some people are contrarian for the sake of getting headlines or outsmarting the markets. For Thiel, it's simply how he views the world. Of course a side benefit for the natural contrarian is it frequently leads to things like headlines and money.
60-minute bookcase. Kronum 2011 / Join The Revolution - (Private Browsing) Master Toons. TEDTalks as of 06.16.11. Summertime New Uses for Old Things - Real Simple.
---