Pancakes & Crêpes
Get flash to fully experience Pearltrees
Si vous posez la question à quelqu'un, vous pouvez être certain à 90% qu'il vous répondra que la recette de pancake est forcément sucrée... Ah oui vraiment?
Pourrait-on ajouter du colorant bleu?
KLEIN by yves.klein Apr 2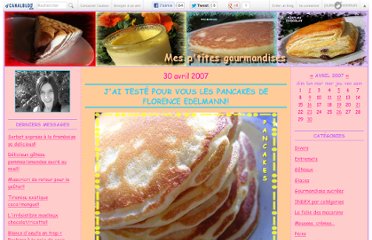 30 avril 2007 J'ai testé pour vous les pancakes de Florence Edelmann!! Une petite envie soudaine de pancakes, pas de problème j'ai la solution ;) Je vous propose aujourd'hui une recette super et super rapide tiré du superbe petit livre tout rose Pâtisseries maison de Florence Edelman
King Arthur Flour's bakery gets ready for Easter March 28th, 2013 by Amber Eisler It is still cold here in Vermont… From the outside I can't see many signs of spring.
Je pourrais presque prétendre que mon gâteau au fromage blanc est le meilleur que vous ayez jamais goûté si vous aimez les cheesecakes légers : il est vraiment excellent et c'est une des recettes que j'ai adoptée après en avoir testée plusieurs bien que personnellement je préfère celle qui est ici (moins légère) : clic Il n'est pas compliqué à prépareret les ingrédients sont faciles à trouver (contrairement au cheesecake au philadelphiaqu'on a beaucoup de mal se procurer ).
I seem to always be on a quest for finding the perfect pancake recipe. I like a pancake to be light and fluffy, not flat and rubbery which some of them can be. We gave this recipe from BBC Food a whirl last night for Shrove Tuesday and we were pretty pleased with the results, the only point to really complain about is that the recipe doesn't make enough!!
I think you'll love this colorful, pretty fruit salad, which is drizzled with a lovely orange-vanilla syrup, which glosses it up and makes it visually irresistible, which makes you want to stand over the bowl and slurp up every single bite, which won't leave any for your brunch guests.