DIY (crafting)
Make your own 6-pocket mini pocketbook and stay organized — insatiable need. I'm sure that many of you, like me, are on an eternal quest for organization.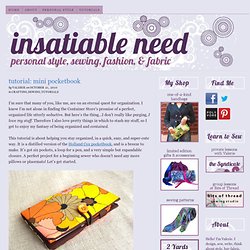 I know I'm not alone in finding the Container Store's promise of a perfect, organized life utterly seductive. But here's the thing…I don't really like purging, I love my stuff. Print Hula Hoop Rug Page | Crafts. This photo originally appeared in FamilyFun Magazine Total Time 2 to 3 hours Ages school-age What does it take to transform a pile of old T-shirts into spectacular works of woven art?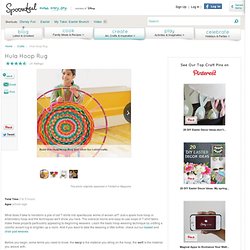 Perfect Summer Bangle. Here's a fun tutorial on how to make a message bangle that's one-of-a-kind, done in the sun, waterproof and weatherproof.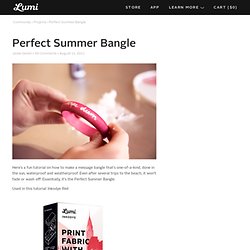 Even after several trips to the beach, it won't fade or wash off! Essentially, it's the Perfect Summer Bangle. Used in this tutorial: Inkodye Red. 36 Do It Yourself Gift Box Tutorials For Your Christmas Presents « PrintRadar - Scanning digital space. Bags, Totes, Purses, oh my! Re-purposing: Tshirts into 5-strand-braided-headbands. I was walking through Target a few weeks ago and noticed this little knit fabric headband that was not just braided together…….but woven.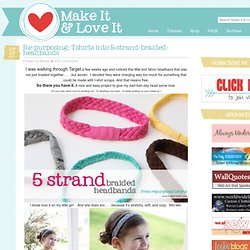 I decided they were charging way too much for something that could be made with t-shirt scraps. And that means free. So there you have it. Paper Cuts. Izziyana Suhaimi We've been seeing a lot of embroidered art as of late but I must say that so far, I've been most impressed by Singaporean artist Izziyana Suhaimi's work.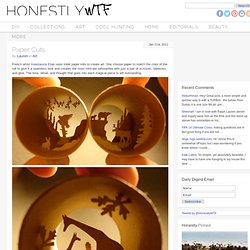 I can't get over how skillfully she is able […] A Due Colore I still can't get over how Alberto Seveso can make something as simple as ink in water look so captivating. DIY Sweat-sacoche diy-laptop-sweat – the Trendy Girl. A DIY "look for less" LOVE! | The Adventures of an Urban Socialite™
---