Savory
31 Grilled Cheeses That Are Better Than A Boyfriend. H7hj5.jpg (JPEG Image, 1200 × 1697 pixels) Budget Bytes - My stomach is full, and my wallet is too. Chef's of reddit, what are some amazing dishes you cook at home that is surprisingly inexpensive? : Frugal. Okra Gumbo with Blue Crabs and Shrimp. Ingredients 1/4 cup vegetable oil 3 pounds okra, thinly sliced crosswise4 live blue crabs 1 1/2 cups finely chopped onion 1/2 cup finely chopped green bell pepper 1/2 cup finely chopped celery 2 tablespoons tomato paste 1 1/2 quarts water 1 teaspoon minced garlic 1 teaspoon crushed red pepper flakes 1 teaspoon paprika 1/2 teaspoon cayenne pepper 1/2 teaspoon dried thyme 2 bay leaves Kosher salt 1 pound medium shrimp, shelled and deveinedSteamed white rice, for serving Instructions 1.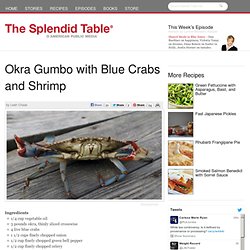 Heat the oil in a large pot. Cooking For Morons — Super easy slow-cooker beef stew. Healthy Soup Recipes – YouBeauty. Getting healthy entails more than saying no to those donuts at your morning meeting and hitting the gym four days a week (although that helps).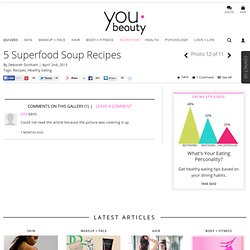 It also means making sure your diet is abundant in superfoods—Mother Nature's powerhouse crops. And what better way to get those nutrient-packed ingredients than in a delicious, hearty soup? QUIZ: Is Your Beauty Aging Too Quickly? By tossing fresh vegetables and legumes into a big pot and letting them simmer, you can nourish your body with healthy nutrients that have been linked to lowering your risk of diabetes, heart disease, cancer, blood pressure and high cholesterol.
Bonus: Some of these foods may even boost your skin tone and act as a fountain of youth. Italian Chicken Sausage and Artichoke Soup Recipe. Dinner Tonight: Roasted Chicken and Butternut Squash Soup. Here's the idea: Grab some produce, seasoning, and perhaps some protein, throw it on a sheet tray and roast until golden and tender, then mash it up into a rustic, warming soup.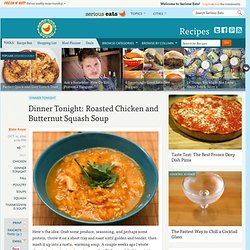 A couple weeks ago I wrote about a beet and potato borscht soup that fit that model; this variation on the butternut squash soup does as well. Roasting adds a depth of flavor that simmering will never provide, and it also makes for a low-fuss dinner that tastes like it took a lot more effort than it did. Chicken and Avocado Soup. Avocados, chicken, scallions and cilantro in a light broth with a touch of lime.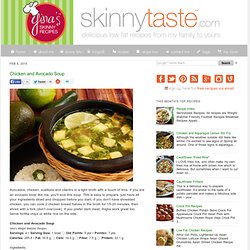 If you are an avocado lover like me, you'll love this soup. This is easy to prepare, just have all your ingredients diced and chopped before you start. Foods of New Mexico. Cocinas De New Mexico is published by the Public Service Company of New Mexico.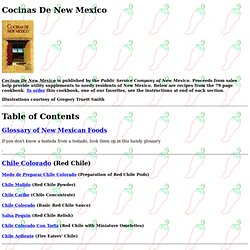 Proceeds from sales help provide utility supplements to needy residents of New Mexico. Below are recipes from the 79 page cookbook. New Mexico Green Chile Stew | REMCooks. © 2012 REMCooks.com Can you hear the fires burning and smell the roasted chiles in the air?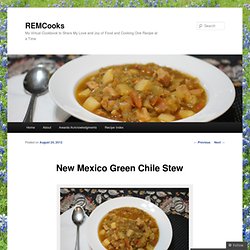 I can because it's Hatch chile season and I love Hatch chiles. Look at this beautiful green chile stew. Hatch chile season has officially arrived. Spicy Beef and Kimchi Stew Recipe. 5 Healthy Crock Pot Recipes to Try Now | DinnerTool. Slow Cooker Chicken Pot Pie Recipe. Braised Brisket with Potatoes and Carrots. Lean beef brisket slowly braised in the oven with potatoes, carrots and onions.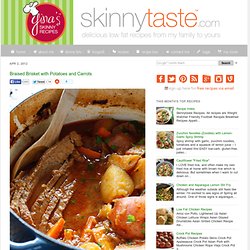 Slicing the brisket half-way through cooking assures that the meat is tender and flavorful. Perfect for Passover or Easter dinner. I made this recipe Passover friendly using ground matzo in place of flour. I simply took a matzo I had from my matzo pizza and ground it in the food processor or you could also use cake meal which they sell in the Kosher section of your supermarket. If you are not celebrating Passover you could use all purpose flour instead. Weekday Vegetarian: Linguine with Smoky Avocado Sauce. Photo: Kelly Rossiter/CC BY 2.0 Grilling avocados seems to be all the rage these days, and I finally tried it.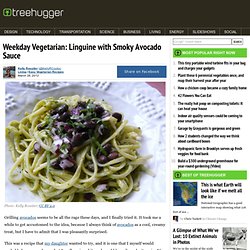 It took me a while to get accustomed to the idea, because I always think of avocados as a cool, creamy treat, but I have to admit that I was pleasantly surprised. This was a recipe that my daughter wanted to try, and it is one that I myself would probably have passed over, but I really enjoyed it, and would happily make it again. Basic Tomato Sauce from Fresh Tomatoes Recipe - Grace Parisi. Spinach Lasagna. Pasta with Butternut Parmesan Sauce Recipe. Skillet Cajun Spiced Flounder with Tomatoes. Cajun spices, tomatoes, onions and peppers give any white fish extra pizazz and a little kick.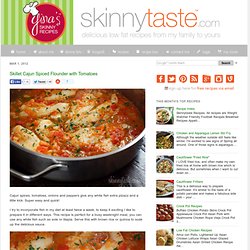 Super easy and quick! I try to incorporate fish in my diet at least twice a week, to keep it exciting I like to prepare it in different ways. This recipe is perfect for a busy weeknight meal, you can use any white fish such as sole or tilapia. Pan Seared Scallops with Sesame Sauce and Cellophane Noodles Recipe : Shrimp Pad Thai on the Lighter Side. I've been a huge fan of Rasa Malaysia for many years and recently Bee and I have become friends.
Bee spent a few months traveling Thailand and when she returned I asked if she could guest post making a Skinnier version of a Thai Classic. Pad Thai is probably my most requested makeover, so who better than to have Bee give us her authentic version with a lighter touch! Vegetarians, leave out the shrimp and add more tofu or add more veggies! Bangin' Grilled Shrimp Skewers. I've had it on my mind to turn my popular Banging Good Shrimp recipe into a summer dish you can make right on the grill. Now that the weather is warmer, we've been grilling almost every night. The excitement of being able to grill again and not dirty my kitchen is always These shrimp skewers are the bomb! The spicy, salty, sweet combination of the creamy chili sauce is what makes them so good.
Zesty Lime Shrimp and Avocado Salad. Zesty lime juice and cilantro are the key ingredients to creating this light and refreshing salad, no heavy mayonnaise to weigh it down. Made with the freshest ingredients; jumbo shrimp, avocados, tomatoes, red onion, cilantro and chopped jalapeño tossed with some freshly squeezed lime juice and a touch of olive oil. This will be a huge hit at your Cinco de Mayo fiesta or summer bash! Serve this as is for an appetizer, or over lettuce o tostadas for a lunch or light meal. You can easily adapt this to suit your taste by adding more or less cilantro, jalapeño etc. If you plan on making this ahead of time, you can combine all the ingredients except for the avocado and cilantro and keep this refrigerated, then add them right before serving.
Super Healthy, Ultra Clean Meatball Recipe! Blogilates Fitness, Food, & POP PIlates You are here: Home / Recipe Index / Healthy Main Dishes / Super Healthy, Ultra Clean Meatball Recipe! Super Healthy, Ultra Clean Meatball Recipe! 20 Easy Rotisserie Chicken Recipes. Lemon Thyme Chicken and Sauteed Veg. Beef Stir-Fry with Avocado Salad Recipe developed by Anna Berman Makes: 4 servings Prep time: 10 minutes Cook time: 10 minutes Ingredients: 12 ounces beef tenderloin, cut into thin strips 1/4 cup freshly squeezed lime juice 1 tablespoon plus 1/2 teaspoon chili powder 1 tablespoon vegetable oil 1 medium sweet onion, thinly sliced 1 red bell pepper, thinly sliced 1 poblano, thinly sliced 1/2 teaspoon salt 1/2 teaspoon black pepper 1 can black beans, rinsed and drained 1 avocado, diced 1/4 cup Cojita cheese, crumbled 1/4 cup cilantro plus more for garnish, chopped Corn tortillas (optional)
Cheesy Jalapeño Popper Baked Stuffed Chicken. What happens when you combine Skinny Baked Jalapeño Poppers with chicken?? Oh yeah baby!! Cheesy stuffed chicken breast stuffed with diced jalapeño, cream cheese, cheddar jack cheese, scallions and bacon! I basically deconstructed my jalapeño poppers and stuffed them into chicken and the results where mouth watering!! Skinny Overnight Oats in a Jar. Scottish Farmhouse Eggs | Ahoy! | Portland Maine DIY Blog. Baked Egg Cups. Shakshuka - Recipe for Delicious Middle Eastern Egg Dish. Summer Squash, Bacon, and Mozzarella Quiche Recipe.
---