Poverty
A Dollar a Day :: What is Poverty?
Population below poverty line by country - Thematic Map - World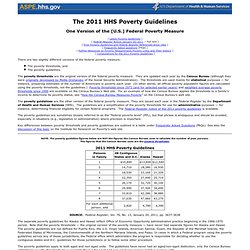 [ Latest Poverty Guidelines ] [ Federal Register Notice, January 20, 2011 — Full text ] [ Prior Poverty Guidelines and Federal Register References Since 1982 ] [ Frequently Asked Questions (FAQs) ] [ Further Resources on Poverty Measurement, Poverty Lines, and Their History ] [ Computations for the 2011 Poverty Guidelines ] There are two slightly different versions of the federal poverty measure: The poverty thresholds, and The poverty guidelines.
2011 HHS Poverty Guidelines
GlobalPovertyProject's Channel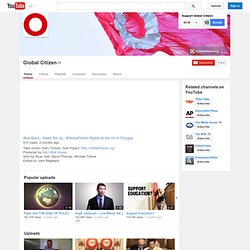 The Global Poverty Project is an educational and campaigning organisation that activates citizens to be a part of the global movement to end extreme poverty. We know extreme poverty is a complex issue, and that it can't be eradicated overnight, or by one person. That's why we're building a global movement for change: focused on making a difference now, and changing the systems and policies that keep people in poverty.
Peter Singer: Extreme Poverty
Facts about Children and Poverty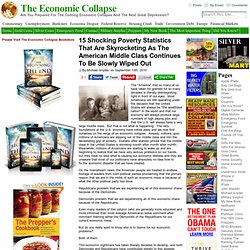 15 Shocking Poverty Statistics That Are Skyrocketing As The American Middle Class Continues To Be Slowly Wiped Out
The "America" that so many of us have taken for granted for so many decades is literally disintegrating right in front of our eyes. Most Americans are still operating under the delusion that the United States will always be "the wealthiest nation" in the world and that our economy will always produce large numbers of high paying jobs and that the U.S. will always have a very large middle class. But that is not what is happening.
How does the United States measure poverty? The United States determines the official poverty rate using poverty thresholds that are issued each year by the Census Bureau. The thresholds represent the annual amount of cash income minimally required to support families of various sizes.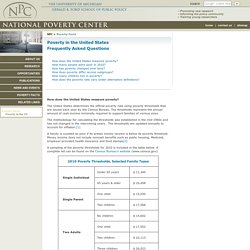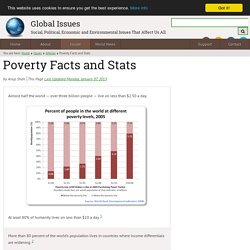 This figure is based on purchasing power parity (PPP), which basically suggests that prices of goods in countries tend to equate under floating exchange rates and therefore people would be able to purchase the same quantity of goods in any country for a given sum of money. That is, the notion that a dollar should buy the same amount in all countries. Hence if a poor person in a poor country living on a dollar a day moved to the U.S. with no changes to their income, they would still be living on a dollar a day. The new poverty line of $1.25 a day was recently announced by the World Bank (in 2008).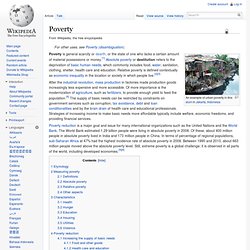 Poverty is general scarcity or dearth, or the state of one who lacks a certain amount of material possessions or money.[1] Absolute poverty or destitution refers to the deprivation of basic human needs, which commonly includes food, water, sanitation, clothing, shelter, health care and education. Relative poverty is defined contextually as economic inequality in the location or society in which people live.[2][3] After the industrial revolution, mass production in factories made production goods increasingly less expensive and more accessible. Of more importance is the modernization of agriculture, such as fertilizers, to provide enough yield to feed the population.[4] The supply of basic needs can be restricted by constraints on government services such as corruption, tax avoidance, debt and loan conditionalities and by the brain drain of health care and educational professionals.