Arquitectura Y Programacion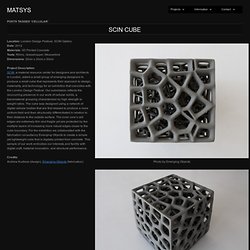 Posts Tagged 'Cellular' SCIN Cube Location: London Design Festival, SCIN GalleryDate: 2012Materials: 3D Printed ConcreteTools: Rhino, Grasshopper, WeaverbirdDimensions: 20cm x 20cm x 20cm Project DescriptionSCIN, a material resource center for designers and architects in London, asked a small group of emerging designers to produce a small cube that represents their approach to design, materiality, and technology for an exhibition that coincides with the London Design Festival. Our submission reflects the reoccurring presence in our work of cellular solids, a transmaterial grouping characterized by high strength to weight ratios.
Cellular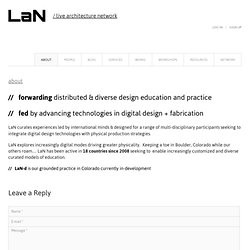 LaN curates experiences led by international minds & designed for a range of multi-disciplinary participants seeking to integrate digital design technologies with physical production strategies. LaN explores increasingly digital modes driving greater physicality. Keeping a toe in Boulder, Colorado while our others roam… LaN has been active in 18 countries since 2008 seeking to enable increasingly customized and diverse curated models of education. // LaN-d is our grounded practice in Colorado currently in-development
about
Hello! By browsing the table of contents on your left, you can read the entire text of this book online for free, licensed under a Creative Commons Attribution-NonCommercial 3.0 Unported License. Start reading the introduction now!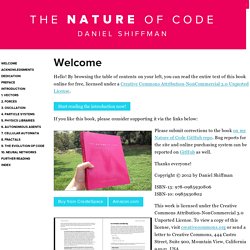 Programming Architecture - Parametric Design
parametric architecture
Introduction to Parametric Design with Grasshopper Webinar
Developing Digital Design Techniques (doctoral thesis)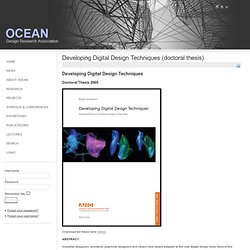 Doctoral Thesis 2005 Download full thesis here >>>>> Abstract Industrial designers, architects, graphical designers and others have slowly adapted to the new digital design tools. Most of this process of adaptation is about modifying traditional techniques to benefit from digital technology. But digital technology offers the possibility to rethink the design process even to a degree where our conception of visual creativity is questioned.
The Turing Machine « Arcade Fire
Sketching Dynamic Geometry on the iPad by @belchd
The Factory Factory - Producing Production since 2002
SJET
diseño paramétrico y fabricación digital
Espacios Digitales ›
algorithmic design
Arquitectura y Programación