Arquitectura Y Programacion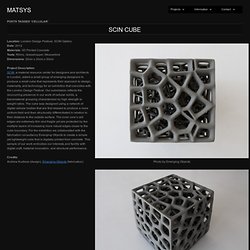 Posts Tagged 'Cellular' SCIN Cube Location: London Design Festival, SCIN GalleryDate: 2012Materials: 3D Printed ConcreteTools: Rhino, Grasshopper, WeaverbirdDimensions: 20cm x 20cm x 20cm Project DescriptionSCIN, a material resource center for designers and architects in London, asked a small group of emerging designers to produce a small cube that represents their approach to design, materiality, and technology for an exhibition that coincides with the London Design Festival. Our submission reflects the reoccurring presence in our work of cellular solids, a transmaterial grouping characterized by high strength to weight ratios.
Cellular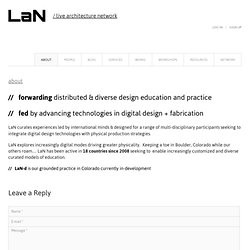 LaN curates experiences led by international minds & designed for a range of multi-disciplinary participants seeking to integrate digital design technologies with physical production strategies. LaN explores increasingly digital modes driving greater physicality. Keeping a toe in Boulder, Colorado while our others roam… LaN has been active in 18 countries since 2008 seeking to enable increasingly customized and diverse curated models of education. // LaN-d is our grounded practice in Colorado currently in-development
about
Hello! By browsing the table of contents on your left, you can read the entire text of this book online for free, licensed under a Creative Commons Attribution-NonCommercial 3.0 Unported License. Start reading the introduction now!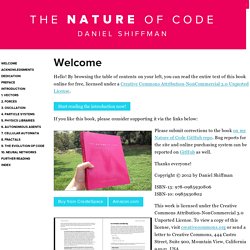 Programming Architecture - Parametric Design
parametric architecture
Introduction to Parametric Design with Grasshopper Webinar on Vimeo
Developing Digital Design Techniques (doctoral thesis)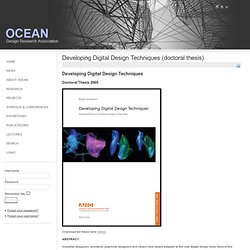 Doctoral Thesis 2005 Download full thesis here >>>>> Abstract Industrial designers, architects, graphical designers and others have slowly adapted to the new digital design tools. Most of this process of adaptation is about modifying traditional techniques to benefit from digital technology. But digital technology offers the possibility to rethink the design process even to a degree where our conception of visual creativity is questioned.
The Turing Machine « Arcade Fire
Sketching Dynamic Geometry on the iPad by @belchd
The Factory Factory - Producing Production since 2002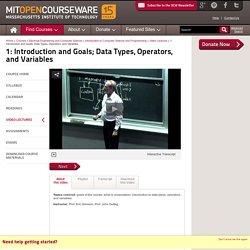 Download this transcript - PDF (English - US) The following content is provided under a Creative Commons license. Your support will help MIT OpenCourseware continue to offer high-quality educational resources for free. To make a donation, or view additional materials from hundreds of MIT courses, visit MIT OpenCourseware, at ocw.mit.edu.
SJET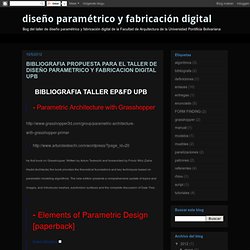 diseño paramétrico y fabricación digital
Geometry lies at the core of the architectural design process. It is omnipresent, from the initial form-finding stages to the actual construction. Modern constructive geometry provides a variety of tools for the efficient design, analysis, and manufacture of complex shapes. This results in new challenges for architecture. However, the architectural application also poses new problems to geometry. Architectural geometry is therefore an entire research area, currently emerging at the border between applied geometry and architecture.
Espacios Digitales ›
algorithmic design
2012 December 10-12 & 15 – 9:00-12:00 am CET / 9:00-12:00 am PSTLead instructor Giulio Piacentino – Assistant instructor Ilaria Giardiello Through this 4-day introductory online class, we will explore the flexible and clear syntax of the new programming language of Rhinoceros 5.0 for Windows and Mac. Even without any previous programming knowledge you will be able to extend your Rhino and Grasshopper experience — learning how to script, automate and implement your design process. You will learn about variables, methods and functions and the potentials of iterative and recursive codes. Description The class is taught completely online in 4 sessions of 3 hours each.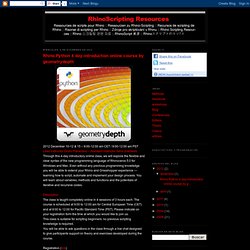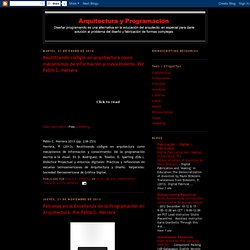 Arquitectura y Programación
Escuelab Teoría (obligatorio): Martes 16, al Viernes 19 - Febrero 2010 (10:00 a 14:00 hrs.) Horario de Práctica (opcional / flexible): 14:00 pm y 20:00 pm @ Escuelab (Belén 1044, Piso 5 - Centro de Lima) Gratuito / Cupos limitados / Con inscripción!!!Inscripciones Aqui!! El taller está dirigido a estudiantes y profesionales de la informática, las ciencias naturales, sociales, arquitectura y artes multimediales, etc, interesados en la creación de interfases para la visualización de datos. Ejemplos de los trabajos realizados por Santiago Ortiz, pueden ser revisados aquí: http://moebio.com/santiago/ Sobre la dinámica del taller