Arquitectura Y Programacion
Programming Architecture - Parametric Design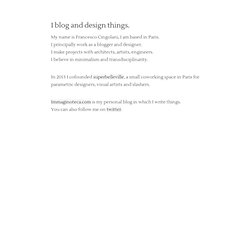 parametric architecture
My name is Francesco Cingolani and I am currently based in Paris. I am a designer and I am interested in the relationship between human beings and new technologies. I beleive in minimalism and I work as an architect, professional blogger, creative project manager. I have a blog in which I write random thoughts about technology, design and lifestyle.
Introduction to Parametric Design with Grasshopper Webinar on Vimeo
Developing Digital Design Techniques (doctoral thesis)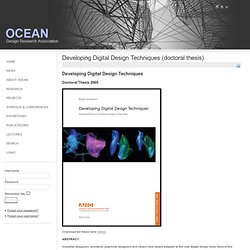 Doctoral Thesis 2005 Download full thesis here >>>>> Abstract Industrial designers, architects, graphical designers and others have slowly adapted to the new digital design tools. Most of this process of adaptation is about modifying traditional techniques to benefit from digital technology. But digital technology offers the possibility to rethink the design process even to a degree where our conception of visual creativity is questioned.
The Turing Machine « Arcade Fire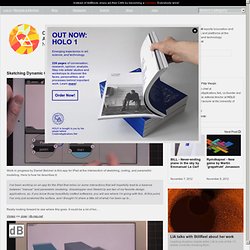 CreativeApplications.Net reports innovation and catalogues projects, tools and platforms at the intersection of art, media and technology. Read more here or contact å ä î ¯ ñ Search Work in progress by Daniel Belcher is this app for iPad at the intersection of sketching, coding, and parametric modeling. Here is how he describes it:
Sketching Dynamic Geometry on the iPad by @belchd
The Factory Factory - Producing Production since 2002
Electrical Engineering and Computer Science | 6.00 Introduction to Computer Science and Programming, Fall 2008 | Video Lectures | 1: Introduction and Goals; Data Types, Operators, and Variables
SJET
diseño paramétrico y fabricación digital
Grasshopper Interoperability with gHowl
Data here, data there, data everywhere!
Espacios Digitales ›
algorithmic design
Arquitectura y Programación