Arquitectura Y Programacion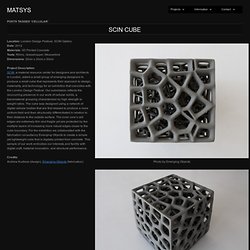 Posts Tagged 'Cellular'
Cellular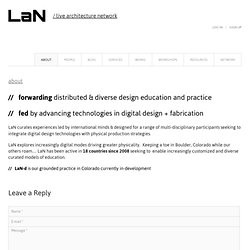 LaN curates experiences led by international minds & designed for a range of multi-disciplinary participants seeking to integrate digital design technologies with physical production strategies. LaN explores increasingly digital modes driving greater physicality.
about
Hello! By browsing the table of contents on your left, you can read the entire text of this book online for free, licensed under a Creative Commons Attribution-NonCommercial 3.0 Unported License. Start reading the introduction now!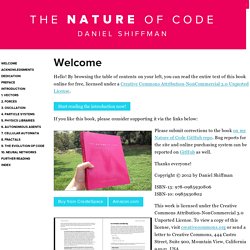 Programming Architecture - Parametric Design
parametric architecture
Introduction to Parametric Design with Grasshopper Webinar on Vimeo
Developing Digital Design Techniques (doctoral thesis)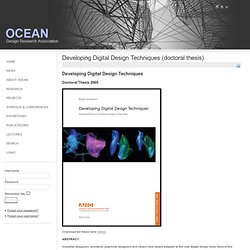 Doctoral Thesis 2005 Download full thesis here >>>>> Abstract Industrial designers, architects, graphical designers and others have slowly adapted to the new digital design tools. Most of this process of adaptation is about modifying traditional techniques to benefit from digital technology. But digital technology offers the possibility to rethink the design process even to a degree where our conception of visual creativity is questioned.
The Turing Machine « Arcade Fire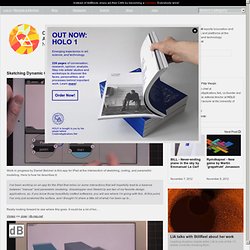 Work in progress by Daniel Belcher is this app for iPad at the intersection of sketching, coding, and parametric modeling. Here is how he describes it: I've been working on an app for the iPad that relies on some interactions that will hopefully lead to a balance between "manual" and parametric modeling. Grasshopper and SketchUp are two of my favorite design applications, so, if you know those beautifully crafted softwares, you will see where I'm going with this. At this point, I've only just scratched the surface, and I thought I'd share a little bit of what I've been up to… Really looking forward to see where this goes.
Sketching Dynamic Geometry on the iPad by @belchd
The Factory Factory - Producing Production since 2002
Electrical Engineering and Computer Science | 6.00 Introduction to Computer Science and Programming, Fall 2008 | Video Lectures | 1: Introduction and Goals; Data Types, Operators, and Variables
SJET
diseño paramétrico y fabricación digital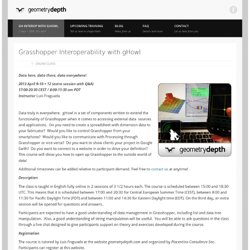 Grasshopper Interoperability with gHowl
Data here, data there, data everywhere!
Espacios Digitales ›
algorithmic design
Arquitectura y Programación