Sweet
No-Bake Chewy Cookies and Cream Bars | Picky Palate - StumbleUpon. Oh how I love a treat that can be whipped up in about 15 minutes.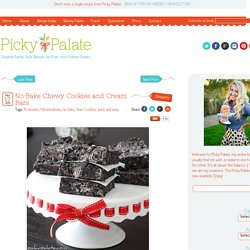 My boys and their buddies couldn't get enough of these Chewy Oreo Bars we had as an after school snack this week. Sometimes my spontaneous recipe creations turn out to be the most fun, lol! Nutella Mug Cake | Family Kitchen - StumbleUpon. I have been experimenting with different mug cakes every since I heard about them about a year ago.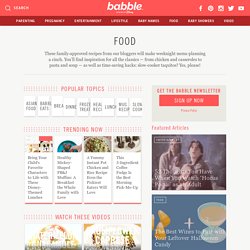 None of them have been winners. They were either too chewy, too dry, or not sweet enough. Well, I continued experimenting, and thought why not add some decadent Nutella into the mix. I modified the classic mug cake recipe, added Nutella, and a little more milk and oil than I had been using before. Cookies 'N Cream Oreo Fudge Brownies | Kevin & Amanda - StumbleUpon. Hellooooo, good lookin'!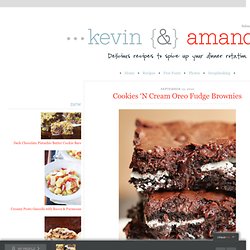 What a way to start the week! :) Last weekend as we were exploring Blue Ridge, GA, we stopped by this charming little bakery. They had all kinds of delicious looking homemade brownies. How to Make Chocolate Ice-cream Cups Using Balloons - Funny Mike - StumbleUpon. How to Make Marshmallow Fondant - Clockwork Lemon - StumbleUpon. This time I decided to make it with those mini fruit flavored marshmallows.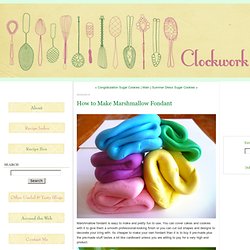 I had to sort them by colour first. I figured they would add a little bit of flavor to the fondant so I wouldn't have to add much flavoring oil. I use gel colours to dye my fondant but regular food colouring will work too. You won't be able to get really dark colours without making your fondant sticky, but for lighter colours you can just even it out with more icing sugar. I also had lemon oil and coconut flavoring on hand.. oh la la the value brand (which still works fine). Zebra cake recipe, Zebra Cheesecake recipe @Not Quite Nigella - StumbleUpon. You know the story - girl meets recipe and falls in love after seeing recipe across the crowded internet.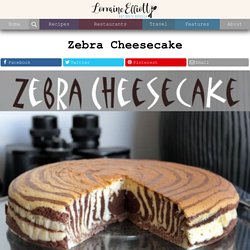 The recipe looks a bit different from what she is used to so girl is instantly intrigued. After the first tempting glimpse, girl can't get recipe out of her mind. Sixlets Cake for a Blog Birthday, and a Giveaway! - StumbleUpon. One year ago I was baking up a scratch-made confetti cake for this blog's first birthday.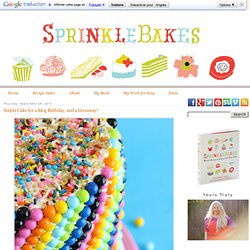 Not only was it fun to make - in a fling-sprinkles-everywhere kind of way - it was incredibly well received. Many of you made your own version and sent me pictures of the happiest faces behind lit candles, which makes me more than a little teary as I type this.
---