Recipes
How to Can, Freeze, Dry and Preserve Any Fruit or Vegetable at Home. How to Can, Freeze, Dry and Preserve Any Fruit or Vegetable at Home This month's notes: April 2014: Spring is just around the corner.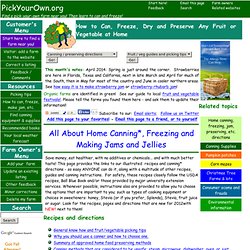 Strawberries are here in Florida, Texas and California, next in late March and April for much of the South, then in May for most of the country and June in cooler northern areas. See how easy it is to make strawberry jam or strawberry-rhubarb jam! 10 Ingredients to Make From Scratch. Bone-a Fide Broth - Farm Dreams. When clearing out my freezer to make room for a Box-O-Meat (grassfed from Warren Wilson College Farm), more than anything else, I found bones.I excavated cow, chicken, pig, lamb, and rabbit bones, leftovers from meals long digested.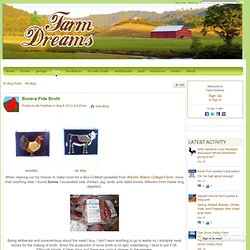 Being deliberate and conscientious about the meat I buy, I don't want anything to go to waste so I stockpile meat bones for the making of broth. Since the production of bone broth is no light undertaking, I tend to put it off. Although simple, it takes days and there are various phases to the process. Preparing a batch this time of year seemed well... untimely since most of the broth will be used for making cold weather fare; but seeing as it was necessary to make room in the freezer, I came to recognize that in some ways, Spring is an ideal time. Many bone broth brewers rave about how wonderful it is to have their homes filled with the broth's aroma, but because it simmers for days the smell gets a little much for us. Ninja® Master Prep® Frozen Drinks & Desserts Recipes | Official Site.
Condiments. Drinks. Rice/Pasta/Potatoes. Canning. BreakFast. Pork. Sauces. Mixes. Desserts. Mini Parmesan Crisp Bowls with Israeli Salad and a SILPAT Review and Give Away! PLUS Sweet Potato Chips! | Israeli Salad served in a Parmesan Crisp Bowl I've always heard such good things about SILPAT baking mats and have been terribly curious to try one out.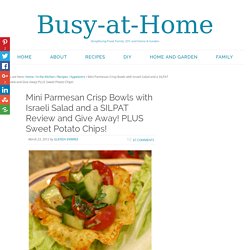 I got the opportunity, this week, to test the SILPAT Petite Jelly Roll Mat, which fits a 9 x 13 pan. Now, I understand why people get so excited about SILPAT! Family Night Pizza. Easiest Homemade Cheese Ever! - Fromage blanc soft cheeseCommon Sense Homesteading. Have you wanted to try cheesemaking but been too intimidated?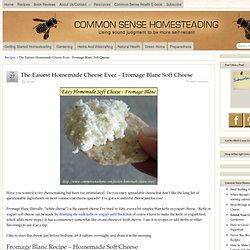 Do you enjoy spreadable cheese but don't like the long list of questionable ingredients on most commercial cheese spreads? I've got a wonderful cheese just for you! Crab Cake Recipe. Loaded Baked Potato Soup Recipe. Soups are definitely a highlight in the winter.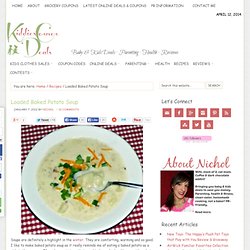 They are comforting, warming and so good. I like to make baked potato soup as it really reminds me of eating a baked potato as a side in the summer. If you have potatoes that need to be cooked and have no idea what you are going to make with them, definitely give this loaded baked potato soup recipe a try. Serve with a sandwich like Rachael Ray's Chicken Club Sliders (made indoors) or alone as it is very filling. Preserving Fruit Flavors in Alcohol: Homemade Liqueurs | Growing A Greener World. When we discuss food preservation, we are usually talking about canning, dehydrating, freezing or fermenting.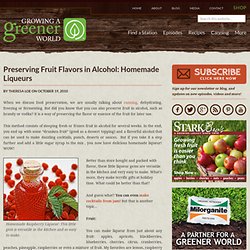 But did you know that you can also preserve fruit in alcohol, such as brandy or vodka? It is a way of preserving the flavor or essence of the fruit for later use. This method consists of steeping fresh or frozen fruit in alcohol for several weeks. In the end, you end up with some "drunken fruit" (good as a dessert topping) and a flavorful alcohol that can be used to make dazzling cocktails, punch, deserts or sauces. LaSaGnA TiMpAnO. I went to see tUnE-yArDs on Monday night with some friends, and as always we wanted to cook a meal that somehow related to the show we were heading to.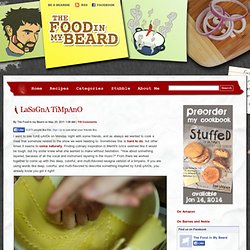 Sometimes this is hard to do, but other times it seems to come naturally. Finding culinary inspiration in Merrill's lyrics seemed like it would be tough, but my sister knew what she wanted to make without hesitation. "How about something layered, because of all the vocal and instrument layering in the music? " From there we worked together to come up with this deep, colorful, and multi-flavored lasagna version of a timpano. If you are using words like deep, colorful, and multi-flavored to describe something inspired by tUnE-yArDs, you already know you got it right! Good, Holy Heck Portabella Burgers. People.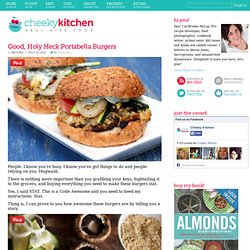 I know you're busy. I know you've got things to do and people relying on you. Hogwash. There is nothing more important than you grabbing your keys, hightailing it to the grocers, and buying everything you need to make these burgers stat.
---