Food.
Healthy Banana Peanut Butter Oatmeal Breakfast Bars. Healthy Banana Peanut Butter Oatmeal Breakfast Bars I'm sure I'm like a lot of you out there and am obsessed with Pinterest.
I've literally pinned hundreds of recipes onto my boards. However, I realized last week, that I've yet to even make one of the recipes I've pinned! Well, I've finally popped my Pinterest Cherry. The original recipe can be found at Gingerbread Bagels. Trader Joe's. Mango Black Bean Quinoa Print Recipe 3 cups TJ's Tri Color Quinoa, cooked 1 can TJ's Organic Black Beans, drained and rinsed 1 cup TJ's Mango Chunks, defrosted and cut into bite size pieces 1 TJ's Red Bell Pepper, chopped 2 TJ's Green Onions, sliced 1/4 cup TJ's Fresh Cilantro, chopped 1/4 cup TJ's Extra Virgin Olive Oil Juice of 1 TJ's Lime & 1/2 teaspoon of zest TJ's Salt and TJ's Pepper, to taste.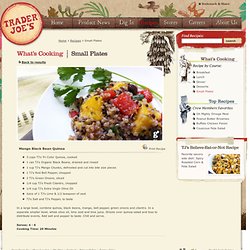 Trader Joe's. Couscous Feta Salad Print Recipe 1 cup TJ's Whole Wheat Couscous 1 cup TJ's Vegetable Broth 1 can TJ Garbanzo Beans 1/2 cup TJ's Green Onion, chopped 1/2 cup TJ's Mediterranean Feta Cheese 1/2 cup TJ's Kalamata Olives, diced TJ's Goddess Dressing, to taste Cook the Couscous in vegetable broth according to directions on package.
No-bake energy bites. I probably should have poured a nice stiff drink recipe for you all on this loveliest of lovely tax days.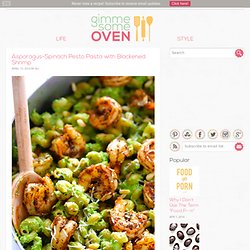 Especially for my fellow small business owners who just gave half of their revenue back to the government. Good grief, I won't even go there. Instead though, I thought I'd offer my idea of a more comforting alternative. Cauliflower Crust Pizza. I came across this cauliflower crust pizza on Pinterest, and was instantly intrigued.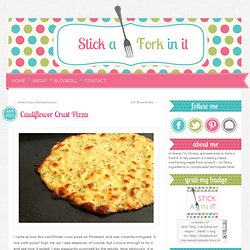 A low-carb pizza? Sign me up! Healthy Diets: Healthy Eating on a Budget. Forget that 99 cent bag of Fritos or dirty water dog.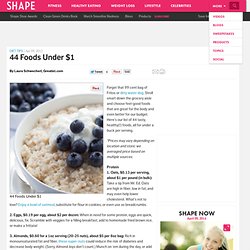 Stroll smart down the grocery aisle and choose feel-good foods that are great for the body and even better for our budget. Here's our list of 44 tasty, healthy(!) Foods, all for under a buck per serving. Healthy breakfast ideas: you'll love this delicious Chai oatmeal recipe. Eight Fatty Snacks To Lose Weight. Craving a snack?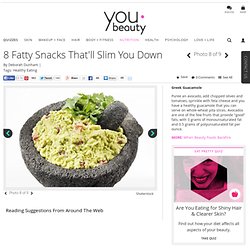 Put down that bag of chips and step away from that chocolate chip cookie. Instead, try these eats, which are loaded with healthy fats that help control hunger and promote weight loss. QUIZ: How Much Fat Did You Eat Today? Hard-Boiled Omega-3-Enriched Egg These eggs come from hens fed an omega-3 enriched diet, typically from flaxseeds. Overnight, No-Cook Refrigerator Oatmeal -- A healthy breakfast made in mason jars in six different flavors! Don't miss my follow-up post to this one with8 MORE REFRIGERATOR OATMEAL FLAVORSplus FAQs and more tipsCLICK HERE This easy, no-cook "summer porridge" has make-ahead convenience and is packed with nutrition to get your day off to a healthy start.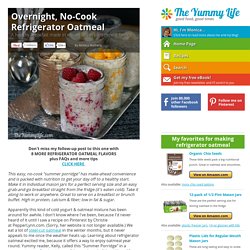 Make it in individual mason jars for a perfect serving size and an easy grab-and-go breakfast straight from the fridge (it's eaten cold). Take it along to work or anywhere. Grilled Guacamole Recipe. Grilled Guacmole?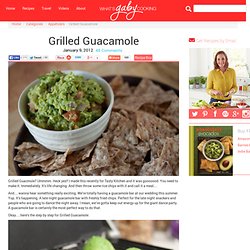 Ummmm. Heck yes!! I made this recently for Tasty Kitchen and it was gooooood. Guacamole Grilled Cheese Sandwich | Grilled Cheese Recipe. Guacamole Grilled Cheese Sandwich Josh's brother is visiting us from California and we are having a great time.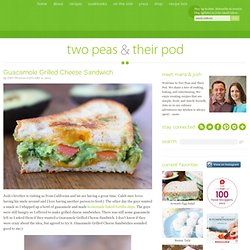 Caleb sure loves having his uncle around and I love having another person to feed:) The other day the guys wanted a snack so I whipped up a bowl of guacamole and made homemade baked tortilla chips. The guys were still hungry so I offered to make grilled cheese sandwiches. There was still some guacamole left so I asked them if they wanted a Guacamole Grilled Cheese Sandwich. French Fries: The No-Guilt Version. There's nothing like a french fried potato. The taste, the texture, the dip-ability; it's probably one of my favorite go-to comfort foods.
However, I don't need the fat of an actual deep fried potato, and I certainly do not favor processed french fries that come from the frozen food section of the grocery store. Enter: Healthy French Fries* Black Bean Burgers Recipe. Homemade French Fries. Why there is no need to purchase pre-made fries in the freezer aisle – in pictures and rhyme: One potato (find a potato) Two potato (cut the ends off) Baked Egg Boat recipe. Breakfast is my favorite meal. I like to drink iced coffee and watch the cream climb its way down the chunky ice cubes in a dazy before the caffeine hits. I like to order bacon with whatever I'm eating. I like eating potatoes with ketchup. Grilled Avocado with Strawberry-Mango Salsa Recipe at Epicurious. Yield Makes 4 servings Editor's note: This recipe was included with two others from our roundup of great cookbooks for Dad. There are more than 80 varieties of the avocado fruit, with the Hass variety responsible for 85 percent of production.
The Hass avocado was discovered by a California postman named Rudolf Hass. Herb Crusted Sweet Potato Bites. I did something really dumb. Way to be positive in 2012! But seriously. Because we had precisely one billion tasks to accomplish in the last week with our time off, I decided to download Temple Run on my iPhone. Hey. Is your resolution to play six solid hours of games on your mobile device? Mini Peanut Butter and Nutella Cheesecakes | Just Everyday Me. Jalapeño Popper Dip.
Lentil salad with corn and cherry tomatoes > > - > Delicooks. Your food web portal. Elephantine: the baked mac and cheese. Perfect Mac-n-Cheese « My Cooking Quest. Mediterranean Grain Salad. Almost-Famous Breadsticks Recipe : Food Network Kitchens. 50 Smoothies : Recipes and Cooking. Ginger. Foodiva's Kitchen. Jennifer's Shortbread~ Bean Burgers with Spicy Guacamole. Baked Marijuana French Toast: French Toasted. The 29 Healthiest Foods on the Planet | Belly Bytes. L.php?u=http%3A%2F%2Fwww.delicooks.
L.php?u=http%3A%2F%2Fwww.bellybytes.com%2Farticles%2F29foods. Crispy Kale Chips « askGeorgie.com.
---