Recipies
Sea-Salt Chocolate and Pecan Tart Recipe.
Broccoli parmesan fritters. Last week, it was pointed out to me that among the 750 recipes in the archives, there is but a single recipe that utilizes broccoli.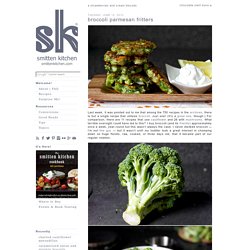 Just one! (It's a great one, though.) Scottish Farmhouse Eggs | Ahoy! | Portland Maine DIY Blog. The Ultimate Sandwich Recipe: Feast your eyes on this! First things first, the CellarVie Wines team cannot lay claim to being responsible for the making of the 'Ultimate Sandwich'.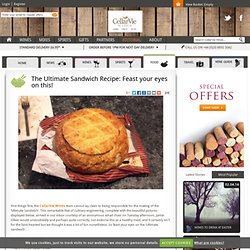 This remarkable feat of culinary engineering, complete with the beautiful pictures displayed below, arrived in our inbox courtesy of an anonymous email chain on Tuesday afternoon. Jamie Oliver would undoubtedly and perhaps quite correctly, not endorse this as a healthy meal, and it certainly isn't for the faint-hearted but we thought it was a bit of fun nonetheless. So feast your eyes on the 'Ultimate sandwich'… Ingredients (a guideline) 1 hard crusted Italian bread. No-bake energy bites. I probably should have poured a nice stiff drink recipe for you all on this loveliest of lovely tax days.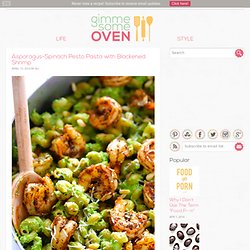 Especially for my fellow small business owners who just gave half of their revenue back to the government. Good grief, I won't even go there. Instead though, I thought I'd offer my idea of a more comforting alternative. Cold-Brewed Iced Coffee. Update 4/2014: Be sure to check out my new, improved cold-brewed iced coffee tutorial with step-by-step instructions and lessons learned since first posting about cold-brewed iced coffee.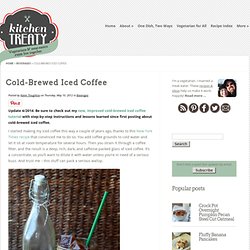 I started making my iced coffee this way a couple of years ago, thanks to this New York Times recipe that convinced me to do so. You add coffee grounds to cold water and let it sit at room temperature for several hours. 20 brilliant things to make in a jar. Via: mycakies.blogspot.com Start saving your old jam jars!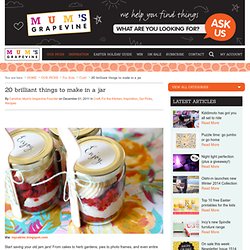 From cakes to herb gardens, pies to photo frames, and even entire meals … here are 20 fantastic things you never knew you could make with a jar. From the Patio. Cookie sandwiches. Thursday Night Baking. EDDIE ROSS - Pink Ombre Cake. Here's a cake sure to sweeten up the Valentines in your life.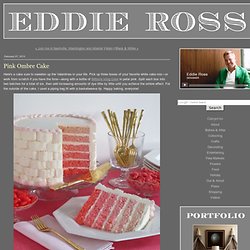 Pick up three boxes of your favorite white cake mix—or work from scratch if you have the time—along with a bottle of Wilton's Icing Color in petal pink. Split each box into two batches for a total of six, then add increasing amounts of dye little by little until you achieve the ombre effect. Frosted Candy Bar Stuffed Cookie Cups. Oh boy, first of all, let me apologize in advance for these cupcakes!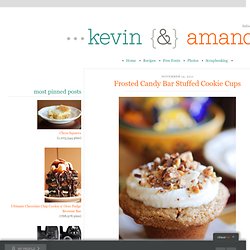 They are just downright ridiculous. I don't know about you, but I still had some leftover Halloween candy in my house this weekend, and I knew I had to find something delicious to do with it. I couldn't decide whether I wanted to make stuffed cupcakes or stuffed cookies, so… I decided to make both! I give you… The Frosted Candy Bar Stuffed Cookie Cup! Chocolate Chip Lava Cookies. I am so in love with these darn chocolate lava cookies!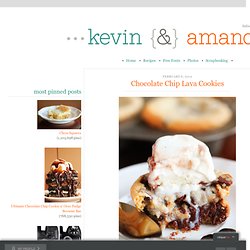 What is it about a warm, gooey chocolate chip cookie stuffed with decadent, rich, melted chocolate that makes it so irresistible?? Especially when topped with vanilla ice cream. These are one of Kev's favorite homemade treats, and he usually asks me to make them at least once a week. They are so simple to whip up, and such a treat! Chocolate Basmati Rice Soufflé. Nutella Mug Cake. I have been experimenting with different mug cakes every since I heard about them about a year ago.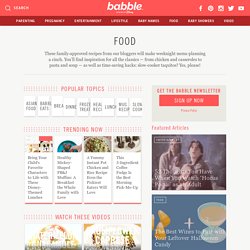 None of them have been winners. They were either too chewy, too dry, or not sweet enough. Well, I continued experimenting, and thought why not add some decadent Nutella into the mix. I modified the classic mug cake recipe, added Nutella, and a little more milk and oil than I had been using before. John Stage. 5@5 is a daily, food-related list from chefs, writers, political pundits, musicians, actors, and all manner of opinionated people from around the globe.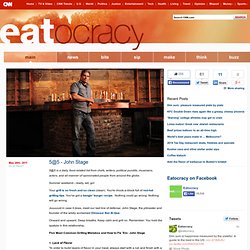 Summer weekend - ready, set, go! Your grill is so fresh and so clean (clean). , crispy mac and cheese. Food52's Genius Recipes: The River Cafe's Strawberry Sorbet. Spatchcocked turkey with butter, herbs, olive oil & lemons. As a curious home cook, I'm always looking for new ideas. One place that consistently provides great stuff is an online community for home cooks called Food52. The site is run by Amanda Hesser and Merrill Stubbs, and has just published its first cookbook with recipes created by members of the community. One of the cooler ideas I've come across from Food52 is the method of removing the backbone of a chicken and laying it out flat in a pan to roast it. Short Ribs Slideshow. Black and White Cookies - Original and Red Velvet. The Infamous Jacques Torres Chocolate Chip Cookies. Now, I have a chocolate chip cookie recipe that I swear by. I love it, I think it is incredible, and I haven't changed my mind about that.
However, as much as it pains me to say it, these chocolate chip cookies by Jacques Torres are absolutely, without a doubt, the best chocolate chip cookies that I have ever made or tasted in my entire life. I guess that's why they call him Mr. Chocolate! These are a chocolate chip cookie of another color, that's for sure. 4 Menus For Your Next Dinner Party. Deep-Fried Pecan Pie - Video. Schannep BBQ Sauce Recipe | Redwood Creek | Blaze The Trail. Primal Grill Recipes and Wine Pairings. Fried Kool-Aid Recipe. Chocolate Rum Balls Recipe : Alexandra Guarnaschelli. Deep-Fried Coca Cola Recipe. Egg-in-a-Hole Recipe : Ree Drummond.
Cinamon vanilla almonds. The Season's Best Slow-Cooker Recipes. Our Best and Most Popular Recipes - BHG.com. How To Cook Chicken In A Crockpot & Then Grill It. Fresh Basil Pesto Recipe. See Our Most Popular Grilled Beef Rib Recipes - Beef. See Our Most Popular Barbecue Chicken Recipes - Chicken. Spicy Grilled Shrimp. Feta Shrimp Kabobs. Tequila Grilled Shrimp and Mango Skewers. Old Bay Dipping Sauce. Barbecue Recipe for Grilled French Toast on the Grill. Busy Cook. Cocoa Cola Cake Recipe - KitchenDaily. French Toast With Vanilla Syrup And Pecans Recipe. Ancho Chili Recipe. Sauteed Salmon With Sweet And Sour Glaze Recipe. Smoked Ham With Bourbon Brown Sugar And Cola Recipe. Big Girls Small Kitchen » Cooking For One: Spaghetti & Breakfast, Part II. Big Girls Small Kitchen » Three Herb Cashew Pesto. Awesome Overnight French Toast. Weekend Breakfast: Triple Cheese And Spinach Strata | Honest Cooking. The Best Bread Pudding Recipe : Paula Deen.
Stacey Snacks. Slow-Cooker Macaroni and Beef Recipe. Slow-Cooked German Short Ribs Recipe. Slow-braised Beef Stew with Mushrooms Recipe. Savory Bread Pudding recipe from food52. Peanut brittle. Parrozzo (chocolate covered cake) | Italian Recipes | Italian recipes - Italian food culture - Academia Barilla. Pan Fried Chocolate Sea Salt Sandwich | The Internet Chef. Orange And Beer Braised Pork Carnitas Breakfast Tacos | Honest Cooking. OhMyGod Slow Cooker Short Ribs of Beef :: words to eat by. Mini Maple Pancake Muffins. Mediterranean Brisket Recipe. Meatloaf with Mozzarella, Mushrooms and Pepperoni Recipe. Kerry Saretsky: Franglais: Quatre Épices Honey Roast Ribs. Josh Ozersky: Bubby's Pork Pie. Indulgent & Comforting Breakfast Recipes.
How to Make Steak Rub. How to Make Pizza Monkey Bread. How to Make Biscuits. Hot Pastrami Sandwiches Recipe. Honest Cooking: Ten Delicious Global Dishes That You Can Make At Home. 5 Dinners Under $1. Edible DIY: Paula Deen's Homemade Kit Kat Bars. Easy Chicken Stir-Fry Dinners. French Toast Bread Pudding. David Eyre's Pancake recipe from food52. Crispy Salt and Pepper French Toast recipe from food52. Recipes - Possum Pie.
Cookie-Stuffed Cookies. Chocolate Pizza from Bimbo's. Chocolate Pizza. Chicken Scallopine with Sage and Fontina Cheese Recipe : Giada De Laurentiis. Chicken Dinners for Two. Bread Pudding Revival: Food: Erica Walkup: CenterstageChicago.com. Beef Ribs Recipe Collections. Baked Smokin' Macaroni and Cheese Recipe. A Valentine's Day Steakhouse Dinner -- At Home. 13 Delicious Beef Slow-Cooker Recipes. 5 New Orleans Dishes.
---