Alexbinenstock
Alex Binenstock
Fonts
Textures. Timekiller. Youtewbs. Random shit. Top 10 Hard Drive Upgrades and Fixes. 50 Life Secrets and Tips. Quote by Bob Marley: "Only once in your life, I truly believe, you... Design. Convert pdf to word - Convert pdf to doc - Convert online pdf to word. Is Your Search For Inspiration Getting in the Way? Many of us creative types spend a lot of time seeking out "inspiration".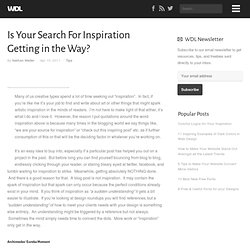 In fact, if you're like me it's your job to find and write about art or other things that might spark artistic inspiration in the minds of readers. I'm not here to make light of that either, it's what I do and I love it. However, the reason I put quotations around the word inspiration above is because many times in the blogging world we say things like, "we are your source for inspiration" or "check out this inspiring post" etc. as if further consumption of this or that will be the deciding factor in whatever you're working on.
It's an easy idea to buy into, especially if a particular post has helped you out on a project in the past. Adding Constraints May Boost Your Creativity. In 2003, acclaimed filmmaker Lars Von Trier challenged his idol Jorgen Leth to recreate his 1967 masterpiece The Perfect Human.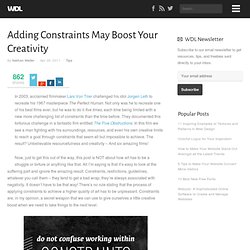 Not only was he to recreate one of his best films ever, but he was to do it five times, each time being limited with a new more challenging list of constraints than the time before. They documented this torturous challenge in a fantastic film entitled The Five Obstructions. In this film we see a man fighting with his surroundings, resources, and even his own creative limits to reach a goal through constraints that seem all but impossible to achieve. The result? 50 Best Free Fonts Having Commercial Use License. 60 Useful Texturing Tutorials | 3DExport's Blog - Buy 3D Models, Sell 3D Models easy. Details Techniques:3ds max, cinema4d, lightwave, maya, softimage, Texturing, Tutorials, UsefulAds: Hello dear readers =)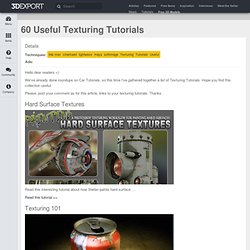 20 Questions To Ask Clients Prior To Designing A Logo. Before starting any project it's essential to get the right preliminary information from your clients.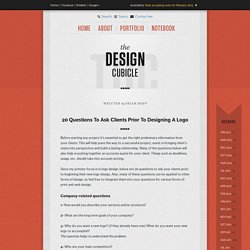 This will help pave the way to a successful project, assist in bringing client's vision into perspective and build a lasting relationship. Many of the questions below will also help in putting together an accurate quote for your client. Things such as deadlines, usage, etc. should take into account pricing. Since my primary focus in is logo design, below are 20 questions to ask your clients prior to beginning their new logo design. Binary - it's digitalicious! How binary works: The binary number system (aka base 2) represents values using two symbols, typically 0 and 1.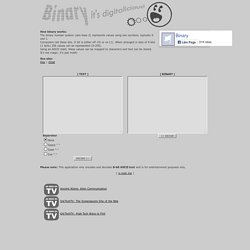 Computers call these bits. A bit is either off (0) or on (1). When arranged in sets of 8 bits (1 byte) 256 values can be represented (0-255). Using an ASCII chart, these values can be mapped to characters and text can be stored. It's not magic, it's just math! Convert. Jumpola: The BIG list of expert resources for graphic designers and marketers. Designers' List - All your favorite websites in one place!
Color Scheme Designer 3. Pictaculous - A Color Palette Generator (courtesy of MailChimp) ColorTheory_Screen_White.jpg (JPEG Image, 1224x792 pixels) - Scaled (81%) What Your Web Design Says About You (Infographic) Top. A Periodic Table of Visualization Methods. Heatless Glass. Sketchbook Secrets: 50 Beautiful Sketchbook Scans. The sketchbook is—to borrow a term from the new millenniums' popular discourse—an artist's BFF.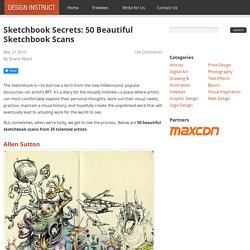 It's a diary for the visually inclined—a place where artists can most comfortably explore their personal thoughts, work out their visual needs, practice, maintain a visual history, and hopefully create the unpolished work that will eventually lead to amazing work for the world to see. But, sometimes, when we're lucky, we get to see the process.
50 Free Photoshop Brush Sets Everyone Should Have.
Music
Futuristic, Grungy Metal Text Effect in Photoshop. In today's quick tip tutorial, we will demonstrate how to create a futuristic, grungy, text effect with lots of scratches and fancy neon lights.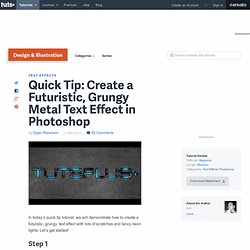 Let's get started! Step 1 Create a new document with any desired size, in this case I made the document 1920px wide and 1080px high at a resolution of 300ppi.
---