Tips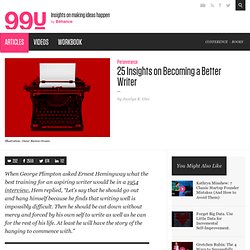 When George Plimpton asked Ernest Hemingway what the best training for an aspiring writer would be in a 1954 interview, Hem replied, "Let's say that he should go out and hang himself because he finds that writing well is impossibly difficult. Then he should be cut down without mercy and forced by his own self to write as well as he can for the rest of his life. At least he will have the story of the hanging to commence with." Today, writing well is more important than ever.
Cheat Sheet Do you want to be the next J.K. Rowling and dream up a character like Harry Potter? Do you want to write poems or plays? Follow this handy Cheat Sheet, which breaks down the process into manageable tasks, and helps you to develop your style.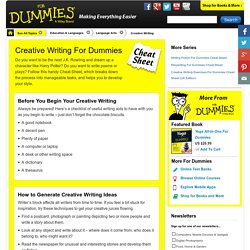 Published Wed, Jul 8, 2009 by Austin Govella. Updated Wed, Jul 8, 2009. As an editor, I've noticed several recurring bad habits you heathens would do well to disabuse yourselves of immediately. Almost without exception, these bad habits instantiate themselves as a series of stock phrases and constructions that reflect a lack of focus, a lack of fully developed argument, or the kind of intellectual laziness that sets in as you slog through your first draft. These things happen, That's ok.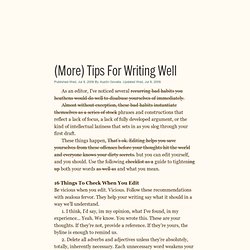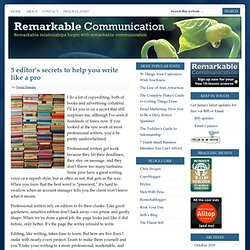 I do a lot of copyediting, both of books and advertising collateral. I'll let you in on a secret that still surprises me, although I've seen it hundreds of times now. If you looked at the raw work of most professional writers, you'd be pretty underwhelmed. Professional writers get work because they hit their deadlines, they stay on message, and they don't throw too many tantrums. Some pros have a great writing voice or a superb style, but as often as not, that gets in the way. When you know that the best word is "prescient," it's hard to swallow when an account manager tells you the client won't know what it means.
How to Plot and Write a Novel: Plan Your Novel Writing with the Snowflake Method | Suite101.com
The Snowflake Method of Writing a Novel|Kathryn McCallum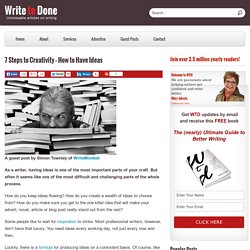 A guest post by Simon Townley of WriteMindset
You've heard of freewriting, certainly. At its most basic, it's about forcing your internal editor to stay away while you splash your most raw and unusual thoughts onto the page. In Accidental Genius: Using Writing to Generate Your Best Ideas, Insights, and Content (2nd edition, revised & updated), Mark Levy tells how he uses freewriting, not only to loosen up his writing muscles, but to solve business problems of all kinds. Levy, author, writing teacher, and marketing strategist, shares a few "secrets" for making freewriting an indispensible tool: