Roy Lichtenstein
Roy Lichtenstein painting sells for record £27m at Christie's auction. By Emma Reynolds Updated: 12:22 GMT, 9 November 2011 A painting by the late Roy Lichtenstein has sold for $43.2million (£27million) in New York - an auction record for the pop artist.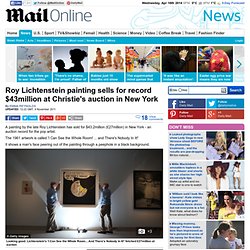 The 1961 artwork is called 'I Can See the Whole Room! Roy Lichtenstein. Roy Fox Lichtenstein (pronounced /ˈlɪktənˌstaɪn/; October 27, 1923 – September 29, 1997) was an American pop artist.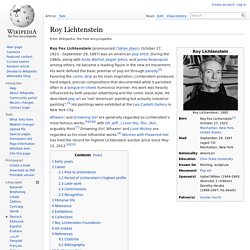 During the 1960s, along with Andy Warhol, Jasper Johns, and James Rosenquist among others, he became a leading figure in the new art movement. His work defined the basic premise of pop art through parody.[2] Favoring the comic strip as his main inspiration, Lichtenstein produced hard-edged, precise compositions that documented while it parodied often in a tongue-in-cheek humorous manner. His work was heavily influenced by both popular advertising and the comic book style. Picasso's Legacy: 5 American Artists Most Influenced by Picasso - - Reproduction Oil Painting - Art Revived. Over the course of his ninety-two years of life, Pablo Picasso explored a wide variety of artistic styles and techniques.
The Spanish artist is one of the most famous, as well as influential, artists of all time. His legacy lives on in the art of many modern American artists. Art Revived has assembled a list of some of the most well-known American painters who have found inspiration in Picasso's work. The Art Story: Artist - Roy Lichtenstein.
"I'm never drawing the object itself; I'm only drawing a depiction of the object - a kind of crystallized symbol of it.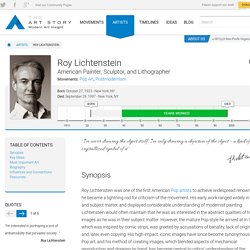 " Roy Lichtenstein was one of the first American Pop artists to achieve widespread renown, and he became a lightning rod for criticism of the movement. His early work ranged widely in style and subject matter, and displayed considerable understanding of modernist painting: Lichtenstein would often maintain that he was as interested in the abstract qualities of his images as he was in their subject matter. However, the mature Pop style he arrived at in 1961, which was inspired by comic strips, was greeted by accusations of banality, lack of originality, and, later, even copying. La cara de barcelona. Roy lichtenstein.
---