Música (teoría)
A chord structure , also called a chord progression or harmonic progression , helps indicate where the melody should go. [ edit ] The purpose of chord structures It can be argued that many forms of music are organic, while imposing a rigid "structure" can be hampering.
Music Theory/Chord Structures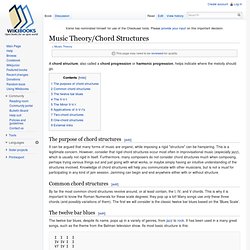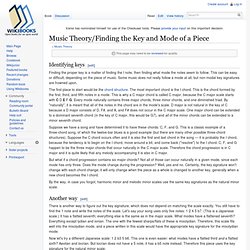 [ edit ] Identifying keys
Music Theory/Finding the Key and Mode of a Piece
Harmonic Functions - The II and VII Degrees
Acorde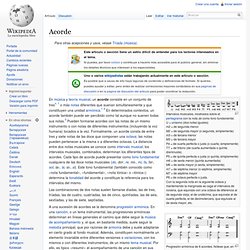 Intervalos musicales, mostrados sobre el pentagrama con la nota do como tono fundamental.
You don't need a "1000 Chords Dictionary" to be able to read and play chords.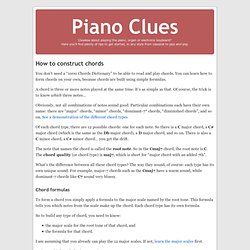 Following up and expanding on a post about learning music theory with Auto-tune .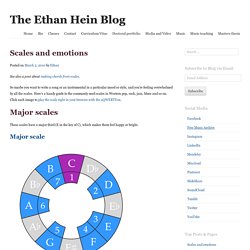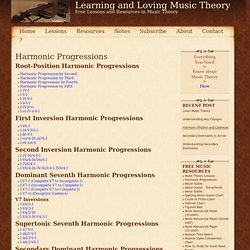 Kelvin, You actually caught a mistake on the roman numerals!
The specific scale you use to play solo in each key depends on the type of sound you want to create.
Basic Music Theory Overview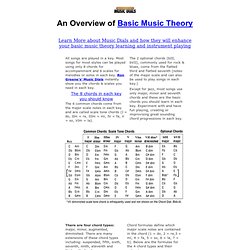 Find the Chords in a Scale Once more, the key of C is our reference. Because the Circle of Fifths can help us name the notes in any major scale, it can also show us the chords in a major chord scale. Here's how: First, remember that any key has a set of chords which go with it, just as it has a major scale of single notes.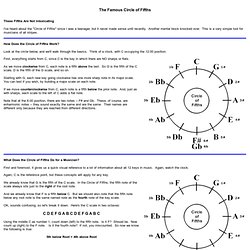 circle of 5ths text
50s progression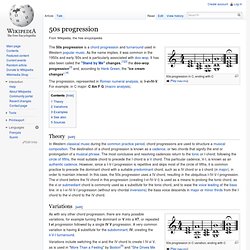 50s progression in C, ending with C ( Play ) The 50s progression is a chord progression and turnaround used in Western popular music .
Properties of musical modes
The modern musical modes consist of seven different scales related to the familiar major and minor keys, each with different properties and characteristics which distinguish them from one another. Called the Ionian , Dorian , Phrygian , Lydian , Mixolydian , Aeolian , and Locrian modes, each of these seven modal scales is composed of a particular arrangement of the diatonic tones of an octave . [ edit ] Mode characteristics
What is an Interval?
Whatever you are a music teacher, a composer or a simple musician for sure you may need some good quality staff paper .
Printable Staff Paper
Chord Families
This tutorial introduces the idea of Chord Families. To get the most out of this, you need to be comfortable with the theory behind chord construction.
General Tips Published on October 19th, 2011 | by Caesar (Kuwait Music)
Chord progressions are the canvas on which musicians paint their masterpieces, and it's a canvas which is a piece of art in itself. A chord progression can be subtle and in the background or it can be blatant and up front; it can be simple and catchy, or it can be technical and complex, it can stay in one key or it can change like the seasons.
Guitar in DADGAD-Tuning (D, A, D G A D')]
Chord Calculator
We will start by transforming the iv degree chord of the A minor key into an augmented sixth chord. Below is the i - iv - V - i progression in A minor:
Harmonic Functions - Augmented Sixths