Art
100 Awesome Art Lessons on YouTube. Whether you're getting your bachelor's degree in painting, graphic design or sculpture, there's so much to learn about art — from its lush history to materials — that it can sometimes feel overwhelming.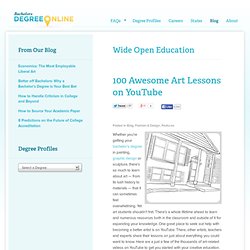 Yet art students shouldn't fret. There's a whole lifetime ahead to learn and numerous resources both in the classroom and outside of it for expanding your knowledge. One great place to seek out help with becoming a better artist is on YouTube. There, other artists, teachers and experts share their lessons on just about everything you could want to know.
Here are a just a few of the thousands of art-related videos on YouTube to get you started with your creative education. Explore Modern Art. Amazing 3D Drawings. Judith Ann Braun's Fingers Are Magical. With an art career spanning more than three decades, Judith Ann Braun has tested the limits of her artistic musculature.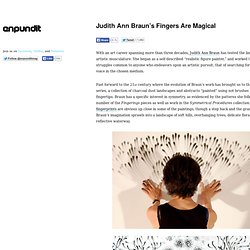 She began as a self-described "realistic figure painter," and worked through the struggles common to anyone who endeavors upon an artistic pursuit, that of searching for one's own voice in the chosen medium. Fast forward to the 21st century where the evolution of Braun's work has brought us to the Fingerings series, a collection of charcoal dust landscapes and abstracts "painted" using not brushes but her fingertips. Braun has a specific interest in symmetry, as evidenced by the patterns she follows in a number of the Fingerings pieces as well as work in the Symmetrical Procedures collection. Her fingerprints are obvious up close in some of the paintings, though a step back and the grandeur of Braun's imagination sprawls into a landscape of soft hills, overhanging trees, delicate florals, and a reflective waterway. Rajacenna Draws Celebrity Portraits.
Rajacenna is an 18-year-old self-taught artist from the Netherlands who draws the most realistic portraits I have ever seen, using only pencils.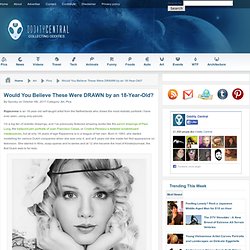 I'm a big fan of realistic drawings, and I've previously featured amazing works like the pencil drawings of Paul Lung, the ballpoint pen portraits of Juan Francisco Casas, or Cristina Penescu's detailed scratchboard masterpieces, but at only 18 years of age Rajacenna is in a league of her own. Born in 1993, she started modelling for various Dutch companies when she was only 4, and at 5 years old she made her first appearance on television. She starred in films, soap-operas and tv-series and at 12 she became the host of Kinderjournaal, the first Dutch web-tv for kids. She only took up drawing in 2009, and although she had never taken any art classes she produced some stunning pieces. Solitude - 2010/2011 - A work in progress on the Behance Network. Do it yourself, 3D hand - Binnit. 40 Free Tutorials on Advanced Drawing Techniques.
The traditional form of drawing and sketching is a highly sought after skill.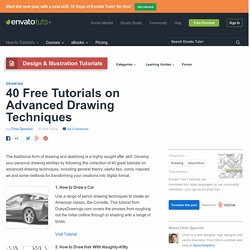 Develop your personal drawing abilities by following this collection of 40 great tutorials on advanced drawing techniques, including general theory, useful tips, comic inspired art and some methods for transforming your creations into digital format. 1. How to Draw a CarUse a range of pencil drawing techniques to create an American classic, the Corvette. This tutorial from DueysDrawings.com covers the process from roughing out the initial outline through to shading with a range of tones.Visit Tutorial 2.
Rashad Alakbarov Paints with Shadows and Light & Cat in water. Artist Rashad Alakbarov from Azerbaijan uses suspended translucent objects and other found materials to create light and shadow paintings on walls.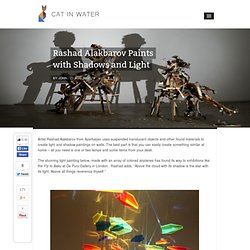 The best part is that you can easily create something similar at home – all you need is one or two lamps and some items from your desk. The stunning light painting below, made with an array of colored airplanes has found its way to exhibitions like the Fly to Baku at De Pury Gallery in London. Rashad adds, "Above the cloud with its shadow is the star with its light. Above all things reverence thyself." Whatimade.com part 4. Mummy: "Hey!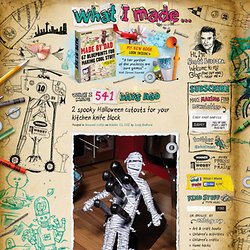 Watch where you put those!" Frankenstein: "Hey, that's my best jacket!" Here's two seasonally spooky Halloween cutouts to end my short break from blogging. I think the result is quite eye catching, or maybe I should say quite eye watering! Banksy tags LA. As the 2011 Oscar ceremony approaches, speculation has been rife about whether anonymous British street artist Banksy will make an appearance.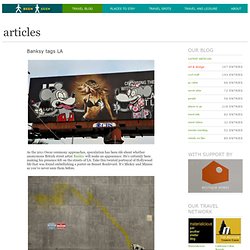 He's certainly been making his presence felt on the streets of LA. Take this twisted portrayal of Hollywood life that was found embellishing a poster on Sunset Boulevard. How To Draw A Wave | Club Of The Waves. This art tutorial, kindly donated by surfing comic strip illustrator and surf artist Bob Penuelas covers how to draw a wave the Wilbur Kookmeyer way!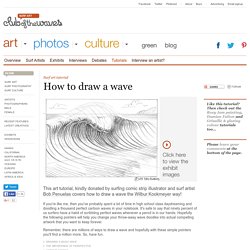 If you're like me, then you've probably spent a lot of time in high school class daydreaming and doodling a thousand perfect cartoon waves in your notebook. It's safe to say that ninety percent of us surfers have a habit of scribbling perfect waves whenever a pencil is in our hands. Hopefully the following pointers will help you change your throw-away wave doodles into actual compelling artwork that you want to keep forever. Remember, there are millions of ways to draw a wave and hopefully with these simple pointers you'll find a million more. Street Graffiti Art by Mobstr. BEAUTY HAS NO COLOR. DeviantART muro. A Cathedral Made from 55,000 LED Lights. The Luminarie De Cagna is an imposing cathedral-like structure that was recently on display at the 2012 Light Festival in Ghent, Belgium.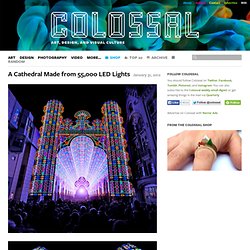 The festival was host to almost 30 exhibitions including plenty of 3D projection mapping, fields of luminous flowers, and a glowing phone booth aquarium, however with 55,000 LEDs and towering 28 meters high the Luminarie De Cagna seems to have stolen the show. ( via stijn coppens, sacha vanhecke, sector271) 18-Year-Old Creates Surreal Artworks to Express Emotions. Growing up can be a challenge, especially in the teenage years.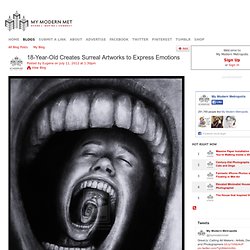 Some people use writing or art as a creative outlet for all the emotions they keep inside. Sebastian Eriksson is an 18-year-old up-and-coming surrealist artist living in Sweden. Drawing Lessons - 6 Important Pencil Drawing Lessons To Help Improve Your Technique. Big Doodle. - StumbleUpon. - StumbleUpon. - StumbleUpon. How To Draw. To make all of these Instructables, download this collection of How To's as an ebook. Download » "How to Draw" is a collection of tutorials that will teach you everything from perspective basics to shading chrome.
Never picked up a pencil before? The drawings of Leonardo da Vinci. F E R I C. - StumbleUpon. Smashing Picture. See . Saw on the Behance Network. Sidewalk chalk guy. Minjae Lee.
---