Inspira
Polish Mother Of Two Takes Beautiful Pictures Of Kids Spending Their Summer In The Countryside. Summertime is known around the world as a joyful span of months, a break from tiring schooldays and tedious assignments, a chance to relax, and let your hair down.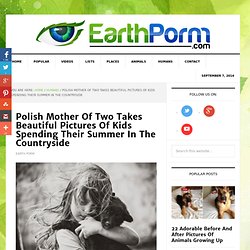 Perhaps no one enjoys summer more than children, the memories from your own childhood summers might be enough on their own to fill you with happiness. One photographer in particular can help you conjure up these good feelings with her incredible images. Olivier Du Tre. Unique Body Landscape Art from Arno Rafael Minkkinen. Portraits of 'Nightlife' on Photography Served. Where Science, Art and Photography Intersect (25 photos) Silhouette with Matches Caleb Charland demonstrates lessons in physics and mathematics with his mind-blowing photography.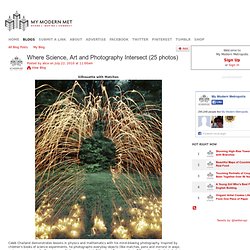 Inspired by children's books of science experiments, he photographs everyday objects (like matches, pens and mirrors) in ways we've never imagined, often using multiple exposures to tell the story. For example, in Fifteen Hours, the last photo in this set, Charland used 15 exposures to show how the flame of a dinner candle beautifully burns down. Man's Best Friend - Dogs in Photography. Continuing on in our 'Photos of the Week' series – I bring you a cute and furry collection of some of the most delightful canines you will ever see.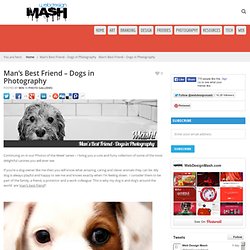 If you're a dog-owner like me then you will know what amazing, caring and clever animals they can be. My dog is always playful and happy to see me and knows exactly when I'm feeling down. I consider them to be part of the family, a friend, a protector and a work colleague This is why my dog is and dog's around the world are 'man's best friend'! Фото и рисунки, арт и креативная реклама.
Room Portraits by Menno Aden. City of Fog on Photography Served. Photography by Geof Kern. Beautiful Black and White Photography - Smashing Magazine. Advertisement If you've been following Smashing Magazine for a while, you know that almost all posts from the Monday Inspiration series1 are pretty colorful and eye-catching.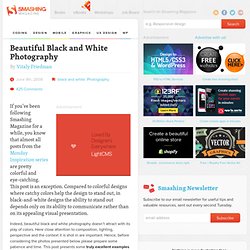 This post is an exception. Compared to colorful designs where catchy colors help the design to stand out, in black-and-white designs the ability to stand out depends only on its ability to communicate rather than on its appealing visual presentation. Indeed, beautiful black and white photography doesn't attract with its play of colors. Tuve on the Behance Network. Stunning black and white photography by Hengki Koentjoro (23 images) | thedraftingclub.com. Black and white photography is one of my favorite things on Earth, and let's call Hengki Koentjoro's work Exhibit A as to why.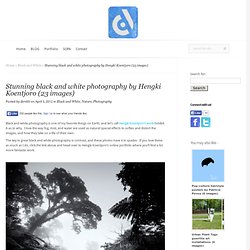 I love the way fog, mist, and water are used as natural special effects to soften and distort the images, and how they take on a life of their own. The key to great black and white photography is contrast, and these photos have it in spades. If you love these as much as I do, click the link above and head over to Hengki Koentjoro's online portfolio where you'll find a lot more fantastic work. via. Magical worlds of Manuel Sanchez. Eerie Urban Misty Night Photography. 100 Chilling Examples Of Foggy Photography. Photography inspiration | #221. 100 Stunning Examples Of Black And White Photography. Фото и рисунки, арт и креативная реклама. 101 Awe-Inspiring Examples Of Street Photography. 100 Striking Examples Of Conceptual Photography. 100 Calm Examples Of Rain Photography. Beauty in Everything - Photography.
100 Stunning Examples Of Black And White Photography. 100 Chilling Examples Of Foggy Photography.
---