Games
TheEnd. Top Ten Scariest Indie Games of All Time. Page 1 Page 2 Page 3 Do you think only hardcore games can scare you?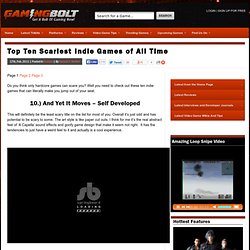 Well you need to check out these ten indie games that can literally make you jump out of your seat. GameBoy Color Games | Gamenert | Only The Best Free Online Games. Zelda. -Dusk- World's Biggest PAC-MAN. Old PC Games - homepage. The Illusionist Dream - ClockworkMonster Games - Monster Games. Hats. CANABALT. Grid-16. Multitask. UPDOWNREADY. List of free online flash games. Wolfenstein 1-D: The Game That Changed Everything, Converted to a 1-Pixel Line. Gamenify | Play Flash Games Full Screen. Day Off Games - TimeFall.com. Flash Games. The Great, the Odd, the Wacky | RGB Agent - Web Design Intelligence. Oct182010 Have you ever heard about something that's called a game addiction?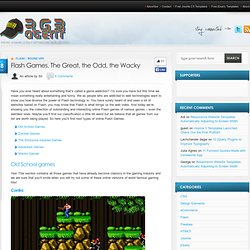 I'm sure you have but this time we mean something really entertaining and funny. Escape the Red Giant / Games / ooPixel. Hello Worlds! Gateway I. Ten games that make you think about life. At the start of this year, we decided to come up with a list of Flash casual games with a philosophical bent.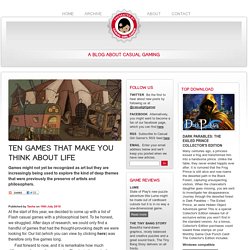 To be honest, we struggled. After days of research, we could only find a handful of games that had the thought-provoking depth we were looking for.
---