Dibujo/pintura
Necessity brings him here, not pleasure. Maurizio Bongiovanni. What children's drawings would look like if it were painted realistically. By Rian on 4 December 2011 The Monster Engine is one of those projects that make me love the Internet for its ability to expose amazing creative talent to a worldwide audience.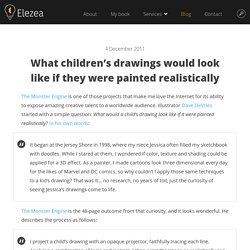 Illustrator Dave DeVries started with a simple question: What would a child's drawing look like if it were painted realistically? In his own words: Acollian on Behance. Works 2012 | Oliver Vernon. DRAWING 2011. Shapes of Conscious. Ray Caesar - Gallery. Ballpoint pen and nothing more. Rysunek satyryczny Pawła Kuczyńskiego | Capu.pl. Mark Powell Biro Pen Drawings. Monsters Hand Draw by Kids | Hand Drawing Art Pictures and Ideas. Published on February 2nd, 2011 A little boy is chatting with his old baby ghost friend and passing a very hilarious moment both together.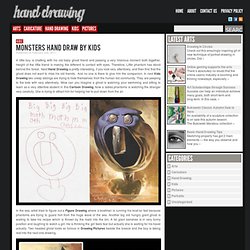 Height of the little friend is making the different to contact with eyes. Therefore, Little phantom has stood behind the forest. Littlesweets. Julie Heffernan. From Julie Heffernan's Constructions of Self Julie Heffernan creates sensuous figurative painting, like co-Yale MFAS, John Currin and Linda Yuskavage, but her luminous oils are patently unique among them and most working artists today.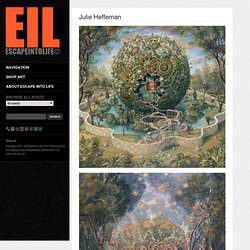 A Victorian impetus to conjoin, edging toward pastiche, creates artfully staged Surrealist environments. They avoid the mawkish or macabre by virtue of an evocative 17th century Baroque styling and the dignity with which she handles her primary subject, herself. Good construction is essential to the success of such works, built of disparate things suggesting disparate philosophies and ages. Kipling West. About this Series: Kipling West's meticulous illustrations command your attention.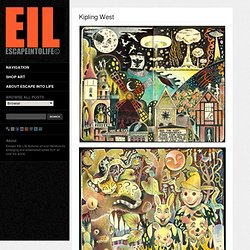 At first glance, the prismatic colors and flowing line work grab your eyeballs. Tinymediaempire. Juli Jah - StumbleUpon. Works by John Kenn & Escape Into Life - StumbleUpon. John Kenn has risen to the single most popular artist on Escape into Life with over 200,000 visitors to a single page.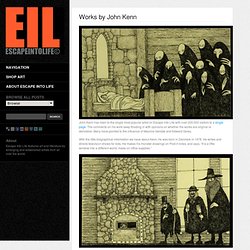 The comments on his work keep flooding in with opinions on whether the works are original or derivative. Many have pointed to the influence of Maurice Sendak and Edward Gorey. With the little biographical information we have about Kenn, he was born in Denmark in 1978. Caitlin Hackett Contemporary Mythology. 50 Mind Blowing Sketches | Penny's Daybook | www.PennysDaybook.com. Critic, "I'm an artist myself and" Argument from authority – always a logical fallacy, but even worse when it's in a subjective field where there arguably can't be any authorities.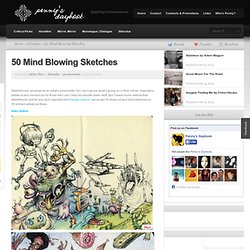 "I hate it when people who aren't artists assume anything someone puts out there is 'mind-blowing'." – incredibly condescending, don't you think? And besides, "assumes" that it is mind-blowing? If the person who posted these pieces had his mind figuratively blown by them, then how can they not be mind-blowing? Who are you to say that they are not, in the face of reality and facts? She Wears the Night (5 pics) I've been a fan of Amy Sol's whimsical, sweet art for quite some time now, she's one of those artists who continuously amazes me with her talent.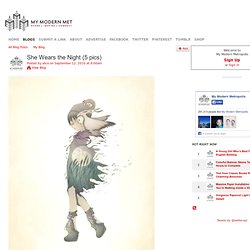 This new piece, called She Wears the Night, is a small graphite and gouache illustration she made for the Japanese street fashion themed "Sweet Streets 2" show going on now at Nucleus gallery. I just love how the girl in her illustration has the moon on her dress and what looks like an owl on her shoulder. Ethereal and gorgeous. Catch this piece and more at Nucleus Gallery from now until October 4, 2010. Amy Sol. Home | SWINJ. Pen and Ink Drawings. Urban-muse - Gallery -Xiau-Fong_Wee. Sketchbook on the Behance Network.
10 Incredibly Talented Painters. Immense talent is exhibited in the works of 10 of our favorite artists.Alex Roulette Originally from Columbus, OH and now lives in Brooklyn, NY.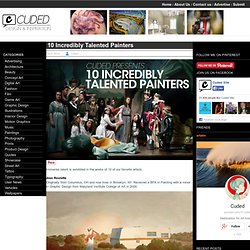 Received a BFA in Painting with a minor in Graphic Design from Maryland Institute College of Art in 2009. Lu Cong Lu Cong is a contemporary American portrait artist. He is regarded by many as one of the most distinctive young artists to recently emerge from the American West. His paintings center around the faces of his carefully chosen subjects. Sketchbook on the Behance Network. Фото и рисунки, арт и креативная реклама. SANTIAGO CARUSO'S WORK | Sprayblog. Salvador Dalí Illustrates Alice in Wonderland, 1969. Carne Griffiths. MAIN : Marion Bolognesi. Lori Earley. Satirical Art Drawings by Pawel Kuczynski. Tape, Pencil and Resin: The Art of Brooks Salzwedel | Ape on the Moon: Contemporary Visual Arts. Bows. Artwork by lawrence yang. Фото и рисунки, арт и креативная реклама. Joe Fenton. Hello. DIY Doodler. The Surreal Paintings of Vladimir Kush. Rafal Olbinski. Green Beans Project on the Behance Network.
Gothic horror illustrations by Tatsuya Morino. Unicorn Being a Jerk | SadAndUseless.com. ASTRONOMICA by Larry Carlson 2010.
---