Spaceliners
Bristol Spaceplanes
Welcome to SpaceDev, Inc.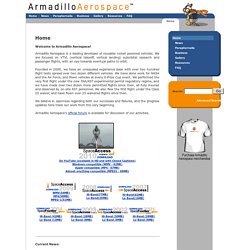 Armadillo Aerospace - Home
Armadillo Aerospace is a leading developer of reusable rocket powered vehicles. We are focused on VTVL (vertical takeoff, vertical landing) suborbital research and passenger flights, with an eye towards eventual paths to orbit. Founded in 2000, we have an unequaled experience base with over two hundred flight tests spread over two dozen different vehicles.
Starchaser Industries Ltd
Masten Space Systems, Inc.
ExcaliburAlmaz
Rocketplane Global, Inc. is committed to making space, space acc
XCOR Aerospace - Liquid fuel rocket engines, pumps composites an