E-ducation & OpenCourses
Send us your (active) public or private sector open source organization. Apache Software Foundation http://www.apache.org/foundation The Apache Software Foundation provides organizational, legal, and financial support for a broad range of open source software projects. The Foundation provides an established framework for intellectual property and financial contributions that simultaneously limits contributors potential legal exposure.
Organisations & Outils pour l'OpenSource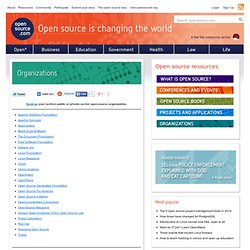 Open Educational Ressources
Open Educational ResourcesOur ProjectsGet Involved With the internet, universal access to education is possible, but its potential is hindered by increasingly restrictive copyright laws and incompatible technologies. The Education program at Creative Commons works to minimize these barriers, supporting the CC mission through consulting, education, and outreach on using the right technologies and licenses to maximize the benefits of open educational resources (OER) and the return on investment in publicly funded education and research programs. Our work cuts across all levels of education (K-12 to postsecondary) and sectors of industry (nonprofit to corporate). Open Educational Resources Open Educational Resources (OER) are teaching, learning, and research materials in any medium that reside in the public domain or have been released under an open license that permits their free use and re-purposing by others.1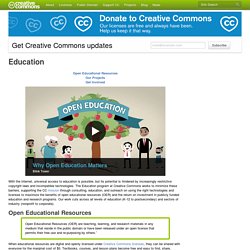 Peer 2 Peer University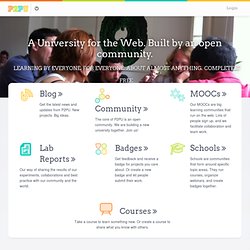 June Ahn Research Partner June is a human computer interaction researcher at University of Maryland. He was brave enough to get involved with this crowd and is helping us make all our data available to everyone. John Britton Edupunk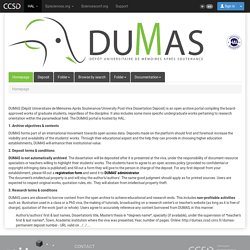 DUMAS (Dépôt Universitaire de Mémoires Après Soutenance) est une base d'archives ouvertes de travaux d'étudiants de niveaux bac+4 et bac+5, validés par un jury, dans toutes les disciplines. La base DUMAS est hébergée par HAL. 1. Objectifs et contenu de l'archive
For those who don't know me, I'm a researcher for BBC Research & Development. For the last fifteen months I've been on attachment with BBC Scotland learning about how R&D interfaces with production divisions. Prior to my attachment I worked closely with Ian on Backstage events such as the Edinburgh Un-Festival and Over the Air so now I'm back in the fold I've been asked to work with a small team on the closedown and migration of BBC Backstage. A few weeks have passed since the announcement that Backstage is due to close. It's taken a while to get up to speed but recently we've really started to get a clear idea on what we need to do to close down Backstage in a way that preserves its legacy and continues to support its community. Here's a brief rundown of what we've been up to.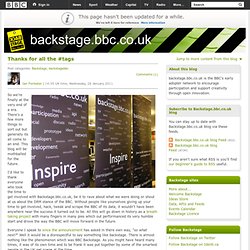 Why create a Wikiversity account? Wikiversity:Main Page From Wikiversity Jump to: navigation, search
Fournir à l'internaute, à partir de leur cadre d'usage (Unités d'Enseignement), un ensemble des ressources pédagogiques utilisés dans les 11 écoles de ParisTech. Engagement 1 : ParisTech s'engage à ce que les ressources pédagogiques mises à disposition respectent la législation en terme de droits d'auteur des tiers. Si toutefois un problème était détecté par un usager, il pourrait le faire savoir immédiatement en utilisant l'adresse mél mise à disposition ("Vos critiques"). Engagement 2 : ParisTech s'engage, pour chaque ressource pédagogique mise à disposition, après l'avoir défini avec les enseignants auteurs, à définir un droits d'usage de celle-ci. Engagement 3 : ParisTech s'engage à ce que chaque ressource pédagogique mise à disposition ait suivi un processus et des critères de qualification.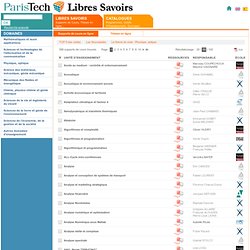 Standards for Web Content Interoperability The Open Archives Initiative develops and promotes interoperability standards that aim to facilitate the efficient dissemination of content. OAI has its roots in the open access and institutional repository movements.