E-ducation & OpenCourses
Organisations & Outils pour l'OpenSource. Send us your (active) public or private sector open source organization.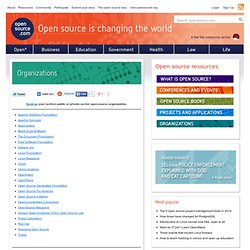 Apache Software Foundation The Apache Software Foundation provides organizational, legal, and financial support for a broad range of open source software projects. The Foundation provides an established framework for intellectual property and financial contributions that simultaneously limits contributors potential legal exposure. Open Education.
HAL (Hyper Articles en Ligne) Open Educational Ressources. CcLearn. Open Educational ResourcesOur ProjectsGet Involved With the internet, universal access to education is possible, but its potential is hindered by increasingly restrictive copyright laws and incompatible technologies.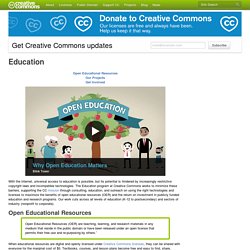 The Education program at Creative Commons works to minimize these barriers, supporting the CC mission through consulting, education, and outreach on using the right technologies and licenses to maximize the benefits of open educational resources (OER) and the return on investment in publicly funded education and research programs. Our work cuts across all levels of education (K-12 to postsecondary) and sectors of industry (nonprofit to corporate). Open Educational Resources Open Educational Resources (OER) are teaching, learning, and research materials in any medium that reside in the public domain or have been released under an open license that permits their free use and re-purposing by others.1. Peer 2 Peer University. DUMAS (Dépôt Universitaire de Mémoires Après Soute. Teachers Without Borders. BBC Learning - Open Lab.
Wikiversity. Main Page. ParisTech "Graduate School". Fournir à l'internaute, à partir de leur cadre d'usage (Unités d'Enseignement), un ensemble des ressources pédagogiques utilisés dans les 11 écoles de ParisTech.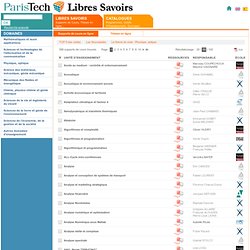 Engagement 1 : ParisTech s'engage à ce que les ressources pédagogiques mises à disposition respectent la législation en terme de droits d'auteur des tiers. Si toutefois un problème était détecté par un usager, il pourrait le faire savoir immédiatement en utilisant l'adresse mél mise à disposition ("Vos critiques"). Engagement 2 : ParisTech s'engage, pour chaque ressource pédagogique mise à disposition, après l'avoir défini avec les enseignants auteurs, à définir un droits d'usage de celle-ci. Engagement 3 : ParisTech s'engage à ce que chaque ressource pédagogique mise à disposition ait suivi un processus et des critères de qualification. Open Archives Initiative.
---