Miscellaneous
Art 1. Optical Design. 1040/large/ 9Hz87.jpg (600×602) Andrew Archer. 110302-MINT-TIPSa.png (1300×1926) MWM Graphics | Matt W. Moore. The Chromatic Typewriter. Washington-based painter Tyree Callahan modified a 1937 Underwood Standard typewriter, replacing the letters and keys with color pads and hued labels to create a functional "painting" device called the Chromatic Typewriter.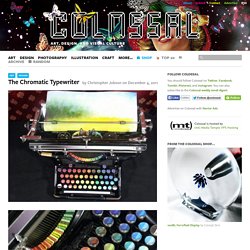 Callahan submitted the beautiful typewriter as part of the 2012 West Prize competition, an annual art prize that's determined by popular vote. I don't know how practical painting an image with a color typewriter is, but if Keira Rathbone can do it… (via dark silence in suburbia) ZIPPER by KPK. Road Trip America ‹ Evan Travels. Scenic_route_finalsmall.jpg (1014×1500) 302986_1196352760_large.jpg (1454×626)
Illicit_trafficking_2000.jpg (1593×916) 234759_1255512677_large.jpg (1500×746) Sts-41d_2.jpg (942×942) Koalas to the Max dot Com. Best Street Art of 2011.
---