Art Projeccts
Edit Edited by Dvortygirl, Brandywine, Travis Derouin, Flickety and 35 others In the ancient world of the Ojibwe Nation, all tribes lived on Turtle Island. When they dispersed across North America, Asibikaashi (Spider Woman)—who watched over and cared for the Ojibwe children—was unable to make the journey. So the women of the tribes began weaving these magical webs out of willow hoops and sinew.
How to Make a Dreamcatcher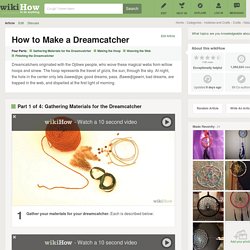 How to make a Dreamcatcher
Instructions for Dreamcatchers
Presented by… There are a lot of stories about the dream catcher, many of which accompany the dream catchers that we can buy in the stores. The most common thread among all of the dream catcher stories, is that the dream catcher should be hung in the room in which we sleep: above the bed, on the door, on a window, or as we choose. The other constant is that the dream catcher is to catch our dreams. Some believe that the dream catcher catches bad dreams, before they can come to us, thus preventing nightmares.
How To Make A Dream Catcher