Content Curation for Educators
Content curation platforms with examples of use in university level courses.
The future of everything. Home. Home | Evri Corporate | Evri - Corporate. Inscription | Tumblr. 50 Ways to Use Twitter in the Classroom. Many critics of Twitter believe that the 140-character microblog offered by the ubiquitous social network can do little for the education industry.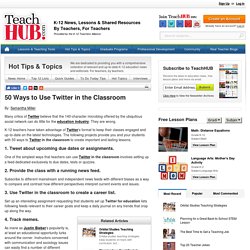 They are wrong. K-12 teachers have taken advantage of Twitter's format to keep their classes engaged and up-to-date on the latest technologies. The following projects provide you and your students with 50 ways to Twitter in the classroom to create important and lasting lessons. Keepstream - Organize your tweets with curation. Silk. Share what you know | Learnist. Griddeo. Welcome to Amplify.com - The easiest way to clip, share and discuss things that interest you. HootSuite.
Memolane | See, search, and share your life. Trunk.ly - The easiest way to save links online. Alltop, all the top stories. Redux. Paper.li – Be a publisher. Delicious.com - Discover Yourself! Pinterest / Home. CHEM 1411. Texts for English 7542 Fall 2011. Literary Theory. Easily Publish Gorgeous Magazines. CT231 - IT Professional Skills module. BS2064: Bioinformatics. Plant Biology Teaching Resources (Higher Education) Storify · Create engaging social stories.
All About the Tundra Biome · knewton. Strategic Creative Development · edwardboches. How the semester will go.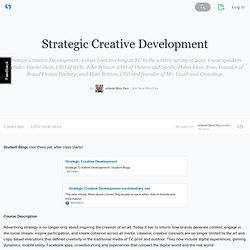 Guest speakers are confirmed in most cases, but could always cancel on us at the last minute. January 23: The End of Us and Them The transition from Bernbach to Zuckerberg January 30: Strategy in the age of participation. Five steps to a basic news video for the web · kellyfincham. Is there something happening in your video?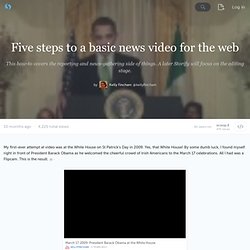 Is there something that makes the story substantially different from an audio report. Try this experiment. Call up a story on YouTube and try listening to it with the video off. If you can figure out what's going on without the pictures, it's a waste of video. Pierre Kattar at the Washington Post says video journalism need to be able to answer the question: "Is there something happening here? " Diigo - Web Highlighter and Sticky Notes, Online Bookmarking and Annotation, Personal Learning Network. Best content in CCK 12. Best content in UW-Madison Chem 104 Spring 2010. Best content in Teaching of Programming. CS4HS (Computer Science for High School) is a workshop sponsored by Google to promote Computer Science in high school curriculum.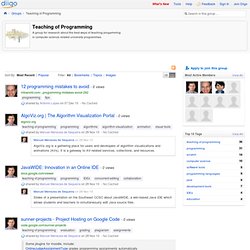 With a grant from Google's Education Group, colleges develop a 2 day program for local high school CS teachers that incorporates informational talks by industry leaders, and discussions on new and emerging CS curricula at the high school level. On this site, you'll find information on how to hold a CS4HS workshop at your University, information for workshop attendees, and other helpful resources. We currently offer CS4HS grants in the US, Canada, and EMEA.
---