Thought bubble
Bill Weinman · Ten Reasons Gay Marriage Is Un-American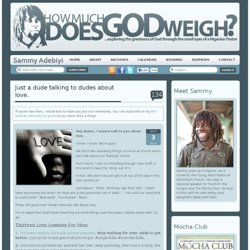 Oct 3 2011 Hey dudes, I wanna talk to you about love. I know. I know. We're guys. We don't like repeating things out-loud at church much less talk about our 'feelings' online.
Just a dude talking to dudes about love. | Sammy Adebiyi
These drawings were done as part of a CIA experiment aimed at determining the effects of LSD on the human body. The drawings are incredibly fascinating, particularly due to the progression of style that occurs throughout the experiment. They administered 100ul of LSD to the artist and gave the artist free access to an activity box full of crayons. His subject was the medical assistant who administered the LSD.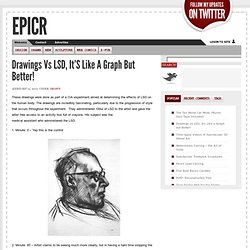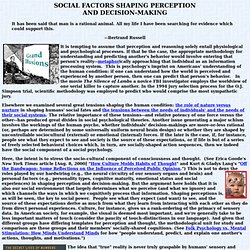 It has been said that man is a rational animal. All my life I have been searching for evidence which could support this. --Bertrand Russell
The Creative Personality: Ten paradoxical traits of the creative personality By Mihaly Csikszentmihalyi Of all human activities, creativity comes closest to providing the fulfillment we all hope to get in our lives. Call it full-blast living. Creativity is a central source of meaning in our lives.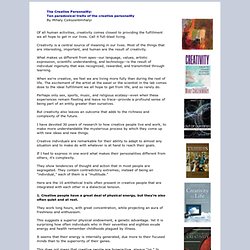 The Creative Personality: Ten paradoxical traits of the
He drank Mountain Dew Code Red.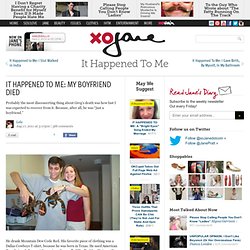 There are "Law & Order" addicts everywhere who think they could get a perp to confess. A little glaring, some getting in the guy's face, a revelation that his fingerprints are all over the murder weapon and voilà! He's recounting his crime. In real life, police interrogation requires more than confidence and creativity (although those qualities do help) -- interrogators are highly trained in the psychological tactics of social influence. Getting someone to confess to a crime is not a simple task, and the fact that detectives sometimes end up with confessions from the innocent testifies to their expertise in psychological manipulation.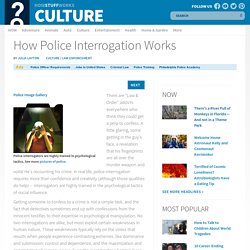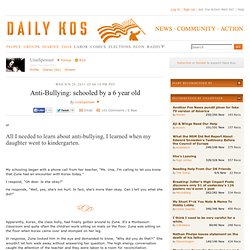 Apparently, Korax, the class bully, had finally gotten around to Zuna. It's a Montessori classroom and quite often the children work sitting on mats on the floor. Zuna was sitting on the floor when Korax came over and stomped on her leg. In response, Zuna looked him in the eye and demanded to know, "Why did you do that?!" She wouldn't let him walk away without answering her question. The high energy conversation caught the attention of the teacher and they were taken to a room for reconciliation.
Anti bullying guide from a 6 year old
I've learned… | Analyfe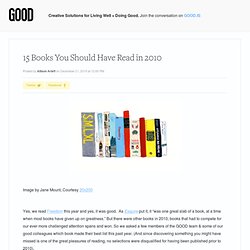 Image by Jane Mount, Courtesy 20x 200
1. Watch your thoughts; they become words. Watch your words; they become actions. Watch your actions; they become habits.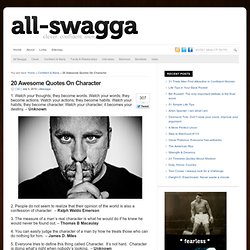 Christian the Lion
Those who love you are not fooled... Confidence - Faith - Love Those who love you are not fooled by mistakes you have made or dark images you hold about yourself. They remember your beauty when you feel ugly; your wholeness when you are broken; your innocence when you feel guilty; and your purpose when you are confused.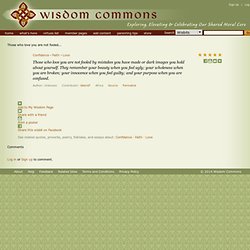 "What Teachers Make
Thought Questions - Asking the right questions is the answer.
World and our Highest Potential Video