From Twitter
Brilliant! Screenstagram, a screensaver for Instagram - TNW Apps. The world was waiting with bated breath when Instagram released its API this past February.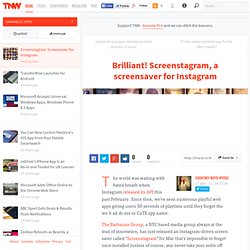 Since then, we've seen numerous playful web apps giving users 30-seconds of playtime until they forget the we.b ad.dr.ess or CuTE app name. The Barbarian Group, a NYC based media group always at the lead of innovation, has just released an Instagram-driven screen saver called "Screenstagram" for Mac that's impossible to forget once installed (unless of course, you never take your mitts off your keys). Flightradar24.com - Live Flight Tracker! How #FollowFriday is SUPPOSED to work. What I think Obama is meeting with Jobs, Schmidt, and Zuckerberg about. Share photos and videos on Twitter. Pipotronic. Pdviz. Google Couldn't Buy Groupon, So It's Cloning Groupon. Home - EEMI - Ecole Européenne des métiers de l'informatique.
Motherhood Uncensored: How Facebook refucked up my marriage. I reluctantly rejoined Facebook last month after enjoying being completely unconnected to ex-boyfriends, college roommates, and my babysitter.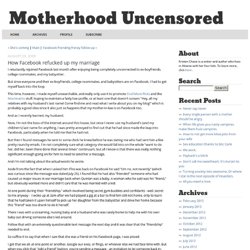 But since everyone and their ex-boyfriends, college roommates, and babysitters are on Facebook, I had to get myself back into the loop. This time, however, I made myself unsearchable, and really only use it to promote Cool Mom Picks and the Mominatrix stuff, hoping to maintain a fairly low profile, or at least one that doesn't scream "Hey, all my relatives with my husband's last name! Come find me and read what I write about you on my blog! " which is probably a good idea since it also just so happens that my mother-in-law is on Facebook too. And as I recently learned, my husband. Game On. Man Legally Changes Name to Captain Awesome. The Oregonian man formerly known as Douglas Allen Smith Jr. was inspired by a character on the NBC show Chuck to legally change his name to Captain Awesome.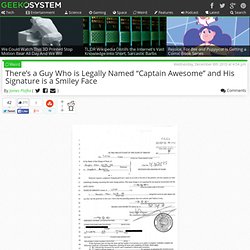 The character's name is Dr. Devon "Captain Awesome" Woodcomb, and is apparently so awesome that people in real life legally change their names due to the sheer amount of awe said character exudes. Orange, SFR, Bouygues et Atos s'allient pour contrer PayPal. Orange, SFR, Bouygues Telecom et la société de services informatiques Atos Origin ont annoncé jeudi la création d'une société commune de paiement sur internet.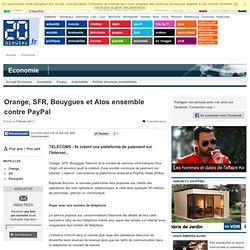 L'objectif: concurrencer la plate-forme américaine PayPal, filiale d'EBay. Baptisée Buyster, la nouvelle plate-forme sera proposée aux clients des opérateurs des trois opérateurs téléphoniques et cible ainsi quelques 50 millions de personnes, précise un communiqué. Payer avec son numéro de téléphone. Gary V: Chatroulette Would Have Worked With Facebook Connect Because The Penises Would Have Names.
Wine Library founder Gary Vaynerchuk took the stage at Le Web today to talk about the importance of the human element in business.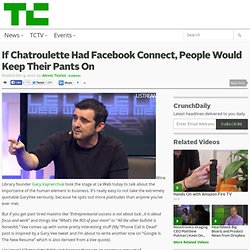 It's really easy to not take the extremely quotable GaryVee seriously, because he spits out more platitudes than anyone you've ever met. But if you get past tired maxims like "Entrepreneurial success is not about luck…it is about focus and work" and things like "What's the ROI of your mom" or "All the other bullshit is horseshit," Vee comes up with some pretty interesting stuff (My "Phone Call Is Dead" post is inspired by a Gary Vee tweet and I'm about to write another one on "Google Is The New Resume" which is also derived from a Vee quote). How the World Googled in 2010.
Shortly after Yahoo released its list of the year's top searches, Google has announced the results of its annual zeitgeist report, revealing the most popular search terms of 2010 by region and worldwide.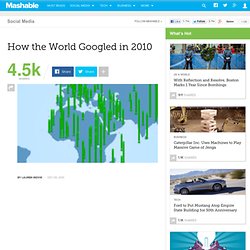 The search giant analyzed billions of searches performed in 2010 and compared them with searches from 2009 to surface emerging trends. Chatroulette, the iPad and Justin Bieber were the three fastest-rising search terms in 2010; Twitter and Facebook also made the list, at numbers eight and 10, respectively. Among the items of interest that lost the world's attention in 2010 were swine flu, Stephanie Meyer's novel (and the accompanying movie) Twilight: New Moon, Susan Boyle, Slumdog Millionaire, "MySpace layouts" and Michael Jackson. The iPad was the emergent search winner in the consumer electronics category, followed by the iPhone 4, Nokia 5530, HTC EVO 4G and Nokia N900.
Google Officially Unveils Chrome Web Store. Google officially unveiled the long-anticipated Chrome Web Store at its big Chrome event today.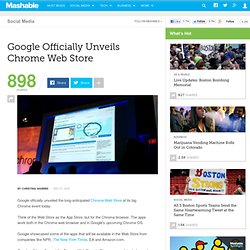 Think of the Web Store as the App Store, but for the Chrome browser. The apps work both in the Chrome web browser and in Google's upcoming Chrome OS. Google showcased some of the apps that will be available in the Web Store from companies like NPR, The New York Times, EA and Amazon.com. Google will be rolling out the Chrome Web Store to Chrome users later today and it will be accessible via Mashable's Jolie O'Dell is live at the event, and we'll have hands-on writeups of the new store, Chrome OS and the apps throughout the day.
Applications Windows Phone 7: découvrez les nouvelles applications WP7! HTML5 Presentation. Top 10 Free Tools To Monitor Your Online Reputation. With the explosion of Consumer Generated Media (CGM), ongoing monitoring of your personal or professional reputation has become a must.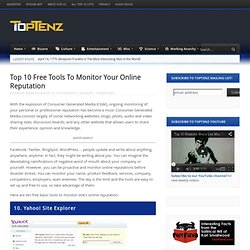 Consumer Generated Media consists largely of social networking websites; blogs; photo, audio and video sharing sites; discussion boards; and any other website that allows users to share their experience, opinion and knowledge. Facebook, Twitter, BlogSpot, WordPress… people update and write about anything, anywhere, anytime. In fact, they might be writing about you. You can imagine the devastating ramifications of negative word of mouth about your company or yourself. Ad Meter 1st: A doggone tie. Nokia CEO Stephen Elop rallies troops in brutally honest 'burning platform' memo? (update: it's real!)
"The first iPhone shipped in 2007, and we still don't have a product that is close to their experience.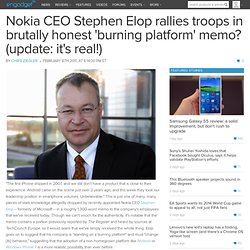 Android came on the scene just over 2 years ago, and this week they took our leadership position in smartphone volumes. Unbelievable. "
---