PRODUCTIVITY
12 Things Killer Employees Do Before Noon. A recent study published in an American Psychological Association journal, Emotion, suggests that early birds are generally happier than night owls.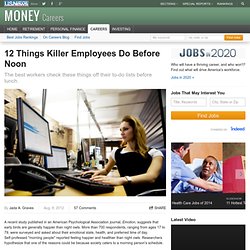 More than 700 respondents, ranging from ages 17 to 79, were surveyed and asked about their emotional state, health, and preferred time of day. Self-professed "morning people" reported feeling happier and healthier than night owls. Researchers hypothesize that one of the reasons could be because society caters to a morning person's schedule. 8 must-watch talks for any creative. Every now and again I come across a talk that I find to be truly inspiring or informative.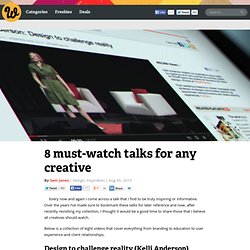 Over the years I've made sure to bookmark these talks for later reference and now, after recently revisiting my collection, I thought it would be a good time to share those that I believe all creatives should watch. Below is a collection of eight videos that cover everything from branding to education to user experience and client relationships. Design to challenge reality (Kelli Anderson) 6 Simple Rituals To Reach Your Potential Every Day. It's Tuesday morning at 8 a.m.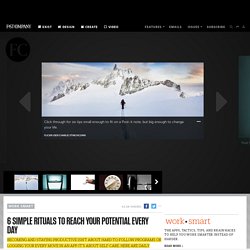 Two San Francisco entrepreneurs are pitching their ventures to potential investors today. They'd both agree that this is one of the most important days of their lives. This is the story of Jane and Joe... Gelukkiger dankzij 8 dagelijkse gewoontes. Zodra je een job gezocht hebt, verschijnt hier je laatste zoekopdracht.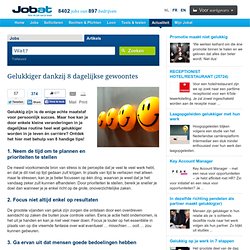 Gelukkig zijn is de enige echte maatstaf voor persoonlijk succes. Maar hoe kan je door enkele kleine veranderingen in je dagelijkse routine heel wat gelukkiger worden in je leven én carrière? Ontdek het hier met behulp van 8 handige tips! 1. Neem de tijd om te plannen en prioriteiten te stellen. Nine Strategies Successful People Use to Overcome Stress. My experience with insomnia and being able to cure it by systematically addressing the stress showed me just how much a problem stress could be and what it takes to resolve it.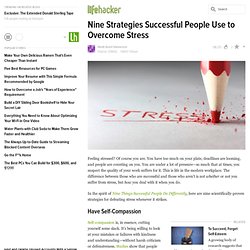 Just talk to people with insomnia and simply tell them to not stress, 95% of the time, it just doesn't work like that :(. Oh, but I'm not attempting to deny that stress can be a problem. I've just never experienced it to any note worthy degree, because I try, rather successfully, to keep myself from worrying about that outside of my control, remain honest and do what needs to be done when it needs to be done. 'Don't stress' effectively means 'don't have the mental and physiological reactions that your body does'. 5 Things That Really Smart People Do | Inc. 5000. Most people don't really think much about how they learn.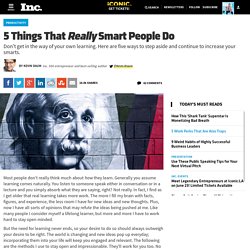 Generally you assume learning comes naturally. You listen to someone speak either in conversation or in a lecture and you simply absorb what they are saying, right? Not really. Beat Procrastination and Get Motivated with The Procrastination Equation. Very Clever.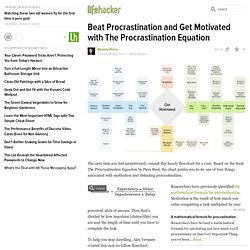 The science that I have discovered works well for turning procrastination into the jet fuel for success is determining what the stumbling block/fear is and discovering what information that feeling has to tell as to what to do next. Using the science of emotions, clients are able to know what is needed in the moment to move forward. What we resist – fight – persists. It is not about the forcing and managing procrastination and using behavior modification strategies to out wit procrastination but rather about aligning with your feelings and acting on the information they have to offer.
Going from the inside out vs outside in, you have a reliable system that works every time. 7 Habits of Highly Effective Employees. 31inShareinShare31 We're fortunate to have built a great team at crowdSPRING.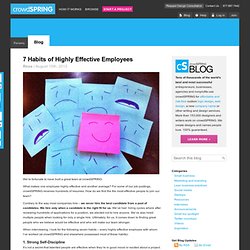 What makes one employee highly effective and another average? For some of our job postings, crowdSPRING receives hundreds of resumes. How do we find the the most effective people to join our team?
GOAL TRACKING TOOLS
COLLABORATION. Delete Duplicate Files While Retaining Access From Multiple Locations. Duplicate files not only waste precious storage space, but can also make your PC dead slow by increasing disk seek times.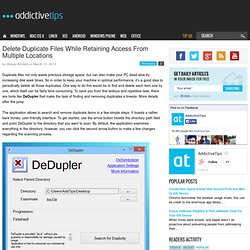 So in order to keep your machine in optimal performance, it's a good idea to periodically delete all those duplicates. One way to do this would be to find and delete each item one by one, which itself can be fairly time consuming. The Best Of. 50 Apps That Can Make You More Productive - Google Drive. FollowUp > Email Reminders and Tasks. De wet van Parkinson - 5 tips over uitstelgedrag in het nieuwe jaar. Het nieuwe jaar is begonnen en traditioneel betekent dat goede voornemens.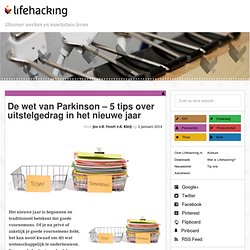 Of je nu privé of zakelijk je goede voornemens hebt, het kan nooit kwaad om dit wat wetenschappelijk te onderbouwen. Eén van de lastigste onderdelen van een goed voornemen is het volhouden en het doorzetten. Is je voornemen om in 2014 beter je werk te verdelen, niet meer op het laatste moment alles te moeten doen? Hipster Habit App. LANGUAGES. NEW IDEAS.
TIME SAVING. TO DO. Mihaly Csikszentmihalyi: Creativity, fulfillment and flow. Rainy Cafe: Ambient White Noise Generator. 雨のカフェ. Screenr | Instant screencasts: Just click record. Screenshot Captor - Software. BREAKING NEWS... SCREENSHOT CAPTOR VERSION 4 IS NOW OFFICIAL! (take a video tour or view version history) Screenshot Captor is a best-in-class tool for grabbing, manipulating, annotating, and sharing screenshots.
It's different from other screenshot utilities in several notable ways: Download Screenpresso - Take the best screen captures in a few seconds. 30 Days of Getting Results: Welcome to 30 Days of Getting Results. 30 Days of Getting Results is free time management training.You'll learn a powerful results system, Agile Results, from the book , Getting Results the Agile Way.Master motivation and time management. Unleash your personal productivity. Set powerful goals.
Focus and direct your attention with skill. Learn the secrets of work-life balance.Start with Day 1 -- Take a Tour of Agile ResultsI Don't Have Time, Too Much To Do. Oak — A place to think. Brain Workshop - a Dual N-Back game. Getting Results the Agile Way Table of Contents - Getting Results | The Book. The Secret Weapon: Evernote and GTD smoothly integrated into TSW.
---