Travel
10 Places to Move Abroad and Extend Your Life - StumbleUpon. Throughout history, people have been intrigued by legends of societies where residents thrived well past 100 years old.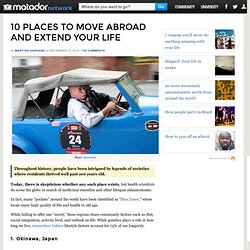 Today, there is skepticism whether any such place exists, but health scientists do scour the globe in search of medicinal remedies and other lifespan enhancements. In fact, many "pockets" around the world have been identified as "Blue Zones," where locals enjoy high quality of life and health in old age. While failing to offer one "secret," these regions share community factors such as diet, social integration, activity level, and outlook on life. The Ultimate Travel Hacking Guide - StumbleUpon. Referring to this quote: "On our example, this doesn't work because we are going from the United States to England and the English Pound is worth more than the US dollar. Additionally, the Iceland Krona is not worth less than a dollar. However, if we were going the reverse way, this would work. I've used this method when flying to New Zealand since their currency is worth less than the US currency. " I want to bring up an important point about currency exchange that is often missed or glossed over: it doesn't matter one bit if the unit of the foreign currency is worth more or less than one dollar. Those examples are meaningless without knowing how much whatever it is costs in BOTH currencies and the current exchange rate between them. 10 Best Places to Live for Escaping World Conflict | Expatify - StumbleUpon. Where would you be the safest if World War 3 broke out tomorrow?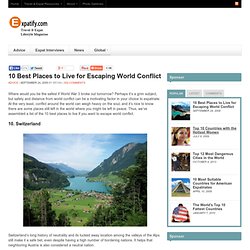 Perhaps it's a grim subject, but safety and distance from world conflict can be a motivating factor in your choice to expatriate. At the very least, conflict around the world can weigh heavy on the soul, and it's nice to know there are some places still left in the world where you might be left in peace. Thus, we've assembled a list of the 10 best places to live if you want to escape world conflict. 10. Switzerland. The Luxury Dhigu Resort, Maldives | Luxury Furniture, Property, Travel & Interior Design | Adelto - StumbleUpon. The luxury Dhigu Resort, Maldives Anantara Dhigu Resort & Spa is encircled by mystic lagoons and unspoilt crystal shores, the resort is a heavenly sanctuary on a secluded paradise island, offering barefoot elegance in one of the world's most celebrated tropical havens.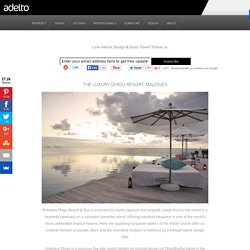 Here the sparkling turquoise waters of the Indian Ocean offer an endless horizon of aquatic allure and the evocative location is matched by a tranquil island design style. Anantara Dhigu is a luxurious five-star resort hidden on tropical terrain on Dhigufinolhu Island in the Maldives' South Male Atoll, a mere 35 minute speedboat journey from the island nation's international airport, or a scenic five minutes by private chartered seaplane. The best countries for food. Food and travel go together like planes and airports.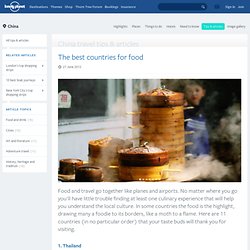 No matter where you go you'll have little trouble finding at least one culinary experience that will help you understand the local culture. In some countries the food is the highlight, drawing many a foodie to its borders, like a moth to a flame. Here are 11 countries (in no particular order) that your taste buds will thank you for visiting. 21 Of the Most Extraordinary Places To Visit - StumbleUpon. How to Travel Full-Time for $17,000 a Year (or Less!) | Wise Bread - StumbleUpon. Wise Bread Picks For the last five years, I've been traveling the world full-time, and for less money than I've ever spent (and I'd wager less money than most people would spend) to live in one place.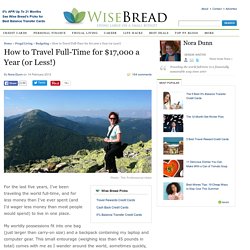 My worldly possessions fit into one bag (just larger than carry-on size) and a backpack containing my laptop and computer gear. Amazing Places To Experience Around the Globe (Part 3) - StumbleUpon. Devetashkata Cave - Bulgaria Ben Bulben at County Sligo, Ireland Shark Island - Sydney Baatara Gorge Waterfall, Tannourine - Lebanon Abel Tasman National Park - New Zealand.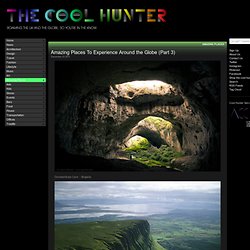 Black Dragon Pool in Lijiang, Yunnan Province. Looking over Black Dragon Pool, towards Jade Dragon Snow Mountain Jade Spring Park The Black Dragon Pool (黑龙潭; Hēilóngtán) is a small lake in the Jade Spring Park, Yu Quan Gong Yuan, about a kilometre north from Square Street in the town of Lijiang, which also known as the Venice of the Orient.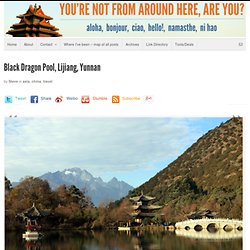 Legend of the Black Dragon The pool takes its name from an ancient legend. It's said that once upon a time there were ten evil dragons that terrorised the land. 15 Amazing Castles from Around the Globe - StumbleUpon. Although designed and built for the prominent purpose of defense, today the castles seem like somewhat unrealistic constructions straight from the fairytale world.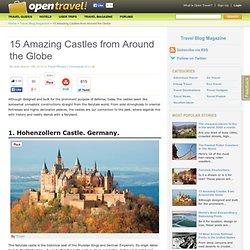 From solid strongholds to oriental fortresses and highly decorative palaces, the castles are our connection to the past, where legends mix with history and reality blends with a fairyland. This fairytale castle is the historical seat of the Prussian Kings and German Emperors. Our Favourite Photos of 2011 by Destination. This past year was an interesting one.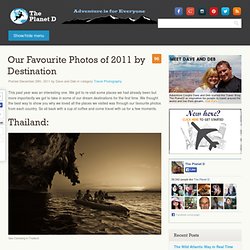 We got to re-visit some places we had already been but more importantly we got to take in some of our dream destinations for the first time. We thought the best way to show you why we loved all the places we visited was through our favourite photos from each country. 36 Jaw-Dropping Nature Photos - StumbleUpon. Amazing Places To Experience Around The Globe (Part 1) - StumbleUpon. Preachers Rock, Preikestolen, Norway Blue Caves - Zakynthos Island, Greece Skaftafeli - Iceland Plitvice Lakes – Croatia Crystalline Turquoise Lake, Jiuzhaigou National Park, China Four Seasons Hotel - Bora Bora. Plitvice, a watery paradise in Croatia - StumbleUpon. In recent years, Croatia has changed from a relative unknown to one of the trendiest destinations in Europe. To a great extent this is due to the country's rocky littoral, which, washed by the Adriatic, is considered one of the most beautiful of the Mediterranean coastlines.
Then there is the rich history and cultural heritage of medieval towns such as Dubrovnik, Split and Sibenik. But the well-deserved popularity also depends on the protected natural areas, which make up some ten per cent of the country's area. Eight areas enjoy national park status – a very high number for a relatively small country. Caribbean Sea volcanic Piton Mountains - StumbleUpon.
---