Bible Study Resources
Bible Study Guides - Christianbook
M any people know of Christianity only by the bits and pieces they have heard over the years, often erroneous, incomplete or out of context.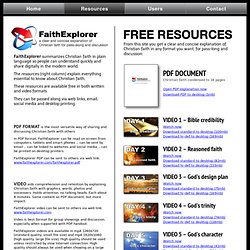 Free resources for explanation of Christian faith / FaithExplorer
Click the checkboxes below next to the devotionals or newsletters you'd like to receive, then scroll down to the bottom of the page to provide your email address and sign up. * Your birth date is required so we may comply with federal COPPA regulations.
A searchable online Bible in over 100 versions and 50 languages.: Newsletters