Pages
Folder Lock Without Any Software. -: Folder Lock Without Any Software :- Folder Lock With Password Without Any Software- Paste the code given below in notepad and 'Save' it as batch file (with extension '.bat').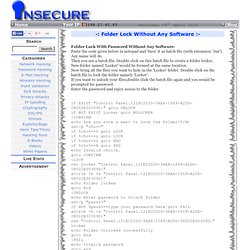 Any name will do. Exciting Links for Boring Days. Robot For President YouTube - Hitler Banned From iSketch!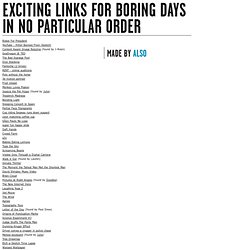 Content Aware Image Resizing (found by J-Roen)SeaDragon @ TEDThe Bad Signage PoolDice StackingFantoche (2 times)RENT - online auditionsPolo without the horse3d motion portraitFruit VesselMonkey Loves PigeonJessica the Pet Hippo (found by Julia)Treadmill MadnessBending LightSleeping Concert In SpainPartial Face TransplantsCop riding Segway runs down suspectcolor matching coffee cupSão Paulo No Logosuper fun happy slide Daft HandsCrowd FarmzZzBabies Eating LemonsType the SkyScreaming BeansVisible Only Through a Digital CameraWalk it Out (found by Lauren)Inmate ThrillerThe Moment the Tallest Man Met the Shortest ManDavid Shrigley Music VideoBrain CloudPictures at Right Angles (found by Doodles)The New Internet HeroLaughing Yoga 2Jed MovieThe WindApneeTypography ToysLetter of the Day (found by Paul Drew)Origins of Punctuation Marks.
45 Epic Blender Tutorials. Ben has over a decade of experience in the computer graphics field and although he's primarily a hard surface modeler, he's also experienced in the fields of UVMapping, Texturing, Lighting and Rendering.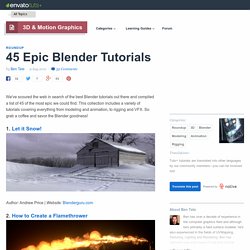 Ben currently co-edits Cgtuts+ along with his brother Chris, and has authored over sixty hours of real-time tutorial content for the site, focusing mainly on 3d Studio Max and hard surface modeling. Along side 3D Studio Max, Ben's has experience with VRay, FumeFX, ZBrush, Mudbox, Mari, PTex, Photoshop, xNormal, UVLayout, Forest Pack Pro and After Effects. You can check out Ben's website to see more of his work. more… The C Library Reference Guide. FutureMe.org: Write a Letter to the Future.
Liquid Particles - spielzeugz.de canvas experiment. Facebook Symbols, Symbols for Facebook. The Evolution of Computer Programming Languages [Infographic] - How-To Geek ETC. Curious about the programming languages in use all around you?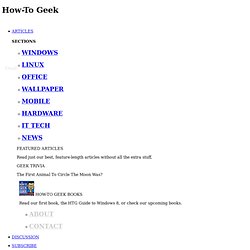 This timeline-style infographic highlights the major programming languages of the last 50 years and where you, indirectly, experience them. The Evolution of Computer Languages [Rackspace via ExtremeTech] Jason Fitzpatrick is warranty-voiding DIYer and all around geek. When he's not documenting mods and hacks he's doing his best to make sure a generation of college students graduate knowing they should put their pants on one leg at a time and go on to greatness, just like Bruce Dickinson. 100 Amazing How-To Sites to Teach Yourself Anything | Rated Colleges.
Posted by Site Administrator in Online Learning May 7th, 2009 Learning new skills and expanding your knowledge doesn't have to cost you an arm and a leg.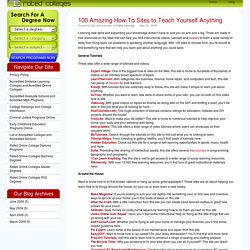 There are loads of free resources on the Web that can help you find instructional videos, tutorials and classes to learn a wide variety of skills from fixing basic car problems to speaking another language. صور ارشيفية للحركة النازية - هتلر الجزء الثاني. 10 Strange Things About The Universe. Space The universe can be a very strange place.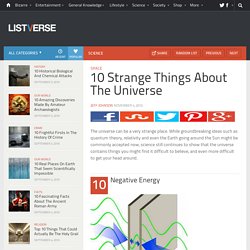 While groundbreaking ideas such as quantum theory, relativity and even the Earth going around the Sun might be commonly accepted now, science still continues to show that the universe contains things you might find it difficult to believe, and even more difficult to get your head around. Theoretically, the lowest temperature that can be achieved is absolute zero, exactly ? 273.15°C, where the motion of all particles stops completely.
Penn State York :: Learning Center :: Hints for Remembering Better. 50 Questions That Will Free Your Mind. Post written by: Marc Chernoff Email These questions have no right or wrong answers.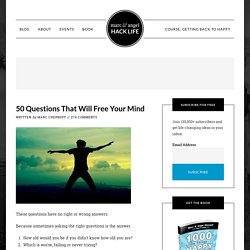 Because sometimes asking the right questions is the answer. How old would you be if you didn't know how old you are? 50 Free Android Apps Every College Student Needs. Saving money is paramount in college, as most students don't have a lot of that commodity to throw around.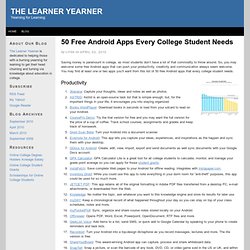 So, you may welcome some free Android apps that can push your productivity, creativity and communication always seem welcome. You may find at least one or two apps you'll want from this list of 50 free Android apps that every college student needs. Productivity. University of Liverpool. How to use Google for Hacking. | Arrow Webzine. Google serves almost 80 percent of all search queries on the Internet, proving itself as the most popular search engine.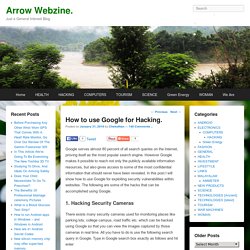 However Google makes it possible to reach not only the publicly available information resources, but also gives access to some of the most confidential information that should never have been revealed. In this post I will show how to use Google for exploiting security vulnerabilities within websites.
---