Vidioa
Media-Convert. N?1 Free online Video Converter. SWF AVI Convert - Free Flash to Video Batch Converter - Homepage. Create screencasts and screen recordings the easy way. Animated Explanations – Explanatory Animations. Teachers TV | Free education videos and resources for professional development.
Documentary Films | Watch Free Documentaries Online | SnagFilms. TeacherTube - Teach the World | Teacher Videos | Lesson Plan Videos | Student Video Lessons | Online Teacher Made Videos | TeacherTube.com. iTunes U - Learn anything, anywhere, anytime. TED: Ideas worth spreading. YouTube - Broadcast Yourself. The End of Slideshows. Expression Encoder 4 Overview | Microsoft® Expression® The proliferation of rich interactive web applications across the cloud and mobile devices continues to create new opportunities for creative design and development.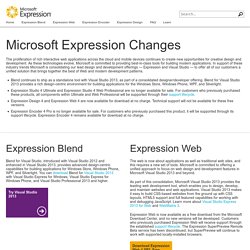 As these technologies evolve, Microsoft is committed to providing best-in-class tools for building modern applications. In support of these industry trends Microsoft is consolidating our lead design and development offerings — Expression and Visual Studio — to offer all of our customers a unified solution that brings together the best of Web and modern development patterns. Blend continues to ship as a standalone tool with Visual Studio 2013, as part of a consolidated designer/developer offering. Blend for Visual Studio 2013 provides a rich design-centric environment for building applications for the Windows Store, Windows Phone, WPF, and Silverlight. Expression Studio 4 Ultimate and Expression Studio 4 Web Professional are no longer available for sale.
---