Vidioa
Media-Convert
N?1 Free online Video Converter
SWF AVI Convert - Free Flash to Video Batch Converter - Homepage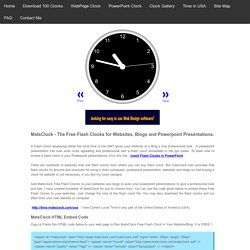 swf >> avi is a freeware dedicated to Flash tm .swf files to .avi conversion . swf >> avi is productivity tool. You can batch convert swf files and manage conversion profiles. We had developed swf >> avi for our own use because we did not find exactly the converter we need.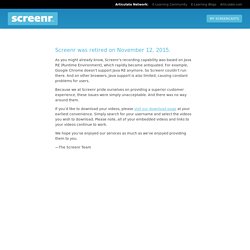 Using @Screenr to create and embed some kick butt training vignettes for a presentation. *LOVE* this website by @Articulate! #rocks —ross_sanders @screenr is awesome. Looking for excuses to use it. http://screenr.com/ —AbigailHS Where has @screenr been all my life?
This Oscar-winning doc is still required viewing for activists, cinephiles, and... everyone else. "Fatal Attraction" meets "Election" in this stunning portrait of obsession. What Jay & Beyoncé are to music, Linda & Burt were to obsessive stalking. Remade as indie hit "Prince Avalanche" with Paul Rudd. Check out the Icelandic original.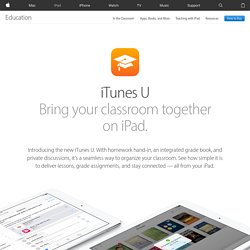 Your students will experience the courses you build using the free iTunes U app for iPad. It's a powerful app that lets students have all the materials for the course right at their fingertips. From the iTunes U app, students can play video or audio lectures and take notes that are synchronized with the lecture.
Melinda Gates and Bill Gates Why giving away our wealth has been the most satisfying thing we've done In 1993, Bill and Melinda Gates—then engaged—took a walk on a beach in Zanzibar, and made a bold decision on how they would make sure that their wealth from Microsoft went back into society.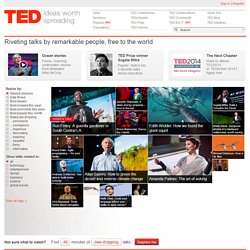 The proliferation of rich interactive web applications across the cloud and mobile devices continues to create new opportunities for creative design and development. As these technologies evolve, Microsoft is committed to providing best-in-class tools for building modern applications. In support of these industry trends Microsoft is consolidating our lead design and development offerings — Expression and Visual Studio — to offer all of our customers a unified solution that brings together the best of Web and modern development patterns. Blend continues to ship as a standalone tool with Visual Studio 2013, as part of a consolidated designer/developer offering. Blend for Visual Studio 2013 provides a rich design-centric environment for building applications for the Windows Store, Windows Phone, WPF, and Silverlight. Expression Studio 4 Ultimate and Expression Studio 4 Web Professional are no longer available for sale.