Truth versus traditions
The Night Yah Come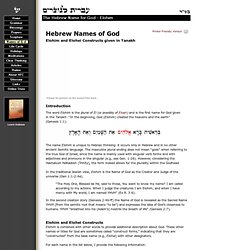 The name Elohim is unique to Hebraic thinking: it occurs only in Hebrew and in no other ancient Semitic language. The masculine plural ending does not mean "gods" when referring to the true God of Israel, since the name is mainly used with singular verb forms and with adjectives and pronouns in the singular (e.g., see Gen. 1:26). However, considering the Hashalush HaKadosh (Trinity), the form indeed allows for the plurality within the Godhead.
The Hebrew Name for God - Elohim
Yahweh's Assembly in Yahshua
The Brick Testament
Don't Leave YHWH or 7 Unclean Spirits will Attack you!
Internet Ancient History Sourcebook: Mesopotamia
Halsall Home | Medieval Sourcebook | Modern History Sourcebook Other History Sourcebooks: African | East Asian | Indian | Islamic | Jewish | LGBT | Women's | Global | Science See Main Page for a guide to all contents of all sections. Common Issues: Mesopotamian/Egyptian/Hebrew/Greek History MEGA Abzu: Guide to Resources for the Study of the Ancient Near East Available on the Internet [At Chicago] 2ND Emergence of Civilization in Ancient Near East [At Internet Archive, from UNT][Modern Account]
Why Africans built the pyramids
ONE OF THE MOST CRAZIEST ANCIENT TABLETS IN THE WORLD!!
Home
Why Africans Wrote the Emerald Tablets - Know thy God self Part 1
ANCIENT OF DAYS PART 1 of 19
The Oldest Known Melody c.1400BC!
Historic Periods & Events The Elamite Empire, 2500 - 644 BCE By: Cyrus Shahmiri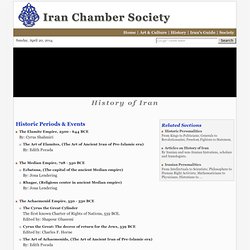 Iran: History of Iran: Periods & Events
The Archaeology Channel Video Guide
Welcome to our video area! We've been offering streaming video since 2000, so by now our video content has grown substantially and comes in a variety of categories. Video Guide List - A complete list of stand-alone video titles. This does not include our Video News from TAC monthly programs or our Video Interviews.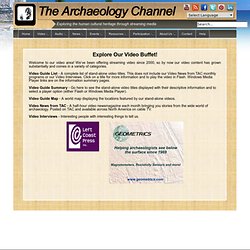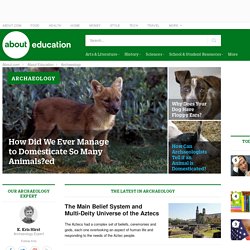 Where else would one expect to find a thousand-year-old library of 40,000 manuscripts stuffed into a man-made cave, than at a crossroads on the Silk Road? French scholar Paul Pelliot examining manuscripts in the Library Cave about 1910. Musee de Guimet The Library Cave at Dunhuang included manuscripts in many languages and on many religious, scientific and secular topics, collected and written by Buddhist monks during the Tang and Song dynasties of China before 1002 AD.
About Archaeology - The Study of Human History
The Hebrew Israelites Network Home Page
A breakthrough in the research of the Hebrew scriptures has shed new light on the period in which the Bible was written. Professor Gershon Galil of the Department of Biblical Studies at the University of Haifa has deciphered an inscription on a pottery shard discovered in the Elah valley dating from the 10th century BCE (the period of King David's reign), and has shown that this is a Hebrew inscription. The discovery makes this the earliest known Hebrew writing. The significance of this breakthrough relates to the fact that at least some of the biblical scriptures were composed hundreds of years before the dates presented today in research and that the Kingdom of Israel already existed at that time. Prof. Gershon Galil of the University of Haifa who deciphered the inscription: "It indicates that the Kingdom of Israel already existed in the 10th century BCE and that at least some of the biblical texts were written hundreds of years before the dates presented in current research."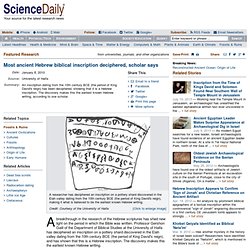 Most ancient Hebrew biblical inscription deciphered, scholar says
Hebrew Alphabet / Flashcards - Create Free Flashcards
Restored Name King James Version for EliYah's Home Page
Ancient Hebrew Research Center - Home Page
Yahshua University - Home Room
Bible History Online Images and Resources for Biblical History
Brief Overview - Caesar Augustus, Caesar Nero, Herod the Great, High Priests, Tax Collectors, Herod Antipas, Herod Agrippa I, Pontius Pilate, Jewish Literature, Pharisees, Scribes, Samaritans, Paul's First Missionary Journey, Paul's Second Missionary Journey, Court of the Gentiles, Map of Jesus' Ministry, New Testament Cities, Chronology of Jesus' Life, New Testament Books, Jewish Calendar, Messianic Prophecy, Herod's Temple, Ancient History Timeline, Israel and Judah, David's Kingdom, Seven Nations of Canaan, Ancient Oil Lamps, Destruction of Israel, Assyria and Bible Prophecy, Archaeology and Assyria, Assyria Social Structure, Destruction of Judah, Babylonian Captivity, Black Obelisk, Court of the Women, Antonia Fortress, Israel's Sacred Year, more to come. The Bible Knowledge Accelerator Programs - Informational Bible studies with a brief overview of various people, places, and events in the ancient world.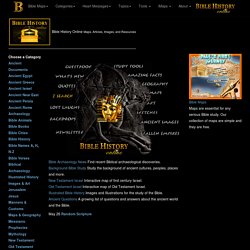 Life in Bible Times - Pagan gods:
Spiritual warfare can be insidious. Prayer is one of our offensive weapons to fight the battle. The other is the Bible. We need both to avoid being taken out by attacks. We are to be identified by the fruit of our lives: the way we act.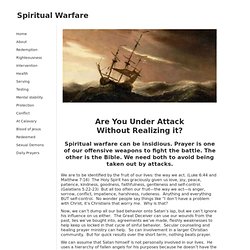 Spiritual Warfare
Apocrypha.org: Online Apocrypha with Search Tools
Lost Books of The Bible - Book Of Jubilees
Bible Study Tools Online – Verses, Commentaries, Concordances, Verses, Parallel Versions
Home Page
Welcome to the New Blue Letter Bible Website For over a decade we have continued to add new study resources and features without changing the overall layout of our site. Now our new version offers easier accessibility to the Bible study resources and features that you use the most. Now you can personalize study pages with your favorite Bible versions and study resources, while using our powerful tools and simpler navigation system.We realize that change can be challenging, so we've also created short video tutorials and plenty of help pages to guide you. BLB ClassicThe old site has been renamed "BLB Classic" and will remain available and updated.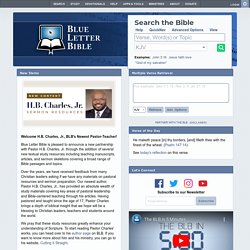 Sacred Name of God YHVH YHWH Tetragrammaton Yahveh Yahweh Yeshuah Yashuah Yahushuah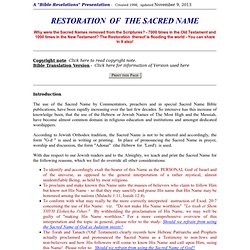 A "Bible Revelations" Presentation - Created 1998, updated November 9, 2013 Why were the Sacred Names removed from the Scriptures? - 7000 times in the Old Testament and 1000 times in the New Testament? The Restoration thereof is flooding the world - You can share in it also! Copyright note Click here to read copyright note.
THEOI GREEK MYTHOLOGY, Exploring Mythology & the Greek Gods in Classical Literature & Art
The Theoi Project profiles each deity and creature of Greek Mythology on a separate page, incorporating an encyclopedia summary, quotations from a wide selection of ancient Greek and Roman texts, and illustrations from ancient art. Analysis of the texts and interpretation of the stories of myth is currently beyond the scope of the project. For such detailed analysis, I would suggest consulting some of the good books available on the subject. Transliterated forms of Greek names are used throughout the biography pages of the site rather than their Latin forms, e.g. Kirke instead of Circe, Ouranos for Uranus, Apollon in place of Apollo, etc.
Images of the True Israelites
"VIEWS OF THE BIBLICAL WORLD" (VOL.3)International Publishing Co. Ltd. Jerusalem - 1960 p.110 ... Dead Israelites p.167 ... Israelite Exiles
THE HEBREW ALPHABET
Web Directory: Hebrew Old Testament
Download Attachment
Consider This!
Exposing Deception and Discerning Cults
Main Index
ENOKS BOK ONLINE
The Book of Enoch Index
Henoch 1
Book of Enoch
Prophezine - Bible Prophecy & World Events
Historic Church Documents at Reformed.org
THE FALL OF THE ANGELS - THE DESCENDANTS OF CAIN - THE LEGENDS OF THE JEWS - LOUIS GINZBERG
God is Not God's Name
Yeshua, the real name of Jesus
Yahshua, Yehoshua, Y'shua, Yeshua, Iesous, Iesus, or Jesus The Sacred Name or True Name
Is a name important?
Early Christian Writings: New Testament, Apocrypha, Gnostics, Church Fathers
Bible Study Resources and Strong's Concordance with Hebrew and G
Genesis 1 · Geneva Bible Notes (1560) · Commentaries (goodbooksfree.com)
English Bible History: Timeline of how we got the English Bible
The Geneca Bible. 1587 edition with Footnotes and the Apocrypha.
Indus Civilization Introduction
Ancient Hebrew Research Center - Home Page
The Spurgeon Archive—Main Menu
s Sermons—Scripture Indexes
The Life and Work of D.L. Moody
God's Yellow Pages
The Bible, apologetics, Jesus, and more
PodOmatic | Podcast - Passion for Truth Ministries
Jim Staley - Discover the Depth of the Hebrew Alphabet (Part 1)
The Bibliography of Ancient Egypt
The Bloody Legacy of Arab Islam in Africa « Red Alerts: The American Survival Blog
Bible History Online Images and Resources for Biblical History
black hebrews - Ask Jeeves Search
The Forgotten Books of Eden Index
Forgotten Books :: Free Books :: Classics, Philosophy, Myth
The Dead Sea Scrolls: Book of Giants
Welcome to the Kingdom of YAH.org
Horror of All Horrors. Original 1611 King James Version Shows Masonic Handshakes All Throughout the Genealogies.
The NAME ~ Yahuwah is His Name and Yahushua is His Son!
Complete Bible Genealogy - Jesus family tree - Kings of Judah and Israel
Ancient Hebrew Research Center - Home Page
Yah Yireh
AhYah Asher AhYah YaHuWaH - One Universal Name through ALL the Languages to Fear; YaHushuWaH of YaHuWaH YHWH
Israelite Heritage
Egypt's Hidden Tombs @ nationalgeographic.com
Black Peoples of the Americas - Year 9 links - www.SchoolHistory
Yahuwshua is not Jesus! Jesus is the ANTICHRIST!!!
Day Of Yahuwah Is At Hand - Storm Clouds Are Upon Us 7-26-11
Hebrew for Christians - Learn Hebrew for FREE!
How can you lead Masons away from the Masonic Lodge?
Joshua Project
The Thirteenth Tribe
Geneva Bible
GENEVA BIBLE 1599
The Holy Bible – 1560 Geneva Edition | Ernie's Web Log
The 1599 Geneva Bible Notes - The Reformed Reader
Audio-Bible Welcome Page
Devotions