History repeats
This Week in Christian History | Christian History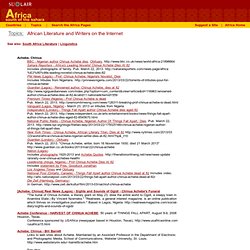 African Literature and Writers on the Internet
South African writer, John Coetzee won the 2003 Nobel Prize for Literature, as announced October 2, 2003. Attwell, David. J.M. Coetzee: South Africa and the Politics of Writing. Berkeley, Cape Town: University of California Press, c1993. Full text book. http://ark.cdlib.org/ark:/13030/ft5k4006q3/
Black Peoples of the Americas - Year 9 links - www.SchoolHistory
Editors:Sonja Magnavita, Peter Breunig Book Review Editor:Katie Manning, UK Editorial Advisory Board:Graham Connah, AustraliaShadreck Chirikure, South AfricaA. Catherine D'Andrea, CanadaManfred K.H.
Welcome to the Journal of African Archaeology - Home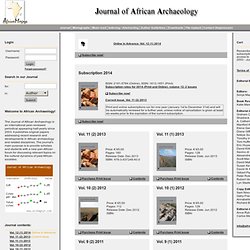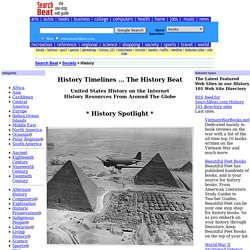 History Timelines on the Web ... The History Beat
VietnamWarBooks.netDedicated mainly to book reviews on the war with a list of the all time top 10 books written on the Vietnam War and much more. Beautiful Feet BooksBeautiful Feet has published hundreds of books, and is your source for history books. From American Literature Study Guides to Teacher Guides, Beautiful Feet can be your one stop shop for history books.
ancient civilizations or fabrication
l.php?u=http%3A%2F%2Fwww.dailymotion
Middle East Studies Internet Resources
La section Histoire du site ATRIUM regroupe un ensemble de textes divers et variés consacrés à l'Histoire. Des dossiers complets ou de simples pages, des notes de cours, des résumés d'ouvrages, des extraits de textes célèbres, des travaux inédits ou des synthèses reprises de grands ouvrages, une collaboration continue avec les autres sites de la toile consacrés à l'Histoire et un espace ouvert à vos propres travaux... Le site est en constante évolution, n'hésitez pas à nous faire parvenir vos textes afin de nous aider à développer cette section des sites ATRIUM...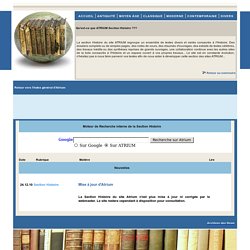 Section Histoire
The numbers to the left show an estimated range of dating. Take a look at the e-Catena project for many references from the Church Fathers to particular New Testament passages. Go to the Online Books page for many classic scholarly works.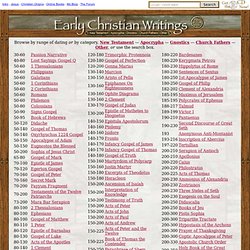 Description of an ancient aeroplane in Sanskrit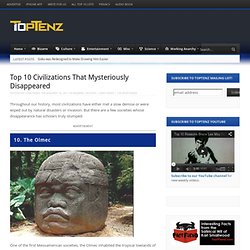 Throughout our history, most civilizations have either met a slow demise or were wiped out by natural disasters or invasion. But there are a few societies whose disappearance has scholars truly stumped: 10. The Olmec One of the first Mesoamerican societies, the Olmec inhabited the tropical lowlands of south-central Mexico. The first signs of the Olmec are around 1400 BC in the city of San Lorenzo, the main Olmec settlement which was supported by two other centers, Tenochtitlan and Potrero Nuevo.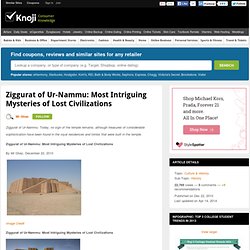 Ziggurat of Ur-Nammu: Today, no sign of the temple remains, although treasures of considerable sophistication have been found in the royal residences and tombs that were built in the temple. Ziggurat of Ur-Nammu: Most Intriguing Mysteries of Lost Civilizations By Mr Ghaz, December 22, 2010
The Maya were a civilization that devoted much of their time to the worship and study of the cosmos and celestial bodies. A belief in astronomy and cosmology dominated their culture, religion and their every day lives in ways that we are only beginning to understand. The Maya lived their lives by a very complex calendar that was based upon the movements of the stars and planets, and while many of their beliefs and practices may appear to be nothing but superstition, it seems evident that their calendar was based upon real events and real movements in the sky that do in fact have an effect on the Earth.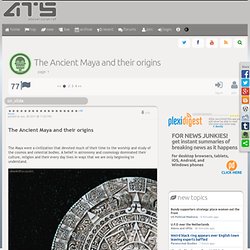 Login to Redux Civilization Cynthia Yildirim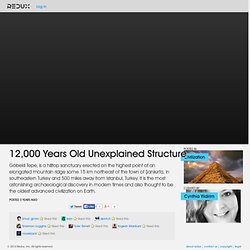 12,000 Years Old Unexplained Structure Video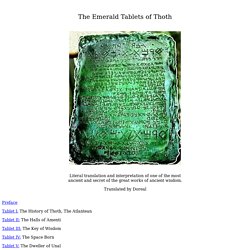 Translated by Doreal Preface Tablet I: The History of Thoth, The Atlantean Tablet II: The Halls of Amenti
Dropa Stone Discs
The Dropa Stone Discs As humanity searches for its extraterrestrial roots, amount the enigmatic objects found along the way are the Drop Stones of Tibet. Who were the Dropa? The Dropa (also known as Dropas, Drok-pa or Dzopa) are, according to certain controversial writers, a race of dwarf-like extraterrestrials who landed near the Chinese-Tibetan border some twelve thousand years ago.
Mysteries Ancient aliens is the idea that aliens visited earth in the past. The idea of ancient aliens is not a new one either. Imagination is one of the most powerful tools in humanity's evolutionary struggle for survival. As a race, we are hardwired to consider important concepts, such as the creation of life on Earth and the history of people on this planet. At some point, we are all presented with various explanations and theories regarding the expansion of human life on Earth.
William Cooper-Behold A Pale Horse
<div style="padding:5px; font-size:80%; width:300px; background-color:white; margin-left:auto; margin-right:auto; border:1px dashed gray;"> Internet Archive's<!--'--> in-browser audio player requires JavaScript to be enabled. It appears your browser does not have it turned on. Please see your browser settings for this feature.
Slavery in America Slavery in America began in 1607 and continued until 1865. These links tell you more about this controversial but, for a long time, legal practice. Slavery It's hard to imagine that people did these things to each other, but different times allowed different ideals.
Slavery in America
History For Kids - By KidsPast.com