Fluoride alert
Get flash to fully experience Pearltrees
COLUMBUS, Ohio – Long-term exposure to air pollution can lead to physical changes in the brain, as well as learning and memory problems and even depression, new research in mice suggests.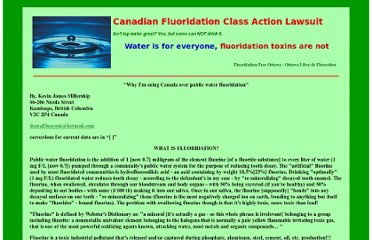 "Why I'm suing Canada over public water fluoridation" By, Kevin James Millership #6-206 Nicola Street Kamloops, British Columbia V2C 2P4 Canada dentalfluorosis@hotmail.com
Mike Adams, the Health Ranger and also the creator of the CounterThink Cartoon Series, explains what's behind one of the cartoons at www.Counterthink.com.
Information Liberation | Aug 25, 2006 "Tell a lie loud enough and long enough and people will believe it." - Adolf Hitler
by Dr. Lawrence Wilson © August 2011, the Center for Development
You can FAX your order to (207)782-7448 FAX! Jenny - Designer of Bizarre leather Fashions At Brettuns Village our number one product is our high quality scrap leather.