Synths
NanoStudio - music recording studio for iOS, OS X and Windows | BlipInteractive.co.uk. Ableton Live. Free Download – Hadron, 'The Ultimate Granular Synthesis Tool' Partikkel Audio has released Hadron – described as the 'ultimate granular synthesis tool' – as a free download.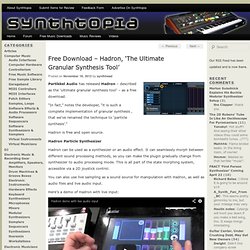 "In fact," notes the developer, "it is such a complete implementation of granular synthesis , that we've renamed the technique to 'particle synthesis'." Hadron is free and open source. Hadron Particle Synthesizer Hadron can be used as a synthesizer or an audio effect. Heater core. Yeco | Multitouch Music. Download royalty free loops and samples, Acid loops, Apple loops, Midi and Rex2. Content: DIGITAL REDUX FREE BUNDLE is a pack in which we got together samples from the whole product of our DIGITAL-REDUX producer; with over than 1300 samples and loops, you will be able to get an idea of the 20 packs that you can find on our website.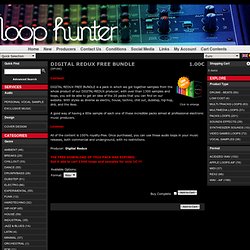 With styles as diverse as electro, house, techno, chill out, dubstep, hip-hop, dnb, and the likes. A good way of having a little sample of each one of these incredible packs aimed at professional electronic music producers. License: All of the content is 100% royalty-free. Experimental.
Free sound samples. From OLPC Music : Sound samples +/- v.2 of the sound samples torrent is now available via Mininova.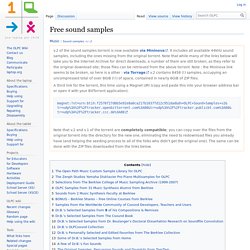 It includes all available 44kHz sound samples, including the ones missing from the original torrent. Note that while many of the links below will take you to the Internet Archive for direct downloads, a number of them are still broken, as they refer to the original download site; those files can be retrieved from the above torrent. New Sound Libraries | EM Roundup of New Audio Production Sound Libraries in October 2011 issue. Sound search. Percussion "Loop" with drum and gong in a buddhist monastery in Lao.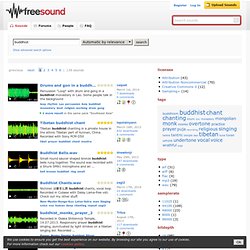 Some people talk in the background Tibetan buddhist chanting in a private house in the ethnic Tibetan part of Yunnan, China. Shore ...or how Sandy came to town... At the Mountains of Madness intro ;) by neutrinobunny. TONTO's Expanding Head Band. Sound On Sound | Recording Techniques | Audio Technology | Music Production | Computer Music | Video Media. Create Digital Music. Audio Sauna - Online Audio Workstation. Soundation — Make music online. Buzzmachines.com. Kirnu - The Arpeggiator.
Impaktor Drum Synth Now Available. Beep Street Impaktor - a iOS drum synthesizer that turns any surface into a playable percussion instrument. – is now available.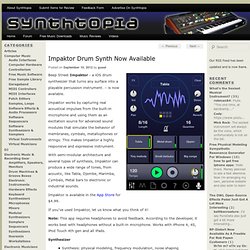 Impaktor works by capturing real acoustical impulses from the built-in microphone and using them as an excitation source for advanced sound modules that simulate the behavior of membranes, cymbals, metallophones or strings. This makes Impaktor a highly responsive and expressive instrument. With semi-modular architecture and several types of synthesis, Impaktor can produce a wide range of tones, from acoustic, like Tabla, Djembe, Marimba, Cymbals, Metal bars to electronic or industrial sounds. Impaktor is available in the App Store for $4.99. If you've used Impaktor, let us know what you think of it! Oscillator - Sinevibes. Probe. Vintage Synth Explorer • Index page.
It is currently Sat Apr 19, 2014 5:48 am View unanswered posts • View active topics General Synthesizers Discussions about anything analog, digital, MIDI, synth technology, techniques, theories and more. 9178 Topics 155986 Posts Last post What is a live synth-base... by ninja6485 Sat Apr 19, 2014 5:37 am Software Synthesizers For computer based music makers.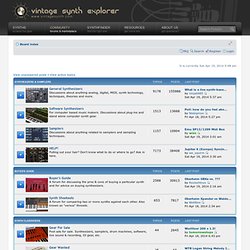 Discussions about plug-ins and stand alone computer synth gear. 1513 Topics 13668 Posts Last post Poll: how do you feel abo... by Nistegmos Fri Apr 18, 2014 5:27 pm Samplers Discussions about anything related to samplers and sampling techniques. 1157 Topics 10904 Posts Last post Emu SP12/1200 Midi Box by wiss Sat Apr 19, 2014 3:01 am HELP! Vintage On The Cheap. There's no doubt that these days software is king.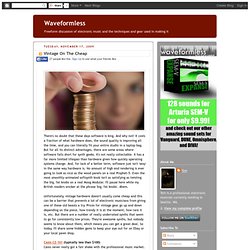 And why not? It costs a fraction of what hardware does, the sound quality is improving all the time, and you can literally fit your entire studio in a laptop bag. But for all its distinct advantages, there are some areas where software falls short for synth geeks. The Korg MS20 'Has Lots Of Holes In It' Synthesizer and electronic music news, synth and music software reviews and more! Sonic State - News, Reviews, Video Features, Music Making Gear. TweakHeadz Lab Electronic Musician's Hangout.
Synthesizers.com  ---  Modular Analog Synthesizers for Electronic Music. MATRIXSYNTH. SYNTH ZONE - MIDI, Synthesizer & Electronic Music Production Resource Guide. Robert Moog's 78th Birthday. In the mid-1960s, Dr.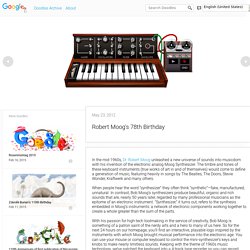 Robert Moog unleashed a new universe of sounds into musicdom with his invention of the electronic analog Moog Synthesizer. The timbre and tones of these keyboard instruments (true works of art in and of themselves) would come to define a generation of music, featuring heavily in songs by The Beatles, The Doors, Stevie Wonder, Kraftwerk and many others.When people hear the word "synthesizer" they often think "synthetic"—fake, manufactured, unnatural. In contrast, Bob Moog's synthesizers produce beautiful, organic and rich sounds that are, nearly 50 years later, regarded by many professional musicians as the epitome of an electronic instrument.
Fatman Analog Mid Synth. The FatMan has all of the features that give analog it's big bottom and punch in a MIDI controlled package.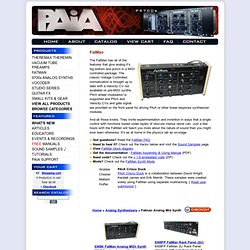 The classic Voltage Controlled normalization is brought up to date with a Velocity CV not available on pre-MIDI synths. Pitch wheel modulation is supported and Pitch and Velocity CVs and gate signal are provided on the front panel for driving PAiA or other linear response synthesizer modules. And all those knobs. They invite experimentation and invention in ways that a single control with functions buried under layers of obscure menus never can. Black and Orange Friday: Our New MeeBlip SEs, Shipping to USA, Canada Now. They're fully-assembled.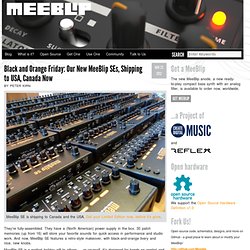 They have a (North American) power supply in the box. 30 patch memories (up from 16) will store your favorite sounds for quick access in performance and studio work. And now, MeeBlip SE features a retro-style makeover, with black-and-orange livery and nice, new knobs. MeeBlip SE is a perfect holiday gift to others … or yourself.
---