UK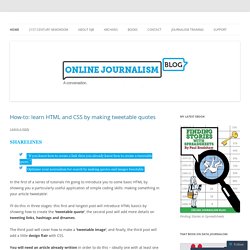 Over on the Help Me Investigate Blog there's a review of the project's activities over the past year across its four sites: Health, Olympics, Education and Welfare. Four site editors landed jobs in the media during the year, which was particularly nice to see, but also meant we lost a certain amount of continuity. Learning from that, this year I'll be focusing the project's efforts particularly on welfare issues such as child poverty, housing, food poverty, and the one year anniversary of the bedroom tax. If you want to get involved, please contact carol@helpmeinvestigate.com or tweet us for a follow on Twitter @carolmiers and @paulbradshaw.
News Innovation | Discussing the future of news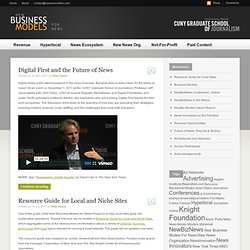 Digital First and the Future of News Posted on 14. Nov, 2011 by Peter Hauck. Digital News is the latest buzzword in the news business. But what does it really mean for the future of news?
Evgeny vs. the internet - Evgeny Morozov wants to convince us that digital technology can't save the world, and he's willing to burn every bridge from Cambridge to Silicon Valley to do it Joining the chorus - Albert Camus' journalism, more than his famous fiction, reveals the evolution of his thinking on life and how to live it 7 hard truths about digital-era journalism - Not included: the fact that most publications haven't found a way to monetize it 'This used to be a newsroom' - the scene at the Cleveland Plain Dealer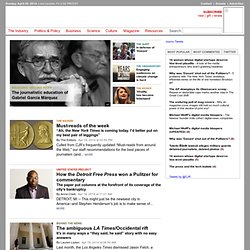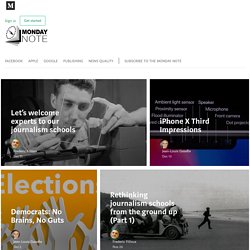 Nothing too serious this week. No Microsoft CEO succession, no Samsung $14B marketing budget exceeding Iceland's GDP, no Apple Doom. Just Holiday – or Cyber Monday – audio talk.
My two recent posts about philanthropy and the news touched a nerve among not-for-profit news gatherers, leading to a podcast conversation with Scott Lewis, head of Voice of San Diego (starting at about :22), and a response by Steve Waldman. Laura Walker, the CEO of New York Public Radio, also asked to respond here. Laura is a brilliant businesswoman who could run rings around any for-profit media executive. She also made a big announcement today about a $10 million grant to fund digital innovation.