Talking Heads
Coulter Culture. Ann Coulter's new book, If Democrats Had Any Brains They'd Be Republicans, hits bookshelves today, and as is his wont, George Gurley sat down with the self-proclaimed right-wing polemicist for a long chat [UPDATED: read the complete interview here].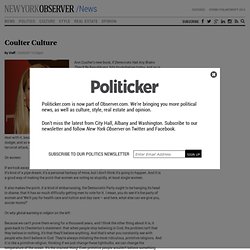 George gave us a few bits of wit and wisdom from his interview, while the television is going wild about the beminiskirted babe. On how much blame Bill Clinton deserves for the terrorist attacks of 9/11: A lot. Jimmy Carter got the whole thing started, Bill Clinton let it build, build, build, build, build. Advertisers Distancing Themselves Over Limbaugh 'Slut' Rant - Business. Sleep Train became the first advertiser to drop Rush Limbaugh over his recent tasteless comments about women and contraception, but if a growing Twitter campaign to boycott his advertisers is any indication, it won't be the last.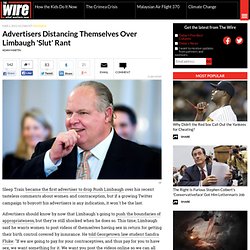 Advertisers should know by now that Limbaugh's going to push the boundaries of appropriateness, but they're still shocked when he does so. This time, Limbaugh said he wants women to post videos of themselves having sex in return for getting their birth control covered by insurance. He told Georgetown law student Sandra Fluke: "If we are going to pay for your contraceptives, and thus pay for you to have sex, we want something for it. Bill O'Reilly: Media Labeling Norway Killer Breivik 'Christian' Because 'They Don't Like Christians' Bill O'Reilly sternly criticized the media for describing Anders Behring-Breivik, the man who has admitted to committing the mass killings in Norway, as a Christian, saying that such a thing was "impossible.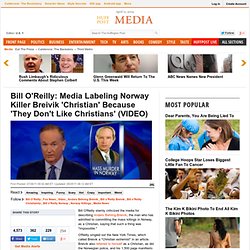 " O'Reilly singled out the New York Times, which called Breivik a "Christian extremist" in an article. Breivik also referred to himself as a Christian, as did the Norwegian police, and his 1,500 page manifesto has been described as coming from a Christian perspective. Current Events, Top News, Analysis and Opinion - The Stir by CafeMom.
Thirty years ago the Palm Sunday Massacre terrified a nation, and a young girl who lived just a few blocks from where it happened.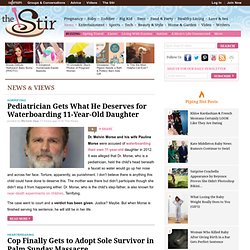 That girl was me. Ten people were murdered in their home that day in 1984. eight of them were children. CNN's Erick Erickson Suggests "Mass Bloodshed" May Be Necessary If  Roe  Isn't Overturned. CNN's Erick Erickson is also Editor-in-Chief and " Dear Leader " of the conservative blog Red State, so this charming passage posted by "The Directors" is presumably his doing: Here at RedState, we too have drawn a line.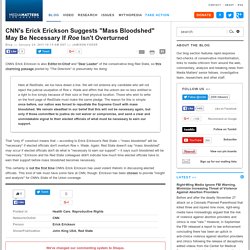 We will not endorse any candidate who will not reject the judicial usurpation of Roe v.
Glenn Beck May Be a Clown -- But the Shady Right-Wingers Who Pull His Strings Are Dangerous | Tea Party and the Right. Glenn Beck is a charlatan.
A clown. A buffoon. He belongs on a second tier stage in Vegas, and he very well may end up there, some day. Beck-MLK_flow-chart. Rush likens NYC Islamic center to building a Hindu temple next to Pearl Harbor. Limbaugh defends his "Imam Obama" comments: "We'll just call him Ayatollah Obama. GLEN BECK UNDER INVESTIGATION FOR SELLING "FOOLS GOLD" Fox's Kelly Absurdly Claims Fox Personalities Do Not Invoke Nazis. Kelly "Watch[es]" Fox News "Every Day" But Hasn't Noticed Nazi Imagery Kelly Responds To Claim That Fox Commenters Invoke Nazi Imagery To Smear Dems By Absurdly Claiming "You're Wrong.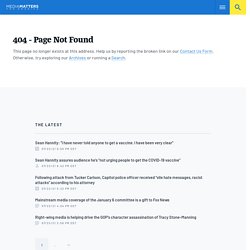 " On the January 20 edition of Fox News' America Live , Kelly hosted Equality Matters ' President Richard Socarides to discuss Rep. Glenn Beck Shoot Them In The Head Video Clip Found. MISINFORMER OF THE YEAR. Since our launch in May 2004, Media Matters for America has monitored, analyzed, and corrected conservative misinformation in the news media 24 hours a day, seven days a week.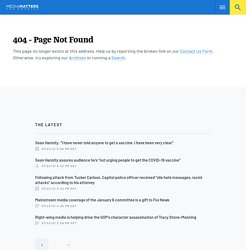 Our staff recently reviewed the misinformation we've identified and corrected during those eight months in order to choose our first annual "Misinformer of the Year. " Of all the news anchors, columnists, pundits, and reporters whose work we've critiqued and corrected, one stands above all the rest. Study Confirms That Fox News Makes You Stupid. December 14, 2010 | Like this article?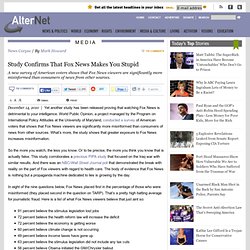 Join our email list:
---