Blogs / history / news "random stuff"
Get creative story ideas, write your own book! Want to write a good book? Check out these tips on how to write a story that captures readers' attention from beginning to end: How to Write a Story #1: Know Your Market, Get Story Ideas and Outline Your Plot The first step is to know who you are writing for, and what your readers want; this may lead you to novel ideas for stories.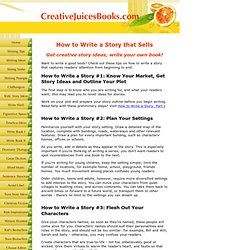 Where Did FaithWriters Magazine Come From? In 2001 we had a dream. It was a dream of creating an on-line community where Christian writers would be able to learn, grow and share their work in an encouraging and user-friendly environment.
FaithWriters Magazine-Christian Magazine and e-zine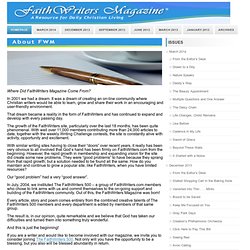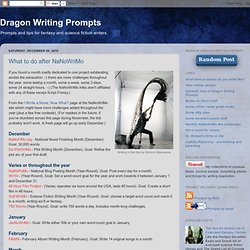 What to do after NaNoWriMo
If you found a month madly dedicated to one project exhilarating amidst the exhaustion :-) there are more challenges throughout the year, some lasting a month, some a week, some 3 days, some 24 straight hours. :-) (The NaNoWriMo folks aren't affiliated with any of these except Script Frenzy.) From the I Wrote a Novel, Now What? page at the NaNoWriMo site which might have more challenges added throughout the year (plus a few free contests).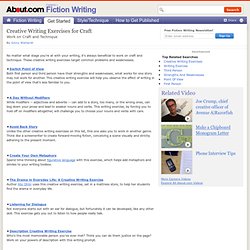 No matter what stage you're at with your writing, it's always beneficial to work on craft and technique. These creative writing exercises target common problems and weaknesses. Switch Point of View Both first person and third person have their strengths and weaknesses; what works for one story may not work for another.
on January 30th, 2011 by Fiction Editor Beth Hill and last modified on February 8, 2011 I wrote an article on the importance of creating emotions in readers, but I've noticed that writers are looking for specifics on how to accomplish that. So, this article complements that first one, presents practical tips on how to stir the reader's emotions. Readers like to be touched, moved, by story. They like to imagine themselves in worlds and situations that challenge them, that give them opportunity to do and be something other than what they do or are in their real lives. Fiction, whether in book or film or games, allows people to not only step into other worlds, but to experience those worlds.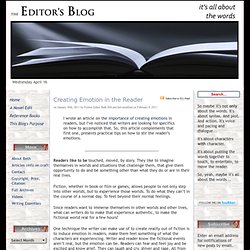 Writer's Block: Is There Such A Thing? by Jan Russell Dealing with the Inner Critic The Writer's Inner Critic Part I: Know Your Enemy by Carolyn Kaufman, PsyD - Even the most vicious Critic will fall before cognitive-behavioral techniques when they're wielded by someone truly determined to be the victor. This article looks at the psychology of the critic.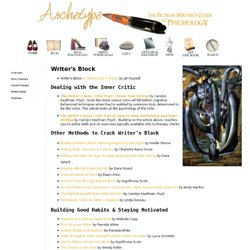 The Psychology of Writer's Block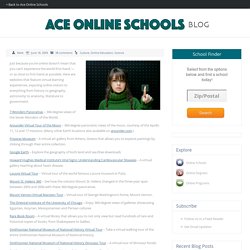 posted by Mark on June 18th, 2009 Just because you're online doesn't mean that you can't experience the world first-hand — or as close to first-hand as possible. Here are websites that feature virtual learning experiences, exposing online visitors to everything from history to geography, astronomy to anatomy, literature to government. 7 Wonders Panoramas – 360-degree views of the Seven Wonders of the World. Arounder Virtual Tour of the Moon – 360-degree panoramic views of the moon, courtesy of the Apollo 11, 12 and 17 missions.
johs at The Briar Pipe .com
Driving Business Success With Technology Author / Faisal Hoque Information about Faisal Hoque
Baseline - Author Biography - Faisal Hoque - News & Reviews - Baseline.com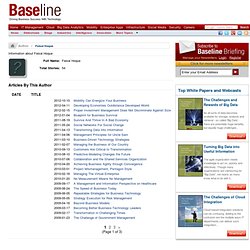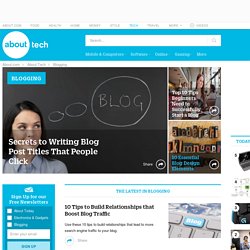 This week, Tumblr rolled out @mentions to bring more engagement to the site and make it more social (and more like Twitter and Facebook). The @mention feature means you can simply type the @ symbol before a person's name in your Tumblr post and a drop-down menu will appear with a list of users. Just click the correct user, and that person will not only be addressed in the post, but he or she will also get a notification in his or her Tumblr dashboard and activity stream. What do you think?
26 Steps to 15,000 visitors a day
C) Site Design: The simpler the better. Rule of thumb: text content should out weight the html content. The pages should validate and be usable in everything from Lynx to leading edge browsers. eg: keep it close to html 3.2 if you can. Spiders are not to the point they really like eating html 4.0 and the mess that it can bring. Stay away from heavy: flash, dom, java, java script.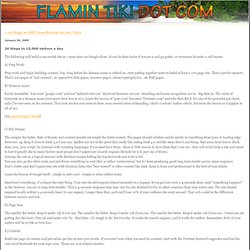 (Photo by Antonina, a fantastic London contemporary portrait photographer) The end of this month will mark three years since I left my day job. Since then, I've been supporting myself through writing. It's my dream career – and I love being able to set my own hours, work from home, and have a huge amount of flexibility and freedom. I haven't written much here on Aliventures about how exactly I actually make money. Maybe you suspect that there's some amazing secret skill involved, or some sort of dark art.
Today's Recommended Reading: Twice Bitten Edition
PoeWar The Blog of John Hewitt You are here: Home / Link Love / Today's Recommended Reading: Twice Bitten Edition
50 Shades of Black Box Set Accompanying the artworks featured in the upcoming 50 Shades of Black opening, Shepard Fairey has created a limited edition box set with screen prints of each of his 50 new album cover designs inspired by the 12-inch record cover format. The 50 Shades of Black box set is the largest number of images to date and is a work of art itself! Each box set is a limited edition of 200 and includes 50 signed and numbered screen prints of all new album cover designs, as well as an album cover stencil, an LP sticker sheet, and a certificate of authenticity.
Twenty years ago, a friend and I walked around downtown Portland at Christmas. The big department stores: Meier and Frank… Fredrick and Nelson… Nordstroms… their big display windows each held a simple, pretty scene: a mannequin wearing clothes or a perfume bottle sitting in fake snow. But the windows at the J.J. Newberry's store, damn, they were crammed with dolls and tinsel and spatulas and screwdriver sets and pillows, vacuum cleaners, plastic hangers, gerbils, silk flowers, candy - you get the point.
"Sucker (Version 2)" by Paul Fassett A teenager ruthlessly picked on for being different is forced into a situation that in the blink of an eye spirals out of control, and leaves him... "Shedding Skin" by lauraroxie