Arts & Crafts
Seashell Lights. Decorative Paper Lanterns. The lanterns may look intricate, but it takes only half an hour to make one.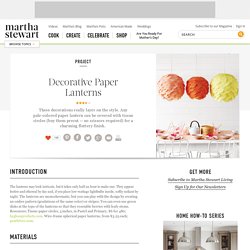 They appear festive and ethereal by day and, if you place low-wattage lightbulbs inside, softly radiant by night. The lanterns are monochromatic, but you can play with the design by creating an ombre pattern (gradations of the same color) or stripes. Mozilla Firefox Start Page. Papier-mache easter eggs. For Easter I made papier-mache polka dotted eggs.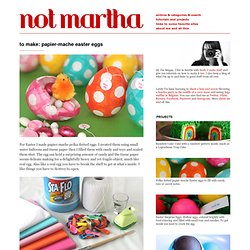 I created them using small water balloons and tissue paper then I filled them with candy and toys and sealed them shut. The egg can hold a surprising amount of candy and the tissue paper seems delicate making for a delightfully heavy and yet fragile object, much like real egg. Also like a real egg you have to break the shell to get at what's inside. Guest blogger - Sasha from The Guilded Bee: Here's another DIY project from our sweet friend, Sasha - from the The Gilded Bee.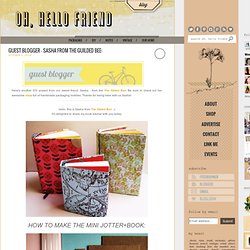 Be sure to check out her awesome shop full of handmade packaging lovelies. Thanks for being here with us Sasha! I'm delighted to share my book tutorial with you today: Origami Lucky Star Instructions. Long time ago in Japan, there was a little girl named Hoshi who was fascinated by the stars of the sky.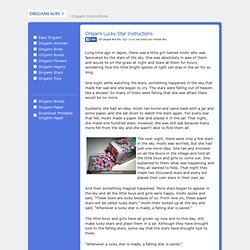 She was absolutely in awe of them and would lie on the grass at night and stare at them for hours, wondering how the little bright specks of light can stay in the air for so long. One night while watching the stars, something happened in the sky that made her sad and she began to cry. The stars were falling out of heaven like a shower. So many of them were falling that she was afraid there would be no more. Suddenly she had an idea.
Bath, Body, & Beauty
Wednes-diy | Free People Blog - (Private Browsing) UPDATE: This post originally ran on March 23 2011, but with summer winding down we wanted to bring it back up for some late summer inspiration!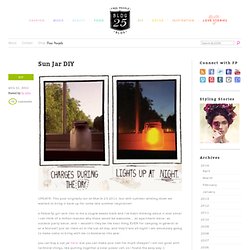 A fellow fp girl sent this to me a couple weeks back and i've been thinking about it ever since! I can think of a million reasons why these would be awesome… as apartment décor, as outdoor party décor, and – wouldn't they be the best thing EVER for camping in general or at a festival? Just let them sit in the sun all day, and they'll last all night! I am absolutely going to make some to bring with me to bonnaroo this year. Perfect Summer Bangle - (Private Browsing) Here's a fun tutorial on how to make a message bangle that's one-of-a-kind, done in the sun, waterproof and weatherproof.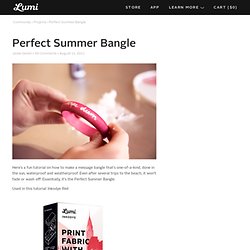 Even after several trips to the beach, it won't fade or wash off! Essentially, it's the Perfect Summer Bangle. Used in this tutorial: Inkodye Red Prepare. All you'll need for this project is a raw wooden bangle (we got ours from DIYBangles.com), a black paint marker, plastic wrap, and some Inkodye! Judah Method - Bleaching Experemnet on the Behance Network. A Tutorial: Fabulous Ric Rac Flowers » Matilda Jane Clothing Rocks.
Let me start out with a warning or sorry of some sort.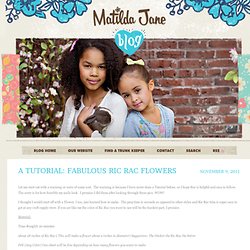 The warning is because I have never done a Tutorial before, so I hope this is helpful and easy to follow. The sorry is for how horrible my nails look. I promise I did them after looking through these pics. WOW! Watermark Tee by Sweet Verbana. Hello U-Create readers!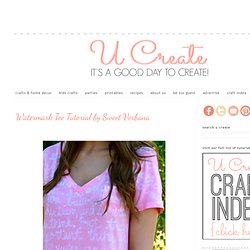 I am so excited to be guest posting here today. It just so happens to be my first guest post and I'm still a little shocked that it's here at Ucreate, one of my favorite blogs! A little bit about me.. I'm from a little town called Keller, Texas. DIY Doily Lamp. V and Co how to: jersey knit bracelet. I don't know what it is about this time of year that makes me just want to have my bare feet in the sand, be watching the sun setting into the ocean, and breathing in the warm salty air of the beach...as i get older, more and more i find myself missing that place i used to go to almost every.single.day. as a teen.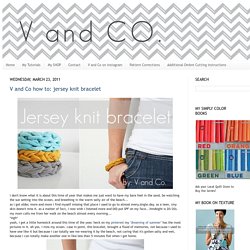 (my skin doesn't miss it. as a matter of fact, i now wish i listened more and DID put SPF on my face...hindsight is 20/20). my mom calls me from her walk on the beach almost every morning... *sigh*yeah, i get a little homesick around this time of the year. heck on my pinterest my "dreaming of summer" has the most pictures in it. ah yes. i miss my ocean. case in point. this bracelet, brought a flood of memories, not because i used to have one like it but because i can totally see me wearing it by the beach, not caring that it's gotten salty and wet, because i can totally make another one in like less than 5 minutes flat when i get home.
Web-goddess: 25 Ways to Wear a Scarf - (Private Browsing)
---