Sciences & Technologies
Dans les placards à vêtements, on aura bientôt le choix entre une cravate qui ne se salit jamais, des chaussettes antibactériennes ou un T-shirt qui affiche un message lumineux. Et pour aller skier, ne pas oublier la veste naturellement réchauffante. Déjà aujourd'hui, de nouvelles matières et de nouveaux traitements permettent au textile d'acquérir des propriétés étonnantes. Certains sont des produits "de niche", pour les sportifs par exemple, mais d'autres sont destinés à un large public grâce à leur praticité d'utilisation ou à leur confort.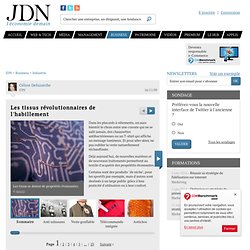 Les tissus révolutionnaires
Tropical Storm Risk (TSR)
Your Alpha Bravo Charlies - Delta Tango Bravo
The 1 percent have long had smartphones from Porsche and Vertu to quench their high-end thirst, but when it comes to dual-SIM handsets, the elite have had to settle for something a little more ordinary. For those in need, Gresso created Azimuth, the first dual-SIM luxury handset. Starting at $2,000, the phone is made of titanium, with both the keys and logo crafted out of 18K or white gold.
Sébastien, fidèle lecteur de Korben.info, a eu la gentillesse de réaliser une procédure d'installation du logiciel Captvty (pour télécharger des émissions en VOD) sous Mac OSX. Voici donc comment faire en quelques étapes simples. Tout d'abord, allez télécharger Winebottler en version stable 1.6.1, installez-le en copiant Wine.app et WineBottler dans votre répertoire Applications et lancez WineBottler au moins une fois. Ensuite recommencez, mais cette fois avec la version 1.7.15 de développement. En effet, Sébastien a remarqué que pour avoir accès à tous les Winetricks, il fallait au moins avoir installé et lancé la version stable avant. L'avantage d'installer cette version de développement de WineBottler, c'est qu'elle permet de se passer de X11, ce qui n'est pas plus mal.