Sciences & Technologies
Dans les placards à vêtements, on aura bientôt le choix entre une cravate qui ne se salit jamais, des chaussettes antibactériennes ou un T-shirt qui affiche un message lumineux. Et pour aller skier, ne pas oublier la veste naturellement réchauffante. Déjà aujourd'hui, de nouvelles matières et de nouveaux traitements permettent au textile d'acquérir des propriétés étonnantes. Certains sont des produits "de niche", pour les sportifs par exemple, mais d'autres sont destinés à un large public grâce à leur praticité d'utilisation ou à leur confort.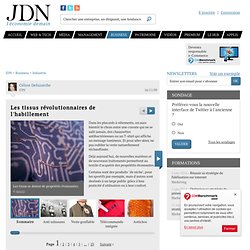 Les tissus révolutionnaires
Tropical Storm Risk (TSR)
Your Alpha Bravo Charlies - Delta Tango Bravo
Your Alpha Bravo Charlies In case it wasn't completely obvious, the name of my weblog is simply my initials in the International Radio Operators Alphabet. If you're interested, here's the full alphabet.