Learn English
Teaching Pronunciation: Seven Essential Concepts | The New School
Stories & Poems
"The Chaos!" - A poem about English by Gerard N. Trenité - American English Pronunciation
Lots of words have popped up lately to describe things you can listen to from the internet: MP3s, podcasts, audiobooks, etc.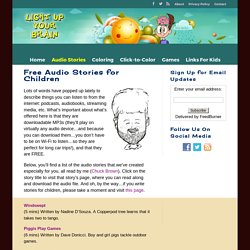 acupofenglish's Podcast
Perfect Your Pronounciation - Simple Vowels [Perfect Your English series]
English Pronunciation, Lesson 04 - Short I Sound
British: The difference between the /i/ and /ee/ vowels
English Vowel Pronunciation Adjustment for Speakers of Italian and Portuguese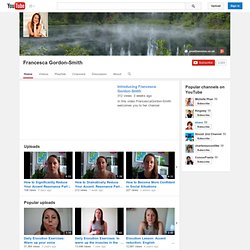 pvfran's Channel
Welcome to YouTube!
AlexESLvid
ESL 2000 - Minimal Pairs - Consonants
Aspects of Connected Speech Index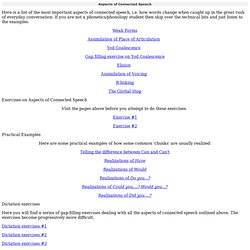 Aspects of Connected Speech Here is a list of the most important aspects of connected speech, i.e. how words change when caught up in the great rush of everyday conversation.
Tape 6 Connected Speech
The final ed sound of the simple past tense of regular English verbs
English Pronunciation ~ Simple past of regular verbs and their final - ed sound There are three ways to pronounce the final -ed of regular verbs in the simple past tense . This pronunciation is determined by the final sound of the verb in the infinitive: Is it a voiced consonant, an unvoiced consonant, or a vowel sound? Learn more about vowel sounds and voiced and unvoiced sounds in the lesson on English phonetics . After unvoiced sounds such as p , k , f , s , , and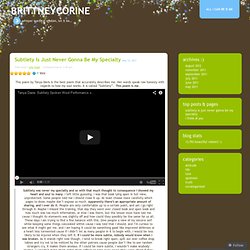 Subtlety Is Just Never Gonna Be My Specialty « brittneycorine
i