Garden
The Simple Pleasures of Conserving Fruits for Winter - Trucs d'artan. To everything a season, turn, turn, turn…Well, those of you of my generation, anyway, will recognize that classic Byrds tune.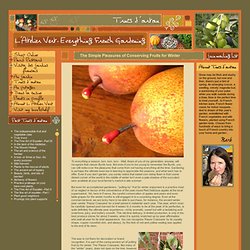 But even if you're too young to remember the Byrds, you can still rediscover the pleasures that come from not having everything all the time. Gardening is perhaps the ultimate exercise in learning to appreciate the seasons, and what each has to offer. Even if you don't garden, you surely notice that sweet corn being flown in from some distant corner of the world in the middle of winter isn't even a pale shadow of the succulent ears available at your local farmer's market in late summer.But even for accomplished gardeners, "putting by" fruit for winter enjoyment is a practice most of us neglect in favour of the convenience of the year-round Red Delicious apples at the local supermarket. Practical Action - technology challenging poverty - Practical Action. CLM Keder Greenhouses - Tough Keder - Home Page.
The Classic Shed Company - traditionally styled custom garden buildings. Sussex garden seats and arbours. Kingsseeds. Index. Two Wests & Elliott (UK) - Gardening, Greenhouse & Staging Manufacturer and Supplier. Agroforestry research trust fruits nuts seeds plants publications. Pauls Garden World. Home. Readersheds.co.uk | We love sheds Home of Shed of the Year 2011 sponsored by the Cuprinol Wood Preservation Society. Recycle now - Recycle Now - where and how to recycle - Official UK recycling campaign. Siding, deck, deck design, fencing, gazebos, sheds & pergolas.
RHS Plant Selector. Georgia-Pacific Building Products Project Center - Free Wood Working Project Plans, Project Plan, Wood Project Plan, Free Wood Project Plans, Sample Project Plan. Cheap Sheds for sale & Custom Made Sheds | ACE Sheds. !GAZEBO!
---