Garden
To everything a season, turn, turn, turn…Well, those of you of my generation, anyway, will recognize that classic Byrds tune. But even if you're too young to remember the Byrds, you can still rediscover the pleasures that come from not having everything all the time. Gardening is perhaps the ultimate exercise in learning to appreciate the seasons, and what each has to offer. Even if you don't garden, you surely notice that sweet corn being flown in from some distant corner of the world in the middle of winter isn't even a pale shadow of the succulent ears available at your local farmer's market in late summer.But even for accomplished gardeners, "putting by" fruit for winter enjoyment is a practice most of us neglect in favour of the convenience of the year-round Red Delicious apples at the local supermarket.
The Simple Pleasures of Conserving Fruits for Winter - Trucs d'artan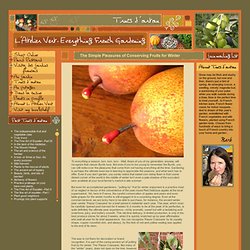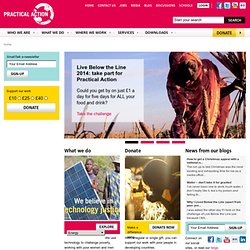 Latin America In Peru and Bolivia, we help communities set up small-scale technological solutions in remote areas where there is no access to basic services, including electricity, heating, clean water and sanitation. Western Africa Building on our recent extension of consultancy work into west Africa, Practical Action has recently set up an office to deliver impact at scale in Francophone west Africa. Eastern Africa Our offices in Kenya and Sudan work with communities to develop practical solutions in energy, agriculture and urban water and waste, reducing the impact of conflict and disasters.
CLM Keder Greenhouses - Tough Keder - Home Page
Based in East Anglia on the North Norfolk coast, The Classic Shed Company have been making individually designed and unique summerhouses for more than 20 years. Each structure, whether it be a gazebo, workshop, or our superb and adaptable shepherd's hut, is hand made by our small team of carpenters in our own workshop in Burnham Market. Delivery and installation is also carried out by us, ensuring quality thoughout, and enabling us to keep our prices competitive.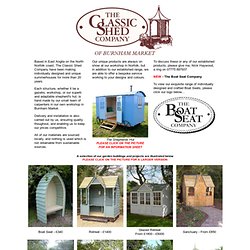 The Classic Shed Company - traditionally styled custom garden buildings
sussex garden seats and arbours
We are pleased to introduce the "Original Sussex Boat Seat", this is a unique arbour, builtusing the finest materials to ensure a long life and very low maintenance. It will compliment any garden, patio, courtyard or waterside location, and it's unique sculptural form will help create a much admired focal point in virtually any location. The "Seat" comes in a pre-coloured hull material (although both hull and timber can be finished in any propriotory exterior paint system) and the solid timber seat and backrest are tanalised and then treated with a coloured wood preservative. Dimensions: height 2000mm. width 1600mm. depth 600mm weight 38kg.For the more exposed location, the "Sussex Boat Seat" has three reinforced points for bolting to posts or wooden decking, great for pub garden locations. We are happy to quote individual shipping costs (worldwide), however, retail customers and multiple trade orders are currently delivered to mainland U.K. addresses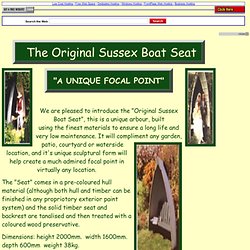 Kingsseeds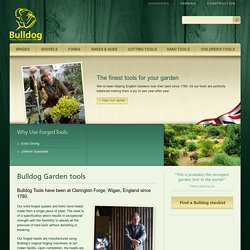 We've been making quality garden tools since 1780. Our forged garden spades and forks have heads made from a single piece of steel. This is then securely riveted to an ash shaft, the end of which has been steamed to form a "D" shaped handle. These tools are exceptionally strong and are backed by our lifetime guarantee. We also offer handy and unique tools such as our Dutch Hoe and rubber-tipped Wizard rake.
index
At Two Wests and Elliott we provide quality equipment for the greenhouse and garden. With 37 years of experience, we specialise in the manufacture and supply of great quality gardening sundries, from fruit cages to greenhouse accessories and propagators. We aim to provide the best customer service possible whilst delivering excellent guidance and information. The range we offer includes firm favourites such as greenhouses, planters, small, mini and lean to greenhouses, greenhouse heaters, greenhouse ventilation and a full range of greenhouse and garden watering equipment.
Two Wests & Elliott (UK) - Gardening, Greenhouse & Staging Manufacturer and Supplier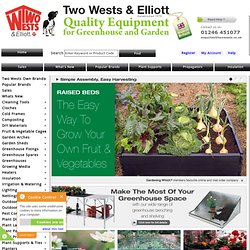 Agroforestry Research Trust The Agroforestry Research Trust is a non-profit making charity, registered in England, which researches into temperate agroforestry and into all aspects of plant cropping and uses, with a focus on tree, shrub and perennial crops. We produce several publications and a quarterly journal, sell various other relevant books, and also sell plants (particularly fruit and nut trees and bushes), seeds and Parafilm grafting tape. NEW: We have a few great hand-cranked nutcracking machines available - see here A short video about our forest garden can be viewed here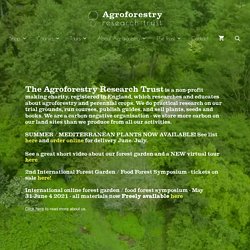 Pauls Garden World
Home
Readersheds.co.uk | We love sheds Home of Shed of the Year 2011 sponsored by the Cuprinol Wood Preservation Society
Recycle now - Recycle Now - where and how to recycle - Official UK recycling campaign
Siding, deck, deck design, fencing, gazebos, sheds & pergolas
RHS Plant Selector / RHS Gardening
Georgia-Pacific Building Products Project Center - Free Wood Working Project Plans, Project Plan, Wood Project Plan, Free Wood Project Plans, Sample Project Plan
Ace Sectional Buildings Ltd (Ace Sheds) have been manufacturing quality garden sheds and a variety of other outdoor sectional buildings for over 25 years. Our speciality is of course in our huge catalogue of Wooden Garden Sheds, and we always love to create unique Bespoke Sheds complete to your own specification and requirements. However we also build Timber Workshops, various 'Garden Tidies' to store equipment and garden items, and we have a great range of Wooden Summer Houses for those warm summer evenings. In line with recent police and government ideas and initiatives, we also provide Sustainable Housing Sheds for developers, and other outdoor sectional buildings to fit in with the recent Secured by Design Sheds regulations.
Cheap Sheds for sale & Custom Made Sheds | ACE Sheds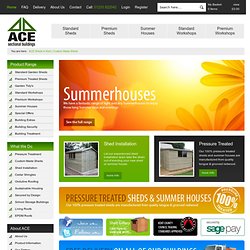 !GAZEBO!