Photography
Ultimate Exposure Computer. Imagine an exposure computer so advanced that it uses your eyes as a sensor.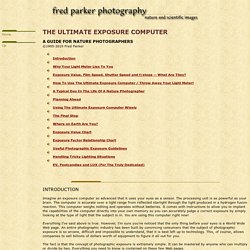 The processing unit is as powerful as your brain. The computer is accurate over a light range from reflected starlight through the light produced in a hydrogen fusion reaction. Photography Tips & Tutorials. Digital Photography Review. Online Watermark Tool - Protect your Photos. Adding A Signature To Your Photos. Outdoor Photographer.
National Association of Photoshop Professionals (NAPP) › Log In. Welcome to sans Mirror | byThom sans Mirror | Thom Hogan. Wes Cowley Photography.
---