Illustrations
Wayne Anderson Illustrations : un album. Children's Book Illustrators and Illustrations - nocloo.com. Historical Anatomies on the Web: Browse Titles. Historical Anatomies Home > Browse Titles Images have been selected from the following anatomical atlases in the National Library of Medicine's collection.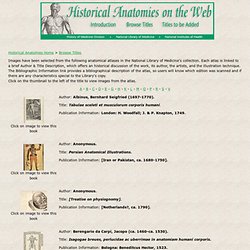 Each atlas is linked to a brief Author & Title Description, which offers an historical discussion of the work, its author, the artists, and the illustration technique. The Bibliographic Information link provides a bibliographical description of the atlas, so users will know which edition was scanned and if there are any characteristics special to the Library's copy. Kunstformen der Natur. Book Record. Turning The Pages Online: Book Menu. The Edwin Smith Surgical Papyrus The Edwin Smith Papyrus, the world's oldest surviving surgical text, was written in Egyptian hieratic script around the 17th century BCE, but probably based on material from a thousand years earlier.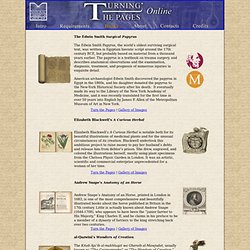 The papyrus is a textbook on trauma surgery, and describes anatomical observations and the examination, diagnosis, treatment, and prognosis of numerous injuries in exquisite detail. American archaeologist Edwin Smith discovered the papyrus in Egypt in the 1860s, and his daughter donated the papyrus to the New-York Historical Society after his death. It eventually made its way to the Library of the New York Academy of Medicine, and it was recently translated for the first time in over 50 years into English by James P. Allen of the Metropolitan Museum of Art in New York. Konrad Gesner's Historiae Animalium. Liam?s Pictures from Old Books.
---